Fast on the heels of a Dalit cultivator being hacked to death in Porbander Gujarat, in yet another gruesome attack on Dalits at Una in Saurashtra, iron rods were used to assault them mercilessly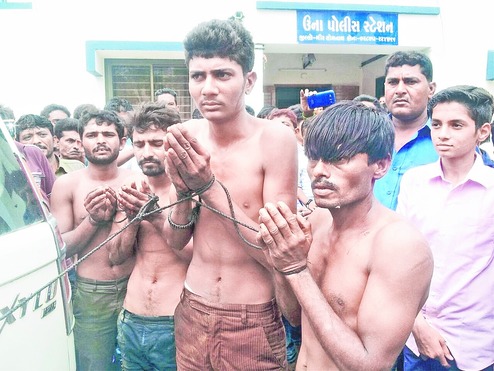 Four Dalit youths who skin dead animals for a living were thrashed with iron rods, chained to a car and dragged to a police station, their ordeal captured on video by their assaulters who accused them of slaughtering a cow. The victims were targeted assaulters from the Darbar caste that accused them of killing a cow for the purpose of selling beef when all that the Dalit youths had done was skin a cow that was already dead. Dalits from Una town in Saurashtra owned a Bone Mill and had been skinning animals for that purpose. While slaughtering cows and selling or consuming beef is banned in the state, skinning of dead animals is not illegal.
This incident comes fast on the heels of another gruesome attack on Dalits about a week ago: Rama Singrakhiya, a Dalit, was allegedly hacked to death by a dominant caste mob in Sodhana village of Porbandar district. Leading Dalit campaigner and senior advocate Valjibhai Patel told Sabrangindia that there had been a series of such attacks in past months and yet no words of sharp condemnation from the state's political leadership.
In the latest attack on July 12, reportedly, a vigilante group pounced on the four, beat them up with iron rods and sticks and chained them to their car before leaving them at Una police station. The car had the nameplate of a Shiv Sena member. The accused also filmed the assault. The video taken by the assaulters themselves has since gone viral on social media. Though a large crowd had gathered at the place, no one seemed to forward to rescue the Dalits. A video is said to have gone viral on the social media.

ईन्सानियत नाम की चीज नही है और बडे गौ भक्त बने फिरते है।
गुजरात में संघीओ का आतंक। मरी गाय का चमडा उतारते दलितो को बूरी तरह पीटा।
वीडियो जीतना हो सके शेयर करे।
जयभीम। जय मूलनिवासी।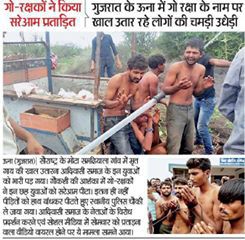 The group which intercepted the youth claimed to be working for the cause of cow protection, with one of them belonging to the regional Shiv Sena outfit. The Dalits were beaten up for over half an hour, the sources said, before being dragged by chain to a police station, situated about a kilometre away.
While the onlookers didn't react to the gruesome incident, on hearing about the incident, the Dalit community people of Una town gathered at the police station, demanding action.
Meanwhile, the police registered FIR against those who beat up the Dalits under Sections 307 (attempt to murder) and 395 (loot), and the anti-atrocities Act. The accused are absconding, say sources. While two of victims were got treatment in a local hospital, the other two, who were injured in the head, were shifted to the Junagarh Civil Hospital.
Apart from Una town, Amreli district was the centre of such assaults where he said there had been six incidents in two months. These six vile attacks against Dalits in Amreli district, included one rape of a young woman by sections of the Darbar caste. Even after being arrested by the local plice the assaulters had threatened the father and uncle of the raped woman, Valjibhai Patel said. Valjibhai has been in touch with the top echelons of the Gujarat police on even the recent incident at Una.
Singrakhiya was reportedly assaulted by a mob when he went to the village to sow caster seeds on a plot of land which, he claimed, he had been cultivating for the last 15 years. According to an FIR registered against the assaulters, Singrakhiya, 42, was beaten up using clubs and axes. He died in hospital. The village is located just 30 km away from Porbandar, Gandhiji's birthplace.

The victims, belonging to the Dalit community at Mota Samadiyara village of Una taluka, had registered an FIR that detailed how they were skinning an already dead cow, but the six accused said the animal was killed before being skinned, police said."We have arrested three persons in this connection while three others are absconding. We have also called a team of forensic science laboratory experts and veterinary doctors to ascertain if the cow was already dead before being skinned or was killed for skin," Gir Somnath district's deputy superintendent of police KM Joshi had told the media.
According to the FIR, the six accused — identified as Ramesh Giri, Balwant Simer, Ramesh Bhagwan, Rakesh Joshi, Rasikbhai and Nagjibhai Vaniya — came in a car and began abusing the villagers on finding that they were skinning a cow.
They then allegedly took out iron rods from their car and started beating them up. Two people sustained severe head injuries and were referred to Junagadh civil hospital for treatment, Joshi said. According to the complainant, Vasrambhai Sarvaiya, the accused also took away their mobile phones.
Cow protection vigilante groups have been active in various parts of the country against slaughter of cows and consumption of beef. Several state governments too have tightened laws on both. In one of the most brutal attacks over cow protection, 52-year-old Mohammad Akhlaq was lynched in Bisada village near Dadri, Uttar Pradesh, by a Hindu mob for allegedly killing a calf for meat.