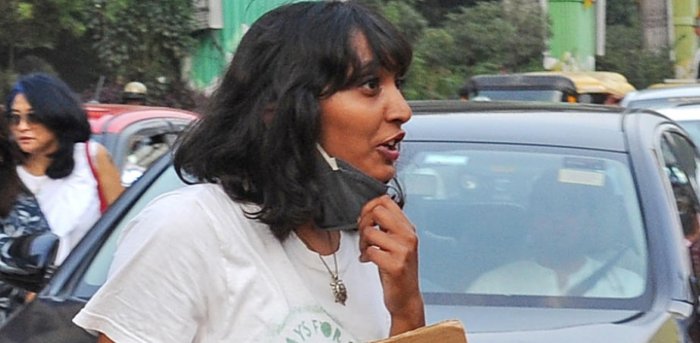 The Delhi Commission for Women (DCW) has taken suo moto cognisance of the arrest of 21-year-old Bengaluru climate activist Disha Ravi by Delhi Police, and deemed it a "very serious matter". A letter has been sent by Swati Maliwal, the chairperson of Delhi Commission for Women, to the Deputy Commissioner of cyber crime cell, Delhi.
The letter states, "It has been alleged in media by some activists that she was taken to Delhi from Bengaluru by the Delhi Police with no disclosure of her whereabouts, not even to her parents." The DCW has also noted the allegations that she was not presented before a local court for transit remand and when she was produced before a court, she did not have a lawyer of her choice present in court. The letter points towards Article 22 (1) of the Constitution that bestows the right to be defended by a legal practitioner of one's choice, upon being arrested.
The DCW, through the letter, has demanded a copy of FIR, detailed action taken report (ATR) and has sought reasons for not producing Disha before a court for transit remand and for not allowing her a lawyer of her choice to be present in court. Given the gravity of the matter, the Commission has asked for this information to be provided by February 19.
Hailing from Bangalore, Disha reportedly graduated from Mount Carmel College and founded the "Fridays for Future" campaign in India, which was kick-started by Greta Thunberg in 2018. At present this campaign, which is a people's movement for climate justice, has garnered nearly 8,000 followers on Twitter.
In the Patiala House Complex court, the Public Prosecutor alleged that Disha was part of a larger conspiracy against the country. Disha broke down inside the courtroom and told the judge that she had edited only two lines of the tool kit and that she wanted to support the farmers' protest. On February 15, Disha was remanded to 5 days police custody by the Delhi court.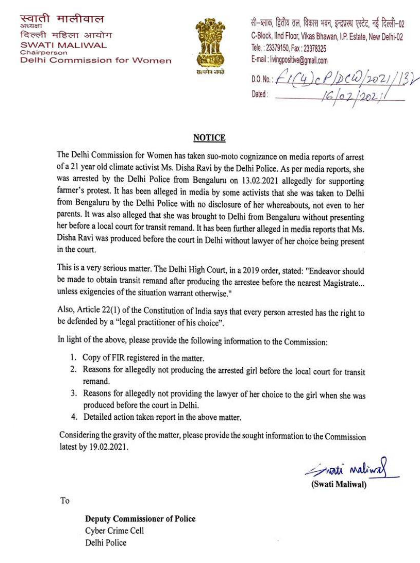 Related:
Toolkit case: Delhi Police issues warrant against activists Nikita Jacob and Shantanu
Know your rights: Disha Ravi's arrest & the Delhi police witch-hunt
Nikita Jacob's pre arrest bail order reserved, Shantanu Muluk gets transit bail
Those who harbour thoughts against the nation should be eradicated: Anil Vij