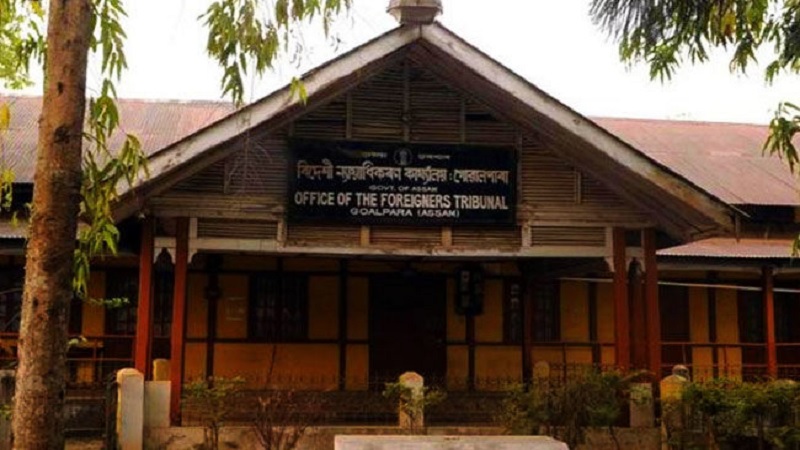 Image Courtesy:livelaw.in
The Supreme Court has clarified that the 30-day deadline to challenge an ex-parte decision by a Foreigners' Tribunal (FT) declaring a person a 'foreigner' applies only when the person has been served proper notice.
The court was hearing the plea of one Mohammed Misher Ali, who was declared 'foreigner' by an FT in March 2018, because he failed to appear for hearings. Ali, the petitioner, claims this happened because the notice was served at a temporary address, where he lived briefly before shifting to his present permanent address. He appealed against the FT's ex-parte decision before the Guwahati High Court but his petition was dismissed as the court found that the notice was duly pasted outside his last known address. This is how the petitioner came to approach the SC.
The petitioner's advocate FA Ayyubi argued that no effort was made to serve notice at the petitioner's permanent place of address despite awareness about the same. He submitted that the investigating officer knew about the change of address and was aware of the permanent address.
The state alleged that in many 'foreigners' cases, people fled their old address as soon as proceedings were initiated, reported LiveLaw. But the court then asked, what if the change of address was genuine? Also, in the present case, when the new permanent address was known to the IO, what prevented him from serving notice at the correct address?
SC's observations
In its order, the SC referred to an extract from the March 22, 2018 FT order which records both, the temporary and the permanent address of the petitioner. The SC noted, "… Tribunal was apprised of the fact that while the address of the appellant is shown as "C/o Shri Nivas Paul, Village Haluating Bazar, PS Haluating, District Sivasagar", the permanent residential address of the appellant has been indicated at Village Ballabil, PS Mankachar, District Dhubri, Assam. This is also fortified by the statement of the appellant which was recorded by the Senior Inspector of Police on 16 March 2010, a copy of which annexed to the counter filed by the State of Assam. The statement indicates that the address of the appellant corresponds to the permanent residential address which is noted in paragraph 1 of the Tribunal's order as extracted above. Apart from this, the counter affidavit has also adverted to the interrogation report before the Inspector of Police dated 22 January 2010, which again refers to the "address in India" as village Ballabil, PS Mankachar, District Dhuburi, Assam."
The court then observed, "Evidently, no effort had been made to effect service at the permanent place of residence."
The court also referred to Para 3(5)(f) of the Foreigners (Tribunals) Order 1964, that says: "if the proceedee has changed the place of residence or place of work, without intimation to the investigating agency, the process server shall affix a copy of the notice on the outer door or some other conspicuous part of the house in which the proceedee ordinarily resides or last resided or reportedly resided or personally worked for gain or carries on business, and shall return the original to the Foreigners Tribunal from which it was issued with a report endorsed thereon or annexed thereto stating that he has so affixed the copy, the circumstances under which he did do, and the name and address of the person (if any) by whom the house was identified and in whose presence the copy was affixed."
However, in the present case, the court noted, "The material which has been placed on record by the State of Assam in the counter affidavit demonstrates that the provisions of paragraph 3(5)(f) were not attracted, since it was within the knowledge of the investigating officer that the appellant has a permanent place of residence, as reflected in the earlier part of the order."
The court reiterated, "We are not impressed with the submission that the appellant has not availed of the remedy under paragraph 3A. This is for the simple reason that paragraph 3A contemplates that where an ex-parte order is passed for non-appearance, the person who is proceeded against may move an application within 30 days to set aside the ex-parte order by demonstrating sufficient cause for not appearing before the Foreigner's Tribunal. This can have no application on the facts of the present case where, as has now been duly established before this Court, service was not properly effected. Paragraph 3A which provides a time-limit of thirty days to file an appeal would undoubtedly apply in a situation where service has been duly effected despite which, the person who is proceeded against has failed to appear and in which case a remedy is provided under paragraph 3A. This can have no application in the facts of the present case."
The SC bench comprising DY Chandrachud, MR Shah and Sanjiv Khanna then set aside the Guwahati HC order and referred the case back to the FT for fresh consideration. The court ruled, "We accordingly allow the appeals and set aside the impugned judgment of the High Court dated 6 December 2019, as well as the order of the Foreigner's Tribunal dated 22 March 2018. We accordingly restore Case No FT/SVR/310/2010 (arising out of Police Enquiry No 135/10) to the Foreigner's Tribunal, Jorhat, Assam."
Court also ordered the release of the petitioner from custody saying, "The appellant has been in custody since 15 May 2019. As a consequence of the setting aside of the order of the Foreigner's Tribunal, the appellant shall, in the meantime, be set at liberty. Before his release from custody, the appellant shall provide his address to the authorities. The appellant shall appear before the Foreigner's Tribunal on 12 April 2021 and continue to cooperate by appearing in person until the proceedings are disposed of. The Tribunal shall allow the appellant a sufficient opportunity, consistent with the principles of natural justice, to file his response and produce documentary and other material. Since a date has been fixed for the appearance of the appellant before the Foreigner's Tribunal, no fresh service of notice would be necessary."
The order may be read here:
Related:
New FT members to work exclusively on NRC exclusion cases in Assam?
SC allows declared foreigner to file review petition before Guwahati HC first
104-year-old 'declared foreigner' dies asserting his Indianness in Assam