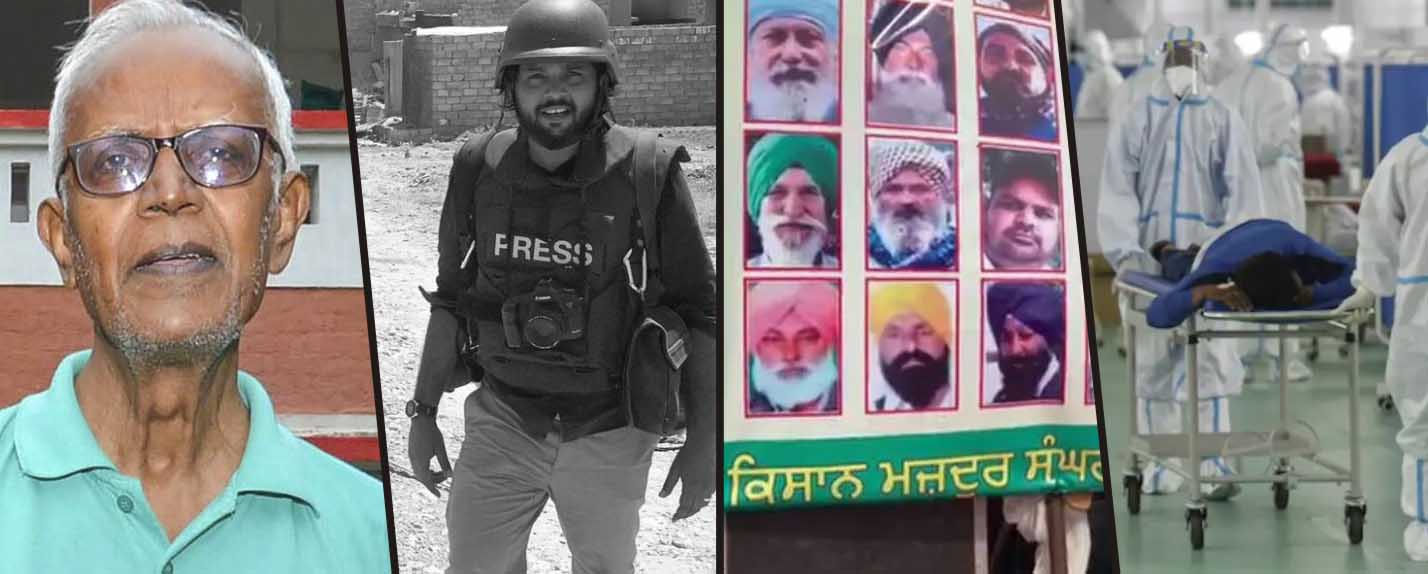 Many were lost to Covid-19, some killed in terror attacks, others to ravages of the weather, and many more lost to government apathy and a system that was crushed under the Tsunami that was 2021. Many of those lost in 2021 are best remembered as martyrs and their deaths must be acknowledged this year.
They include those who died in custody, farmers who breathed their last at the protest sites and above all those who died gasping for breath during the devastating second wave of Covid-19 including frontline workers, health professionals, and thousands of citizens who died waiting for oxygen and medicines. Here are some whose deaths must not be forgotten, and whose legacies, may one day bring about some much-needed social change in India.
Fr. Stan Swamy: On July 5, Father Stan Swamy, the 84-year-old Adivasi rights activist who had been battling for his life since May and put on ventilator support at the Holy Family Hospital, Mumbai, breathed his last. Before starting to hear his plea for medical bail at around 2:30 P.M that day, Father Stan's lawyer, Senior Advocate Mihir Desai, told the Bombay High Court Bench comprising Justices SS Shinde and NJ Jamadar that Dr. Aaron D'Souza, the medical director of the hospital, wanted to inform the court about a development. What followed was complete silence and the subsequent expression of shock and grief by the Bench. Senior Counsel Mihir Desai added he wished to press for a judicial inquiry into Father Stan's custodial death as he died in the custody of the National Investigation Agency (NIA) who had arrested him on the night of October 8, 2020. Fr Stan Swamy's martyrdom has been called: "Capital Punishment without trial". Meanwhile, families of the accused undertrials in the Bhima Koregaon violence case, have had to write to the Additional Director General of Police (Prisons) and Special Inspector General of Police (Prisons) to continue the weekly phone calls with them. The family members were informed that "the weekly calls allowed to the inmates of Taloja and Byculla prisons will be discontinued since the prisons are all set to resume physical mulaqats."
Covid-19 victims: In December 2021, India's Omicron tally crossed 200, with most cases reported in Delhi and Maharashtra. Some news reports have already flagged a "Coronavirus Third Wave," by February 2022. According to official numbers as of December 21, India recorded 5,326 new coronavirus cases and 453 deaths in a 24 hours' period. By July 2021, India's official Covid-19 death count was 4,00,000. According to a report prepared by the Centre for Global Development titled 'Three new estimates of India's all-cause excess mortality during the Covid-19 pandemic', the second wave of Covid-19 in India was the "worst tragedy since the Partition (in 1947)". However, in July, the union Ministry of Health and Family Welfare (MoHFW) claimed that the states did not provide any information on deaths of Covid patients in hospitals due to lack of oxygen. Even though scores of such deaths had made global headlines during the second wave. In a written reply in Rajya Sabha, Junior health minister Bharati Praveen Pawar informed, "However, no deaths due to lack of oxygen have been specifically reported by states and UTs," in response to the question on whether Covid patients died on roads and hospitals due to oxygen shortage. Many also died in fires at Covid wards.
Asha Workers: By February 2, 2021, the Rajya Sabha had announced 162 doctors deaths, 107 nurses deaths and 44 ASHA workers deaths in the first wave of coronavirus. Many of these healthcare service workers, dubbed 'Covid-warriors' had claimed a dearth of safety gear such as masks, PPE kits, gloves, sanitisers. Lakhs of ASHA workers are an integral part of India's health infrastructure since they work on-field implementing various Covid-19 related policies and protocols. From door-to-door services to transporting essential medical equipment to recording the virus' activity in rural areas, ASHAs did all the work without adequate protective gear and at times, without proper payment.
To help ASHAs assert their basic right, All India Coordination Committee for ASHA workers' Convenor Ranjana Nirula (now deceased) demanded their regularisation until her dying days. She pointed out that many ASHAs were infected and several died due to Covid-19 especially during the second wave.
Doctors, nurses, teachers and health workers on duty: By June, as many as 650 doctors of the Indian Medical Association (IMA) died due to Covid-19. According to their state-wise break-up of deaths, 109 deaths were recorded in Delhi within the past two months or so. States that followed suit were Bihar and Uttar Pradesh with 96 and 67 deaths respectively. By the end of the month, the national death count rose to 798 healthcare workers. Adityanath, Chief Minister of UP declared the death of 103 Covid warriors – health and sanitation workers – on August 25 during the monsoon session in the State Assembly. However, only families of 41 people received the ex-gratia compensation of Rs. 50 lakh. It may be mentioned that this number did not include the 1,621 members of UP's teachers' union, who died after contracting Covid-19 or due to other ailments while serving at polling stations during the Panchayat elections.
Farmers protesting on Delhi's borders: They came by the thousands, to protest against the three farm laws that were passed in 2020. Since November 26, 2020, the day the protest reached Delhi's borders, as many as 726 farmers died while agitating against these laws and demanding a legal right to MSP. This includes 40 deaths by suicide. They are hailed as martyrs by the community, and when the protest was suspended in December 2021 after the Union government finally conceded to farmers' demands, the victory was dedicated to them. However, farmers have blamed BJP-led governments for these deaths. The martyrs would have been alive if the politicians had listened to their demands earlier. This list of martyrs also includes four agitating farmers from Lakhimpur Kheri who were mowed down allegedly by Union Minister Ajay Mishra's son Ashish Mishra's vehicle. Farmers' demand regarding the suspension and arrest of Union Minister Mishra and penalisation of other accused for their respective role in the incident is still pending, four memorials that were constructed at Shahjahanpur at Rajasthan border and Singhu, TIkri and Ghazipur borders of Delhi to honour them, may one day bear all their names.
Social Activists: Some of the well known activists, leaders, journalists also succumbed to the second wave of Covid-19 were: women's activist Anita Pagare, trade union leader Datta Iswalkar, Dalit trailblazer Vira Sathidar, journalist Ashish Yechury, Former Attorney General Soli Sorabjee, RLD Chief Chaudhary Ajjit Singh, anti-CAA activist Natasha Narwal's father Dr Mahavir Narwal, activist Prof. Dinesh Mohan, environmentalist Sunderlal Bahuguna among many others.
Danish Siddiqui: Reuters photojournalist Danish Siddiqui whose photojournalism captured the soul of the news, was killed while covering clashes between Afghan forces and Taliban in Kandahar in July. Siddiqui's photograph of a gun wielding right wing extremist threatening to shoot at peacefully protesting students went viral across the world. Siddiqui had won the 2018 Pulitzer Prize, along with his team, for his documentation of the Rohingya refugees. A tribute to Danish Siddiqui (May 19, 1983 – July 16, 2021) by India's leading photojournalists may be seen here.
Related:
10 most hate-driven statements by Indian politicians
A 2020 report on Victims of Vilification: Anti-CAA protesters in Uttar Pradesh
A 2020 Report of Victims of Incarceration: Student activists harassed, arrested
A 2020 Report of 10 Worst Victims of apathy: Dalits, Adivasis
A 2020 Report of Victims of apathy: People of Assam
2020 List of Honour: 10 Anti-CAA-NPR-NRC protesters vilified in Delhi