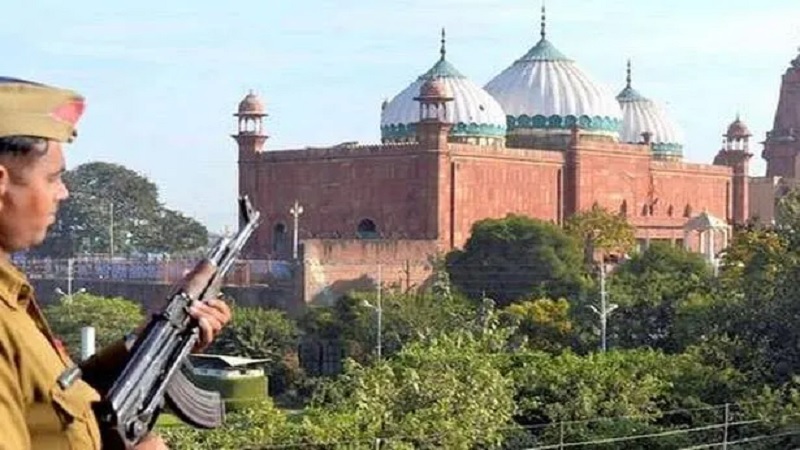 Image Courtesy:hindutvawatch.org
Decades after the Babri Masjid demolition in Ayodhya on December 6, the day has always been one of high security protocol in Uttar Pradesh. However this year, one of the thickest security blankets envelops Mathura, as right-wing groups announced plans to perform Hindu rituals at Shahi Idgah mosque and install Hindu deity Krishna's idol on December 6.
Mathura in western UP is revered as the birthplace of Hindu deity Krishna. It is also home to the Shahi Idgah, which is next to the Krishna janmabhoomi (the place where the deity is believed to have been born).
According to reports the city is "resembling a fortress", especially in the areas around the Shri Krishna Janmasthan Temple. Right-wing groups have been threatening to install an idol of Lord Krishna in the adjacent Shahi Idgah mosque on December 6.
According to ADG L&O UP Prashant Kumar the Police arrangements are statewide, "Parampara se hatkar koi bhi karyakram nahi karne diya jayega (no programmes apart from those done 'as per tradition' will be allowed)". Security forces have been put on high alert to maintain peace, he informed the media.
ADG L&O UP Sri Prashant Kumar speaks about the statewide Police arrangements for the 6th December.
All field formations have been put on high alert to maintain absolute peace in the state & no diversion from established tradition shall be permitted. pic.twitter.com/S0vbfxX11n

— UP POLICE (@Uppolice) December 5, 2021
On December 6, reported India Today, after the right-wing groups announced their intentions, some Muslim groups have responded that they will "observe the Babri Masjid demolition anniversary to raise their concern." A three-tiered security ring has been reportedly thrown around the Katra Keshav Dev area, where the temple and Shahi Idgah mosque are situated.
The security arrangements this year are being reported as "unprecedented". Usually the focus on this day had always been on Ayodhya, but Mathura has now found itself as the focus area of right-wing groups which are on overdrive, even as the state prepares for the Assembly elections next year.
According to news reports, every road connecting the town to the national and state highways has police barricades and India Today reported that "even the narrow gauge railway track that runs behind the temple-mosque complexes has been shut down."
Protest march or gathering in the city will also not be allowed as Section 144 has been imposed. No traffic will be allowed on roads leading to Sri Krishna Janambhoomi and adjoining Shahi Eidgah till Tuesday. Mathura Police has posted December 6 specific traffic guidelines for the city:
दिनांक 06 दिसम्बर, 2021 को मथुरा शहर की यातायात व्यवस्था निम्न प्रकार से रहेगी। pic.twitter.com/TEXiXXRrYT

— MATHURA POLICE (@mathurapolice) December 5, 2021
According to news reports the arrangements will remain in place even though some organisations and individuals have reportedly "called off their plans for the day".
The Akhil Bharat Hindu Mahasabha (ABHM) had called for a 'jalabhishek' anointing of a deity or holy spot, at the area they claim is the birthplace of Krishna, in Shahi Eidgah. However, they reportedly withdrew the call, and the police remained on alert with 2,000 police personnel, besides Central Reserve Police Force (CRPF), stationed at the site for Monday. Police forces have been called from nearby districts as well, stated news reports adding that Mathura police had also conducted an anti-riot drill at Police Lines to assess its preparedness under SSP Mathura Dr Gaurav Grover and district magistrate Navneet Chahal.
"Section 144 of criminal procedure code is in force, and anybody violating prohibitory orders will be dealt with strictly. Police is fully geared to maintain peace and tranquillity and to instil fear amongst those having nefarious designs," SSP Mathura told the media adding, "Denizens of Mathura are being asked to co-operate in security arrangements by not becoming part of any unlawful gathering or protest march and staying away from nuisance makers interested in spreading rumours. Vigil is being kept on social media, and the police cyber cell is all prepared to punish those interested in damaging peace and tranquillity in the city." Police are also on alert in adjoining district Agra.
Recently Uttar Pradesh's Deputy Chief Minister Keshav Prasad Maurya had publicly announced that "preparations were underway for the construction of a grand temple in Mathura" along the lines of what was being done in Ayodhya and Varanasi. He said, "A grand temple is being constructed in Ayodhya and Kashi, preparations are on for Mathura next." It is now his pinned tweet.
अयोध्या काशी भव्य मंदिर निर्माण जारी है
मथुरा की तैयारी है #जय_श्रीराम #जय_शिव_शम्भू #जय_श्री_राधे_कृष्ण

— Keshav Prasad Maurya (@kpmaurya1) December 1, 2021
Related:
Hate Watch: UP Dy CM Keshav Prasad Maurya continues spewing anti-Muslim venom
Uttar Pradesh: Kairana back in the spotlight in the run up to Assembly Elections
Hate Watch: UP Dy CM Keshav Prasad Maurya adding fuel to the communal embers?
Krishna Janmabhoomi: Application before DM to stop namaaz at Shahi Idgah
Will install Krishna idol in Mathura mosque on December 6: Hindu Mahasabha
Are Kashi-Mathura mosques in the crosshairs of hardliners again?