The Kerala government has decided to stop publishing notices of interfaith marriages under the Special Marriage Act after one such couple launched a campaign for the same. Athira and Shameem, who got married under the Special Marriage Act, had their marriage notice displayed on the state government's website in accordance with the law. However, they started receiving threats and their details were misused by many on social media and they fell victim to cyber bullying. Many couples like them approached Athira after she highlighted this through her social media account as they were going through the same.
There is a thread on Twitter by a user @vishnuguptuvach who has posted many such inter faith marriage notices with the comment, Hindu bloodlines are being exterminated; mass conversions in progress. In this thread of 18 tweets he has posted more than 60 such marriage notices, making the personal details of these couples public thus exposing them to potential cyber bullying which could also pose a threat to their lives.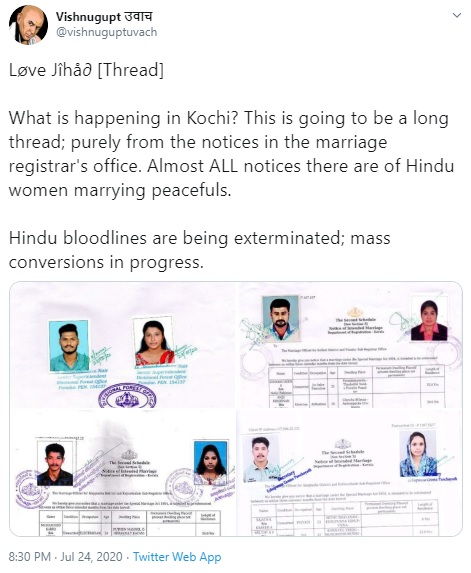 Further in this thread he comments, "This is not just 'inter-faith' marriages. This is a campaign. A campaign to obliterate Hindus."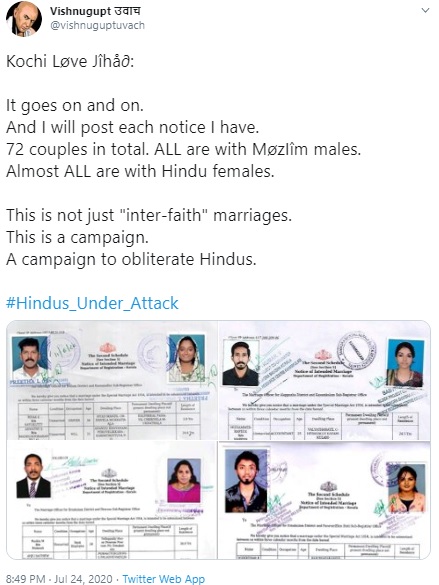 There are other Twitter users as well who have further pushed this claiming Kerala as a hub of 'love jihad'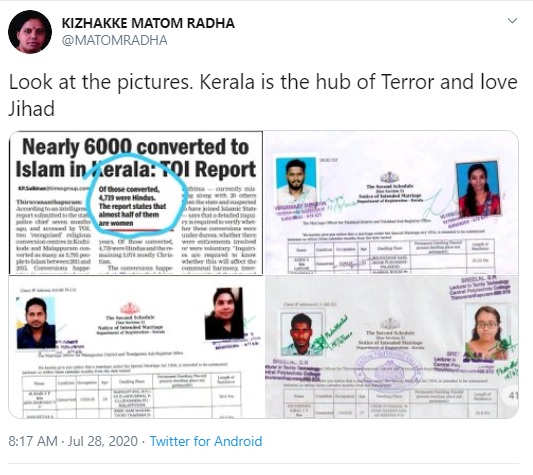 The Kerala government's move has not gone down well with some right wingers
#Kerala government orders not to publish the address of the man & woman getting married under the Special Marriage Act

This is to push #LoveJihad to the next level

'Calculated Ensnaring' Of Hindu Women Gains Momentum In Kerala: Here's Why It Is Happening https://t.co/oeOlCz7zxt

— Arun Pudur (अरुन् पुदुर्) (@arunpudur) July 28, 2020
The Kerala government has amended the Special Marriage Act and now as per the new amendment, such notices will be displayed only on notice boards of the sub-registrar offices under whose jurisdiction the applicants' addresses fall.
Minister for Public Works (PWD) and Registration G. Sudhakaran gave out instructions to stop the practice of publishing the application forms for marriages under the Special Marriage Act on the registration department website.
In a statement, the Minister's office said, "The Chief Minister's office and the Minister have received complaints that marriage applications of the inter-faith couples being downloaded from the website and used to communalise the issue and threaten couples."
These notices were being misused by right wingers for propagating their discourse on 'love jihad' a concept where they believe that all inter-faith marriages between a Muslim and a Hindu are a case of coercion, forced conversion and a malafide motive. The 'love jihad' narrative has been tirelessly used by right wing groups and followers on social media largely to augment hatred towards the Muslim Community while portraying that Hindu women, especially young girls are being lured by Muslim men into marriage with the aim of exterminating Hindus from the face of the country, thus threatening their dream of a 'Hindu Rashtra'. It was to put a stop to this, that the Kerala government has taken the right step while saving all future interfaith couples from cyber bullying, humiliation and possibly their lives as well.
Related:
Thok do s***e ko: Bachchan declares war on trolls
Aryavrta churns out hate against minorities on social media
Hate offender Kapil Mishra accuses renowned journalists for biased reportage of Delhi violence