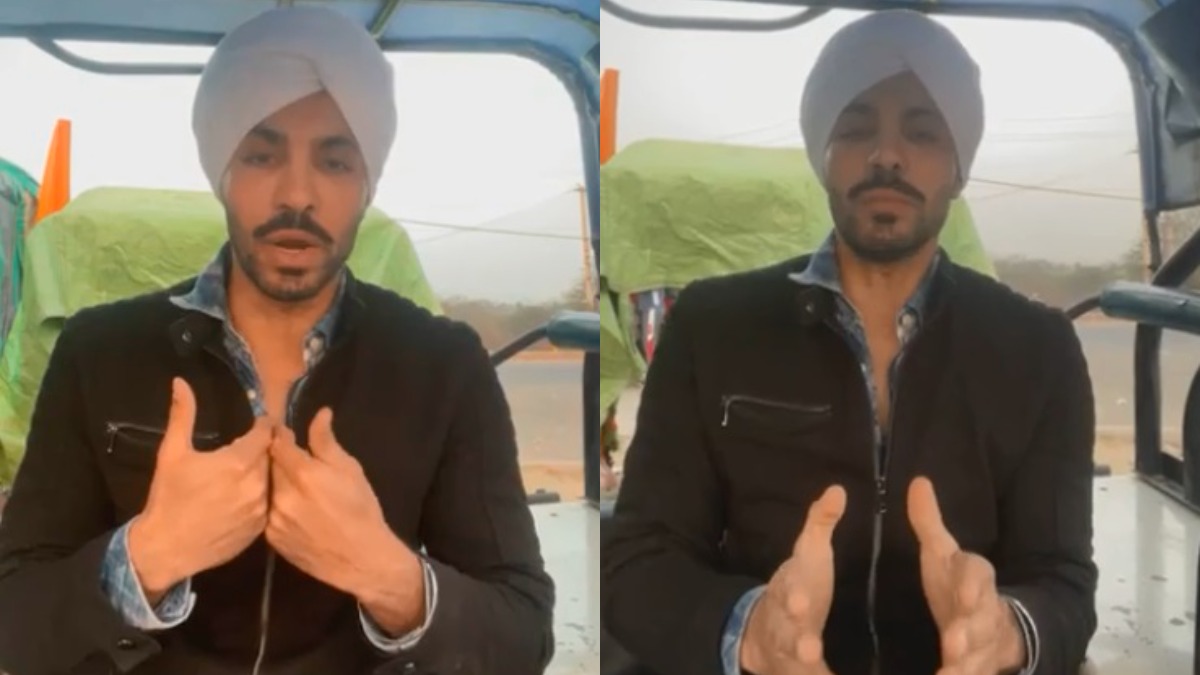 Following the Red Fort incident on January 26, 2021, Punjab actor Deep Sidhu took to social media to deny allegations of instigating people levied against him.
On Tuesday night, Sidhu started a Facebook Live wherein he blamed the farmer leadership for failing to listen to the wishes of the youth supporting the farmers' struggle. The actor-turned-activist claimed that he was merely one among the many people heading towards the historical fort after people broke police barricades.
Referring to the sequence of events leading up to the Kisan Ganatantra Parade, Sidhu said that Kisan Mazdoor Sangharsh Committee (KMSC) leaders Swaran Singh Pandher and Satnam Singh Pannu had already stated that supporters will not march along the police-designated route but enter Delhi.
"On January 25, youths present during speeches of Sanyukta Kisan Morcha [SKM] said that they wanted to march inside Delhi. Their demand was ignored. People's genuine sentiment was ignored and the SKM said people have to stick to the agreed upon route," said Sidhu.
Accordingly, Sidhu argued that the incident at Red Fort was a result of people's feeling of frustration.
It may be mentioned that as soon as reports regarding Red Fort began circulating, Pandher appealed to all people to return to the Kundli border because "there was no programme planned for Red Fort."
However, people continued to enter Red Fort where Sidhu allegedly climbed the flag pole to hoist the Nishan sahib flag, a religious flag of Sikhs. He defended the action in another Facebook Live, saying, "We waved Nishan sahib to decry the three farm laws and to acknowledge farmer-worker unity. The flag identifies the diversity of India's unity. This incident was not planned but occurred in the flow of events. It was a symbolic protest. What happened today [January 26] was not an isolated event but a result of a continuation of protests," he said.
Sidhu allegedly gave provocative speeches promoting separatism and potentially sabotaging the farmers protest on Monday night. The actor is known for being the "right-hand man" of BJP MP Sunny Deol. Following the Tuesday incident, Sidhu's pictures with Prime minister Narendra Modi and Deol were circulated on social media to show his links to BJP and RSS.
On January 17, the National Investigation Agency (NIA) asked him to appear before the organisation for a case related to Sikhs for Justice – an extremist right-wing group from which farmer leaders had distanced themselves.
However, Sidhu denied all claims of being a "BJP-RSS person" stating that those calling him a traitor were using the same narrative as the central government. Similarly, on Tuesday night Deol distanced himself and his family from Sidhu.
आज लाल क़िले पर जो हुआ उसे देख कर मन बहुत दुखी हुआ है, मैं पहले भी, 6 December को ,Twitter के माध्यम से यह साफ कर चुका हूँ कि मेरा या मेरे परिवार का दीप सिद्धू के साथ कोई संबंध नही है।
जय हिन्द

— Sunny Deol (@iamsunnydeol) January 26, 2021
"Every time such a huge struggle moves, people associate this with one person. All these 5-10 lakh people or more should be considered villains. Yet you claim that only Deep Sidhu is responsible. This is a scheme to make only one person the villain. People were already there when I reached Red Fort," said Sidhu during the Facebook Live in Punjabi.
Regarding possible violence, he said that people were not armed, and what happened was a result of flared up anger of the people who allegedly broke all four routes from different border points to march towards Red Fort.
Meanwhile, the Sanuykta Kisan Morcha condemned the events that unfolded at Red Fort and called all parade groups to return to their respective protest sites. Farmer leaders warned people against Sidhu on social media, as he is allegedly known to speak against farmer leaders opposing the three farm laws.
Related:
Amit Shah chairs high-level meeting, directs additional security
Internet suspended around protest sites in Delhi, situation
Kisan Tractor Rally underway, moves into national capital Delhi area
Government remains singularly devoted to farmers welfare: President Ram Nath Kovind
Come, stand with India's annadaatas!
Farmers tear memorandum in face of Maha govt's insensitivity