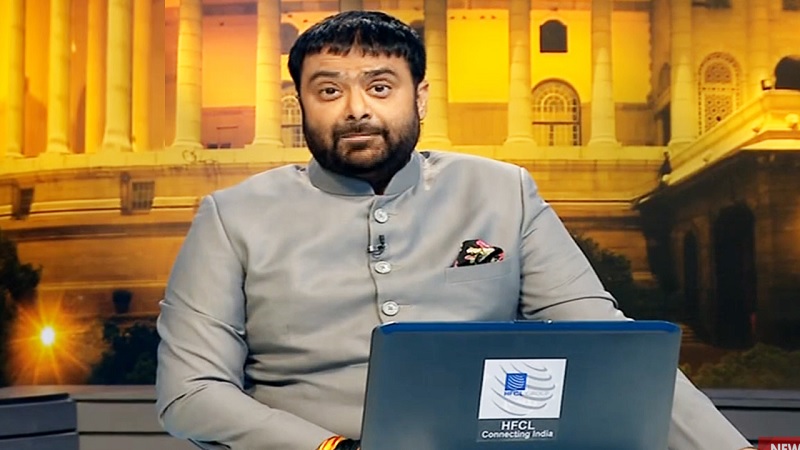 Image Courtesy:newsnationtv.com
News Nation television channel's Consulting Editor Deepak Chaurasia is once again peddling communal hate… this time on social media, through a show called "Conversion Jihad". A clip of approximately 5 minutes was posted on Twitter on November 6, 2020 with around 12,000 views and close to 2,150 likes.
Deepak Chaurasia appealed to his audience/followers to tweet on Dharamantar Jihad (Conversion Jihad) giving rise to dangerous hate politics. He starts the show with sarcastic remarks of questioning his viewers about what kind of 'Hindustan' we are living in, where a Hindu is no longer safe. He raises the sufferings of one Memchand who was allegedly forced to convert his religion, consume cow meat and threatened by some people.
He claimed to have revealed the plight of Hindus living in Mewat, Rajasthan who are being forced to convert their religion by the Tabhligi Jamaat members. He asserts that people born in a particular religion cannot be forced to convert by people belonging to other communities and that it is time to stand together against this injustice, insinuating that Hindus are subject to grave pressure by Muslims to convert. Throughout the show one can see captions like "Memchand Zinda hai…Jamaat Sharminda hai" (Memchand is alive and Tabhligi Jamaat members are ashamed) hinting at a concocted story with no reliable source.
The show on its channel News Nation openly declared that 5000 Hindus have already become Muslims (5000 Hindu kaise banaye Muslim?) and captions like 'Maulana Gang exposed', 'Mewat kya Pakistan ban gaya?' (Has Mewat become Pakistan?), are continuously allowed to run.
One news reporter Vikas Chandra reported from Alwar on the show and alleged that Memchand was forcefully made to embrace Islam and was named Mohammad Anas by Tabhligi Jamaat members. His wife, named Komal was forced to take up the name Kulsum and their children were coerced to attend Tabhligi Jamaat meetings and were also not allowed to stay with the parents.
Deepak Chaurasia also sent out a series of tweets quoting Memchand who revealed the reality behind Conversion Jihad that has been in practice in Rajasthan since years and that the Tabhligis dominate the entire area calling Hindus 'Kaafir' (disbeliever) and aspiring to live in a Kaafir free state.
Through his several tweets, Deepak Chaurasia attacked Tabhligi Jamaat members and blamed them for coming up with a new 'weapon' of conversion jihad after love jihad and zameen jihad. His tweet "Kya Hind Hindu vihin hojaaega?" (Will Hind become devoid of Hindu?) posted online on November 6 has received 11,000 likes and thousands of retweets.
Further, in an attempt to erode the secular fabric of India, he quoted Sadhvi Prachi, a Hindu political activist and member of Hindu Vishwa Parishad on twitter posting, "Love jihad ki janni hai Quran, apni bachiyo ko Gita padhao, Ramayan padhao, aathvi class mein Quran padhao, taaki bachiya apni Raksha karr sake" (Quran is the source of Love Jihad, read Gita and Ramayan to your daughters, read Quran to 8th graders so that they can protect themselves).
This single post has received as many as 9,000 likes and 2,000 retweets since it went viral. This is extremely offensive to minority communities of India and such posts and ideas act like a catalyst to communal conflagration.
SabrangIndia has previously reported on Deepak Chaurasia's communally divisive statements on various platforms where he has supported the call for "population control law" to stop Muslims from having more than two children and his focus on mostly anti-Muslim debates on his prime time shows.
On a live show, as an anchor he made no attempts to restrain a Delhi University professor of Political Science, Sangit Kumar Raagi who called for a ban on the Quran as it is the 'school of terrorism'. Deepak Chaurasia has also allowed discriminatory statements like calling Muslims and Dalits 'traitors', the Muslim Holy Book demanding the 'killing of kafirs' to be made, representing one sided virulent ideology on national television.
Inviting right wing flagbearers, supporting the narrative of uniting Hindus against Muslims, muting the microphone of Muslim participants on his television debates depriving them of the opportunity to speak suggests that Deepak Chaurasia is a serial offender who is trying to condition his viewers with vehement Islamophobic content.

He also receives unshackled support from one Deepak Sharma, a Hindutva activist who retweeted about Chaurasia with the hashtag "#GoAheadDeepakChaurasia" and called him the 'Bhagwa Sher' (Saffron Lion). SabrangIndia has extensively covered stories on Sharma as well who has been booked under sections of the Indian Penal Code for inciting communal violence in the past.
From attempting to remove all Mughal symbols in the country to offering prayers at the Taj Mahal, Agra with other fellow Rashtriya Swabhiman Dal (RSD) members, this hate activist has been spitting venom against the minorities in India. Unfortunately, there are many easily accessible digital platforms and news shows that have countless followers across the country responsible for conditioning the Indian youth resulting in polarisation of society.
The US example
Steve Bannon, a former White House strategist got his Twitter account permanently suspended after he advocated for the beheading of Dr. Anthony Fauci, Director of the National Institute of Allergy and Infectious Diseases and FBI Director Christopher Wray in an episode of his online talk show "War Room Pandemic". The episode was pulled from YouTube as well.
Bloomberg reported that the Twitter Spokesperson had made a statement about Bannon's comments which were violating the platform's rules, "specifically our policy on the glorification of violence." Such policies require enforcement action against clear threats of violence, abuse, harassment and hateful content.
But in India, response to any hateful content reporting is extremely laidback. In August 2020, the Wall Street Journal had reported that Facebook India's top public policy executive was opposed to apply hate speech rule to at least four individuals and groups linked with the ruling party of India despite the fact that they were "flagged internally for promoting or participating in violence."
The law in India to curb hate speech on social media is complicated. Under the Information Technology Act, the government is required to sound off the intermediaries (Facebook, Twitter, Instagram, etc) about questionable content and then it is up to that particular intermediary to take action.
In Shreya Singhal vs Union of India (2015) 5 SCC 1, the Supreme Court of India had held that the intermediary is only obligated to take down the content upon the receipt of actual knowledge by a court order, the appropriate government or its agency but not based on user complaints. "This is for the reason that otherwise it would be very difficult for intermediaries like Google, Facebook etc. to act when millions of requests are made and the intermediary is then to judge as to which of such requests are legitimate and which are not."
Related:
Why did Deepak Chaurasia allow hate speech on his show?
Hate Watch: From Social Media Weirdo to hate activist, this is Deepak Sharma
Decoding the hate campaign unleashed by propaganda channel Best Hindi News
CJP calls out Sudarshan News' hate agenda; moves NBSA