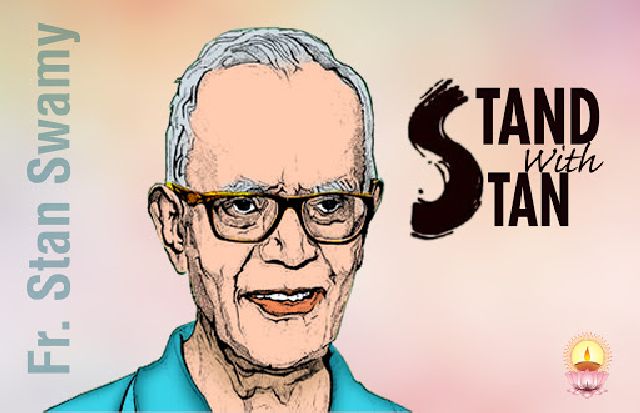 Image Courtesy: https://www.mangalorean.com

At an online event titled I cannot be framed 110 human rights organisations, including Peoples Union of Civil Liberties (PUCL) and Citizens for Justice and Peace(CJP), came together to stand in solidarity with Father Stan Swamy and 15 other accused in the Bhima Koregaon case. They came together to mark the hundred days of Father Stan Swamy's incarceration and hail the efforts and struggle of all Human Rights Defenders.
The demands of the programme were to:
Release Father Stan Swamy and the 15 others arrested and falsely accused in the Bhima Koregaon case immediately

Arrest the real perpetrators of the violence that took place on January 1, 2018

Repeal the Unlawful Activities (Prevention) Act
The event was moderated by Professor Apoorvaanad, who has fearlessly written on the issues of Indian democracy and rising communalism. It started with a spirited performance by members of India's indigenous communities playing a variety of drums and other traditional instruments. This was followed by activist and world-renowned classical dancer Mallika Sarabhai's dance recital based on Maya Angelou's poem, Still, I rise.
Xavier Dias, an activist, humanitarian, and writer, who has worked closely with Father Stan in Chaibasa district said that Father Stan's detention is unfortunate but it gives every individual hope to prepare to pay the same price. He compelled all the participants and listeners to rise and fight against the brutal affairs of the State.
Henri Tiphagne one of the key activists in India advocating with the United Nations and other International Human Rights Agencies introduced Mary Lawlor, who took up the mandate of Special Rapport on the situation of the defenders on May 1, 2020 and is also the founder of Frontline Defenders.
Lawlor said, "India is a state which doesn't properly protect human rights defenders. I am appalled by the treatment of human rights defenders such as Father Stan Swamy who embodies solidarity." She also cited UAPA as a draconian law that designates individuals as terrorists and fails to provide legal certainty. She asserted, "Defending human rights is not terrorism."
She added, "In November 2020, I sent a letter to Indian government raising concerns about arrest. Governments are given a 60-day period during which they are expected to reply but I am still to receive a response from the Indian authorities."
Elizabeth Soren, the Adivasi leader of a group representing domestic workers also launched a sipper to honour the jailed Jesuit priest. Badges calling for the repeal of UAPA, release of all political prisoners was also launched during the event provided by Citizens for Justice and Peace through its Secretary Ms. Teesta Setalvad.
Senior Counsel Mihir Desai, a highly respected human rights lawyer who is also defending Fr. Stan Swamy in the case in the Bombay High Court and who also appears in human rights cases before the Supreme Court, gave a background and current status of Father Stan's case before the court, in addition to the Bhima Koregaon case under which all prominent lawyers, activists, academicians and lawyers have been apprehended. He showcased how the frivolous charges were not dropped despite adequate hard evidence, by comparing it to another case where in a complete contradiction, serious charges were ignored despite witness testimonies and records of meetings. Advocate Desai said, "This is a country where the Zakia Jafri case was not allowed to make much headway, but the Bhima Koregaon case is going strong."
He explained how the narrative of the police have changed over the months from registering cases against the right-wing groups for inciting violence at Elgar Parishad to now placing the blame on the speeches delivered by the undertrials that were allegedly sponsored by Maoists. Advocate Desai said, "One of the first cases was filed against Milind Ekbote and Sambhaji Bhide in the Bhima Koregaon case. But suddenly they changed the story and blamed the speeches made at Elgar Parishad instigated the violence," and pointed out, "After the government changed in Maharashtra, the case was taken away from the state police and given to the NIA." He ended on a positive note stating that even though getting bail under UAPA is difficult, we must all be inspired from the Farmers' struggle and continue to fight.
His speech was followed by the performance of the vibrant Bagaicha Cultural Group that sang for Father, "Oh Stan baba keeps struggling, keep fighting for Adivasis, we too shall struggle". Father Swamy has been instrumental in setting up this group.
Dayamani Barla, a fellow comrade of Father Stan and a well-known Adivasi activist from Jharkhand who has been at the forefront of several movements on Adivasis for their right to jal (water), jangal (forest), zameen (land), said that the 83-year-old priest has inspired all Adivasis to fight for their rights and raise their voices against injustices. She also fondly remembered how Father Stan asked her to call him his elder brother (dada) and not Father.
Another courageous women's and Adivasi rights activist, Aloka Kujur, who has known Father Stan for 25 years lauded his efforts and struggles. "His spirit was akin to taking forward the human values that Birsa Munda fought for. He took up the crucial issues of the large number of Adivasi undertrials, the deplorable conditions in prisons in the state and approached authorities and the Court as well," she said.
General Secretary of PUCL, Chhattisgarh Shalini Gera and lawyer Susan Abraham who's husband Vernon Fernandes has been falsely accused in the case and is in jail presently, talked about all the accused in the Bhima Koregaon case, providing some background of how all of them were arrested and under what circumstances. They include Anand Teltumbde, Arun Ferriera, Gautam Navlakha, Hanny Babu, Rona Wilson, Shoma Sen, Sudha Bharadwaj, Dr. Varavara Rao, Sudhir Dhawale, Surendra Gadling, Mahesh Raut, Kabir Kala Manch artists (Ramesh Gaichor, Sagar Gorkhe and Jyoti Jagtap), Vernon and Father Stan.
Kabir Kala Manch, a cultural organisation that was formed in Pune in the wake of the Gujarat riots in 1992 also performed a song saluting the effort of all defenders. The event drew to a close with Virginius Xaxa and Sister Dorothy Fernandes' speech. Virginius, a visiting Professor at the Institute for Human Development (IHD), New Delhi and writer on themes of tribal societies and politics said that Father Stan is not against the State and only desires to fight for oppressed Adivasis in India.
Sister Dorothy, who belongs to the Congregation of the Presentation Sister and is also the Chairperson of the Women's Commission of the Archdiocese of Patna recited, "Well done my good and faithful servant, I will put you in charge of many things, come and share your masters' happiness" for Father Stan as a message from Jesus.
Related:
Taloja Jail may soon get a deluge of 'sippers', but will they reach Fr Stan Swamy?
Father Stan Swamy moves NIA court for bail
Activists, Opposition parties demand release of Bhima Koregaon accused