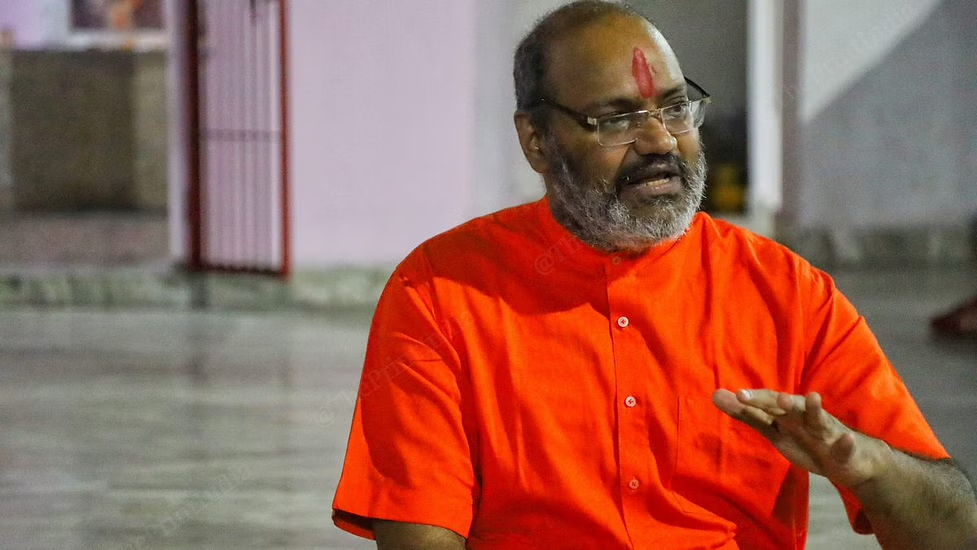 Image courtesy: Manisha Mondal / ThePrint
Yati Narsinghanand, the militant Hindutva leader and the priest of Ghaziabad's Dasna Devi temple, has said that he will "organise (the Dharm Sansad) at any cost," after the Uttar Pradesh police on Thursday, November 3, issued a notice instructing him not to organise a 'dharma sansad' and a preparatory meeting at the temple, PTI reports.
UP Police has reportedly stated that Narsinghanand has not obtained permission from district administration for neither of these two events.
Narsinghanand, who is known for extremely communal, sexist and violent statements had called for the three-day 'dharma sansad' to begin on December 17. The day is the birth anniversary of former Bharatiya Janata Party (BJP) MP Baikunth Lal Sharma. December 17 is also the day on which, last year, the Haridwar Dharma Sansad began. In it, a large collection of major religious leaders, right-wing activists, hardline fundamentalist militants and Hindutva organisations came together for an extraordinary outpouring of hate speech, mobilisations to violence and anti-Muslim sentiment.
The Supreme Court is presently adjudicating on two major petitions agitating the issue of police inaction and absence of prosecution of hate offenders. Dharma Sansads or 'religious parliaments' organised and attended by Hindutva leaders and supporters have been in the spotlight since, with local administrations often prohibiting these events.
An FIR was lodged in Haridwar against Narsinghanand for making highly provocative speeches against Muslims at the Haridwar Dharma Sansad. A five member SIT was constituted to investigate the allegations of hate speech by the Haridwar police.Yati Narsinghanand was first denied bail in an Uttarakhand court. Later a Sessions court granted him bail in February 2022. His bail condition had it that he would not be part of any event or gathering "which aims towards creating difference between communities".
'No permission needed, Will organise at any cost'
Despite these legal restrictions, , Narsinghanand has made statements openly exhorting violence multiple times since then. Narsinghanand had also called for a 'preparatory meeting' on December 6 to chalk out plans for the three-day event.
Ghaziabad superintendent of police (Rural) Iraj Raja said, "Without permission, the police will not permit the three-day-long 'dharma sansad' which hundreds of seers are expected to attend. Also, providing security to them would be a tough task." Besides, prohibitory orders under CrPC Section 144 have been enforced in the district in view of civic body elections, the police officer said.
In a press statement that PTI refers to, Narsinghanand said, "Dharma Sansad will be held in the temple premises that is why no permission is required for it. And, it is not being held for the first time. We will organise it at any cost. If police and administration create hindrance, seers will lodge their protest."
Note: This article, originally published as a PTI report at 12.38 pm