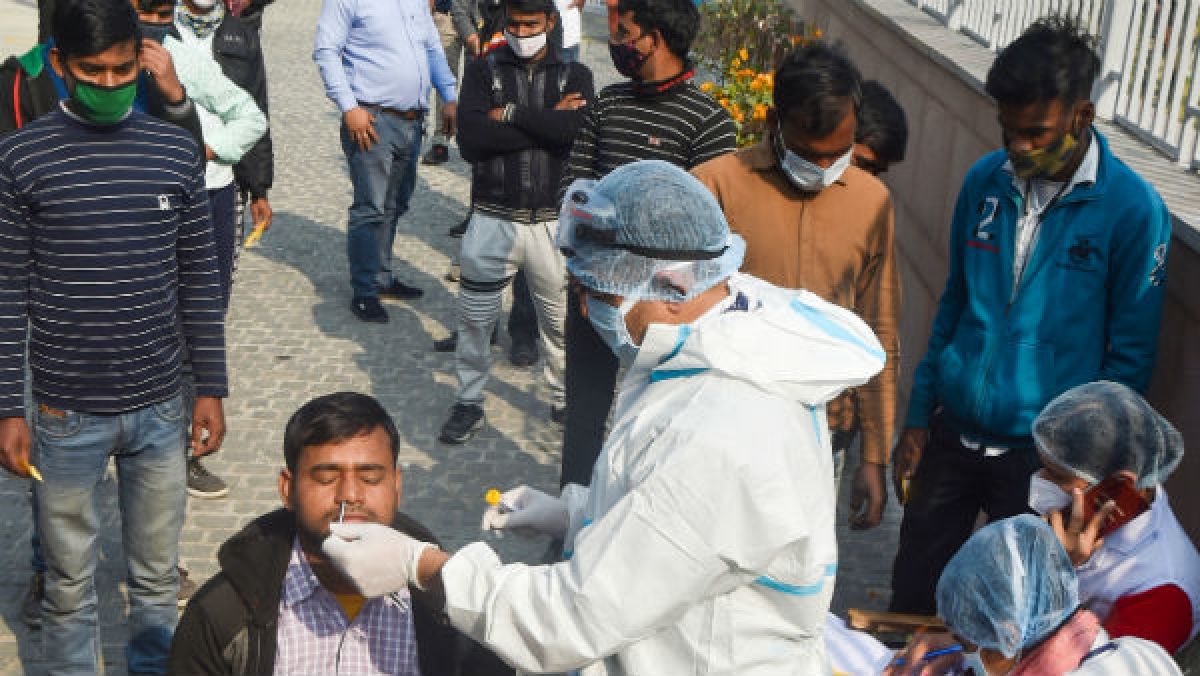 Image: PTI
The national capital has been witnessing a steady rise in the number of Covid-19 cases over the last week. Delhi is nearing 1,000 Covid cases a day, and has so far recorded 238 Omicron cases, mostly from travellers coming from abroad. The positivity rate now climbing to 1.29 per cent, on Tuesday Delhi reported 496 new Covid-19, and 923 on Wednesday, a 86% rise in a day.
The Delhi Disaster Management Authority (DDMA) ordered closure of schools, colleges, cinemas and gyms, as well as restricted timings for shops and limited number of passengers in public transport while announcing a "yellow alert" sounded under the Graded Response Action Plan (GRAP) on Tuesday. Meanwhile, the Delhi government claimed it was "ready to fight Covid-19 on all fronts; have made arrangements for sufficient oxygen, medicines and beds."
According to Delhi's health minister Satyendar Jain, there is "no need to panic because of Omicron, but need to be careful; everyone must wear a mask and follow social distancing at all times." Jain issued a statement on the developing citation in the national capital and stated that "if the number of corona cases increases, the Delhi government may impose additional restrictions. If the infection rate (positivity rate) remains above 1% for two days in a row, Delhi will be issued with a level two amber alert." In an Amber Alert, all schools, colleges, parks, restaurants (except home delivery), are shut down and only essential services are exempted. The night curfew is also tightened in that case.
While the Health Minister urged Delhiites "strictly adhere to Covid appropriate behaviour, wear masks and practise social distancing in public places," the scenes on the city's streets and markets show the real picture.
Implementation of the national directives for Covid-19 management will be extended until January 31, 2022 throughout India in light of increased cases of the Variant of Concern – Omicron, said the Ministry of Home Affairs (MHA) on December 27, 2021.
As per the earlier December 21 directions, every state and union territory was instructed to prescribe a normative framework for taking evidence based containment measures at the district and local level if the area reports over 10 percent positivity rate for the virus or if there is more than 40 percent hospital bed occupancy. "For the enforcement of social distancing, state/union territory governments may, as far as possible, use the provisions of Section 144 of the Criminal Procedure Code of 1973," said the order. The news came on the same day that NITI Aayog's Health Index report ranked Kerala as the best performing state in terms of health.
Overall, 9,195 new cases were reported in the last 24 hours across the country as per the Union Government's data, and the overall Active Caseload is at 77,002.
Related:
How did it go from flower showers to alleged lathicharge on doctors?
Covid in 2022: Is India battle-ready?
Covid-19: Have we learnt anything from challenges faced in 2021?