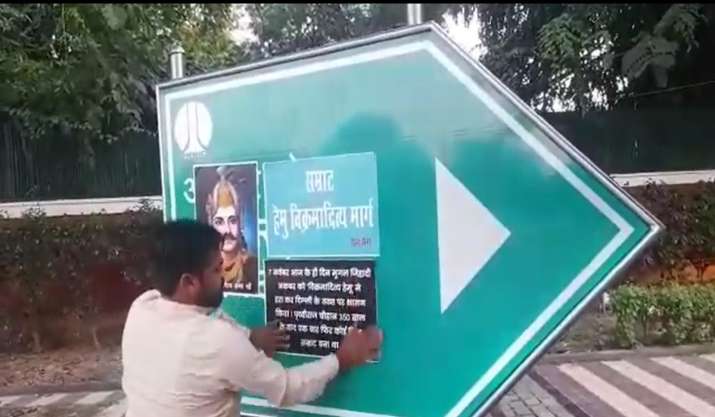 Two goons, claiming to belong to a right-wing extremist group called the Hindu Sena, once again set out to deface the signboard of Akbar Road in New Delhi on Thursday. They vandalised public property by pasting posters and photos in a bid to 'rename' the road to "Samrat Hemu Vikramaditya Marg".
As is the modus operandi of such vandals, they filmed themselves while defacing the signboard, in the hope that they will soon get some recognition. However, when they were being interviewed by a TV journalist, the sight of approaching police sent them scooting. They fled, escaping in their waiting cars, and all this was caught on camera.
ये देख लो विष्णु गुप्ता, हिंदू सेना का वीर सेनापति। दिल्ली पुलिस को देखकर भाग लिया। अकेला था, झुंड में होता तो दिल्ली पुलिस भाग लेती। ? pic.twitter.com/sEV95b8iPb

— ??biswajit mishra (@mishrabiswajit6) October 7, 2021
According to news reports, Delhi Police have registered an FIR in connection with the case. The area falls under the New Delhi Municipal Council (NDMC), and is a high security zone in the heart of the national capital. The posters were removed by the authorities, however, it is not known if any arrests have been made in the matter.
Hindu Sena president Vishnu Gupta said, "Today, the Hindu Sena remembers… one of the bravest sons of Bharat Mata, Raja Hem Chandra Vikramaditya, also known as Raja Hemu,… (who) ruled Delhi for a short but significant period of time." He reportedly told the Delhi government to officially rename Akbar Road as "Samrat Hemu Vikramaditya Marg".
The Hindu Sena is a regular at defacing signboards of roads in the national capital, and were in the news in September when they attacked the official residence of All India Majlis-e-Ittehadul Muslimeen (AIMIM) president and Hyderabad MP Assaduddin Owaisi. Owaisi had recalled that his Ashoka Road residence was targeted in 2015 as well, and asked the PM to "please tell who radicalised these goons?" The members of this group have in 2020 defaced the signboard outside the Chinese embassy here after 20 Indian soldiers were killed in clashes with Chinese troops in Ladakh's Galwan. A year before that they vandalised the signboard of Babar Road in the Bengali Market area.
According to a report in Maktoobmedia, the Hindu Sena was also a part of the mob of nearly 3,000 people that had marched the streets of Kawardha town in Chhattisgarh's Kabirdham district, wielding swords and lathis last week. The violent right-wing mob, one of the biggest reported in recent times, was allegedly attacking houses and vehicles of people from "another community" and pelting stones on police personnel. Social media showed that the 'other community' under attack were Muslims. The area remained tense for "more than 48 hours following an altercation" between the two groups over "religious flags being allegedly brought down on Sunday". By Tuesday, curfew was imposed in Kawardha.
Related:
Not fringe, but main elements of the Hindutva brigade: Assaduddin Owaisi on attack
Court reminds hate mongers, India is not a Taliban State
Unnao: Teenaged Muslim vendor dies after police beating for violating Corona curfew
Haryana: Muslim man killed, kin alleges communal lynching, cops say old enmity
Suresh Chavhanke's communal campaign now targets SRK!
Meerut: Hindu Jagran Manch leader booked for assault on Muslim youth