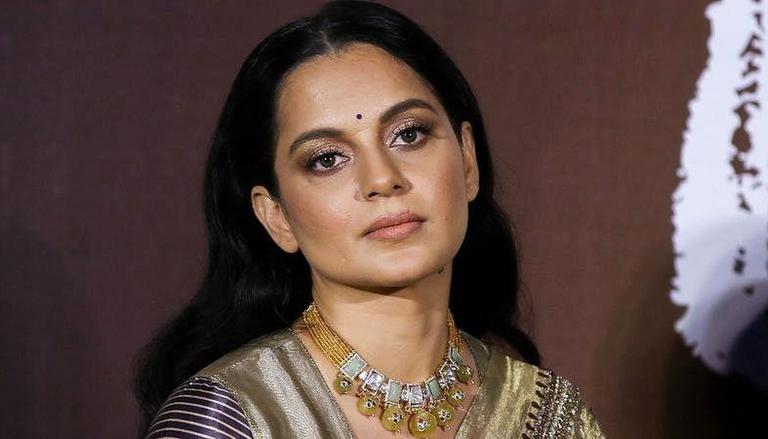 Delhi Assembly's Committee for Peace and Harmony has sent a notice to actor Kangana Ranaut on Thursday, asking her to appear before it at noon on December 6. Ranaut was summoned by the committee for allegedly posting hate speech on her social media account. According to the Committee, this has hurt the religious sentiments of the Capital's Sikh community.
The Committee led by MLA Raghav Chadha sent a summons notice to Ranaut on Thursday and asked her to appear before it at noon on December 6. The Committee stated that it "received numerous complaints, eliciting an alleged offensive and derogatory Instagram story: posted by Kangana Ranaut." It alleged that she "blanketly labelled the Sikh Community as 'Khalistani Terrorists'". The complainants reportedly told the Committee that such stories have "gravely hurt the religious sentiments of the Sikh Community and has caused apprehensions in their mind regarding their safety as well as life & liberty." The Committee said that it had "received multiple complaints eliciting outrageously offensive and derogatory Instagram stories/posts allegedly published by Ms. Kangana Ranaut, the film actress, on her official Instagram Account namely @kanganaranaut." Ranaut's Instagram Account has a massive reach, and is followed by around 80 Lakh people worldwide.
The complaints stated that Ranaut has allegedly "labelled the Sikh Community as 'Khalistani Terrorists' which has led to unbearable humiliation for people from Sikh Community but has also led to apprehensions regarding their safety, life and liberty in their minds" in her post of November 20, that read, "Khalistani terrorists may be arm twisting the government today…. But let's not forget one woman…The only woman prime minister ne inn ko apni jooti ke neeche crush kiya tha…..No matter how much suffering she caused to this nation… she crushed them like mosquitos at the cost of her own life …. Lekin desh ke tukde nahi hone diye.… even after decades of her death… aaj bhi uske naam se kampte hain yeh…. Inko vaisa he guru chahiye….'"
One of the complainants put on record that he was also called a "Khalistani" in broad daylight, and this "was not only shocking to him but also raised legitimate apprehensions in his mind and heart regarding the safety of his family and himself" stated the Committee.
The notice issued by Sadanand Sah, deputy secretary of the committee, reportedly read, "…the committee has received numerous complaints eliciting inter alia, outrageously offensive and derogatory Instagram stories/posts allegedly published by yourself on 20.11.2021 on your official Instagram account against the Sikh community by blanketly labelling them as 'Khalistani terrorists' through purportedly deliberate references and imputations made in the said stories/posts, thus depicting the entire Sikh community in a very bad light, which as per complaints, has the potential to engender disharmony as well as cause wounding humiliation to the entire Sikh community."
Ranaut was recently awarded with the Padma Shri. On Tuesday, Delhi Gurdwara Management Committee (DGMC) president Manjinder Singh Sirsa, Supreme Council Navi Mumbai Gurudwara president Jaspalsingh Siddhu, and Amarjeet Singh Sandhu of Dadar's Shri Guru Singh Sabha Gurudwara also initiated the filing of a First Information Report (FIR) against Ranaut.
We will fight this battle until she is put behind bars for spreading hatred against Farmers and Sikhs pic.twitter.com/cKi0zQZncg

— Manjinder Singh Sirsa (@mssirsa) November 24, 2021
In May this year, Twitter permanently suspended Kangana Ranaut's account following a tweet where she egged Prime Minister Narendra Modi to show his "virat roop" (vast form) from the "early 2000s", appearing to allude to the Gujarat pogrom where thousands of Muslims were butchered. Her comment was in reference to the violence in West Bengal following the declaration of Assembly election results. Kangana had tweeted, "This is horrible… we need super gundai to kill gundai… she is like an unleashed monster, to tame her Modi ji please show your Virat roop from early 2000's … #PresidentRuleInBengal". In 2002, Gujarat under the leadership of then Chief Minister Narendra Modi witnessed a pogrom in which thousands of Muslims were systematically killed in particularly gruesome ways. There were also countless instances of gendered violence. Following the 2002 pogrom, the US and the UK had imposed an entry ban on Modi. The violence is still remembered as one of the most horrifying moments in the country's history.
Since then, she has used Instagram to amplify her controversial opinions.
Related
Why did Times Now give a platform to communal, seditious statements?
Twitter suspends Kangana Ranaut's account for urging Modi to show 'virat roop from early 2000s' in Bengal
Kangana Ranaut is whining about Twitter, on Twitter, for Twitter restricting her!
Sessions court dismisses Kangana's plea against Javed Akhtar's defamation case