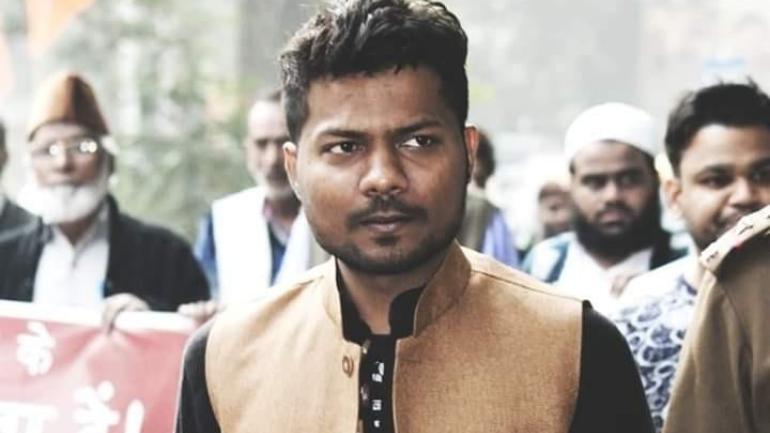 Uttar Pradesh Police has, once again arrested Delhi-based journalist Prashant Kanojia, for the second time this year, allegedly over his social media posts. He was arrested on Tuesday, August 18, from his south Delhi residence and taken to the local police station. Kanojia will reportedly be taken to Lucknow for further investigation "in connection with some tweets". After a few journalists broke the news on social media, Prashant Kanojia confirmed it with a retweet.
पत्रकार प्रशांत कनौजिया को यूपी पुलिस ने उनके दिल्ली वाले आवास से गिरफ्तार किया

— Punit Kumar Singh (@puneetsinghlive) August 18, 2020
Soon, his wife Jagisha Arora, also a journalist, also confirmed it.
पत्रकार प्रशांत कनौजिया को यूपी पुलिस ने उनके दिल्ली वाले आवास से गिरफ्तार किया.

— Jagisha Arora (@jagishaarora) August 18, 2020
She told The Wire that the UP police came to their house on Tuesday afternoon to arrest him. She told the news portal that, almost all the police personnel were "wearing civil clothes, only one cop was in police uniform. They arrested Prashant and said, 'Tweet ka maamla hai.' When I asked them which tweet are they talking about, they said, 'Bohot tweet kiye hain tumney, upar sey orders aaye hain humein, follow toh karna padega'." (Translation: It's about tweets, you have tweeted a lot, the orders have come from above, we have to follow them.)
In April this year, Kanojia was booked for allegedly making some 'objectionable remarks' against the Prime Minister, and Uttar Pradesh Chief Minister. That complaint had been made by Shashank Shekhar Singh, a BJP leader, and a FIR was registered on the charges of defamation, printing or engraving matter known to be defamatory, circulating mischievous comments and obscenity under the Information and Technology Act. In 2019, he was arrested by the Lucknow police for allegedly making objectionable posts against CM Adityanath. He was released on bail by the Supreme Court after protests were held against his arrest in various parts of the country.
After his arrest for the second time this year, many voices have risen on social media, in his support, and against the ongoing attacks, and targeting on journalists across the country, and in particular in Uttar Pradesh and Delhi.
Bhim Army chief Chandrashekhar Azad said Bahujan journalist Kanojia's arrest was a "testimony to the dictatorial attitude of the Uttar Pradesh government. Now the government is suffering due to people reading and writing. We are constantly surrounded by times of emergency,". He has demanded that the "immediate release" of Kanojia must be ensured.
बहुजन पत्रकार @PJkanojia की गिरफ्तारी उत्तर प्रदेश सरकार के तानाशाह रवैए का प्रमाण है। अब लोगों के लिखने पढ़ने और आवाज उठाने से सरकार को तकलीफ होने लगी है। हम लगातार आपातकाल के दौर से घिरते जा रहे हैं। तत्काल प्रशांत कनौजिया की रिहाई सुनिश्चित की जाए। @lkopolice

— Chandra Shekhar Aazad (@BhimArmyChief) August 18, 2020
Scores of journalists, writers and activists have spoken out in Kanojia's support and demanded his release. "No written orders or details were shared. He will be taken from Vasant Vihar to Lucknow, UP shortly #Release_Prashant_Kanojia," posted writer Meena Kandasamy.
Bahujan journalist Prashant Kanojia has been arrested by the UP police from his residence at 1:30PM 'in connection with a tweet'
No written orders or details were shared. He will be taken from Vasant Vihar to Lucknow, UP shortly #Release_Prashant_Kanojia

— meena kandasamy || இளவேனில் (@meenakandasamy) August 18, 2020
उत्तर प्रदेश पुलिस ने एक बार फिर @PJkanojia को हिरासत में लिया है. पुलिस ने "कई सारे ट्वीट्स" को वजह बताकर हिरासत में लिया. अभी ये स्पष्ट नहीं किया है कि वे कौनसे ट्वीट हैं.

— Sarvapriya Sangwan (@DrSarvapriya) August 18, 2020
Lucknow Police has arrested @PJkanojia from his Delhi residence. It's clear path towards cops dictatorship. Kindly inform the cause behind this arresting without any prior information and release him soon, @lkopolice.

— Suraj Kumar Bauddh (@SurajKrBauddh) August 18, 2020
Journalist @PJkanojia reportedly detained from his Delhi home by a team of UP police from Lucknow for his alleged inflammatory tweet. FIR registered at Hazratganj Kotwali in Lucknow on August 17. https://t.co/2rKxgIK6X9

— Piyush Rai (@Benarasiyaa) August 18, 2020
The Wire states that according to their sources this time "Kanojia has been arrested in relation to a tweet in which he had shared a morphed image of a poster with the name of Sushil Tiwari of the Hindu Army on it." However, his wife told The Wire that Kanojia never posted the tweets he has purportedly been arrested for and said that the screenshot has been morphed. "You can check his Twitter, you will not find the tweet anywhere," she told The Wire.
The FIR against Kanojia is dated August 17, and was filed by one Dinesh Kumar Shukla. Kanojia has been booked under Section 66 of the Information Technology Act, 2000, as well as various sections of the Indian Penal Code. They include: Sections are 153A (promoting enmity between different groups on grounds of religion, race, etc), 153B (assertions prejudicial to national-integration), 420 (cheating), 465 (forgery), 468 (forgery for purpose of cheating), 469 (forgery for purpose of harming reputation), 500 (defamation), 500 (1)(B) (likely to cause, fear or alarm to the public, or to any section of the public whereby any person may be induced to commit an offence against the State or against the public tranquility), and 505(2) ( promoting enmity, hatred or ill-will between classes).
Related:
Scribe booked for alleged defamatory content against PM Modi and CM Adityanath
Caravan journalists attacked viciously by murderous mob in Northeast Delhi
Police probe ordered by NHRC into death threats on journalist: Sultanpur rape case
BBC journalist illegally detained in UP, HRDA writes to NHRC
Journalism is a hazardous profession in Uttar Pradesh