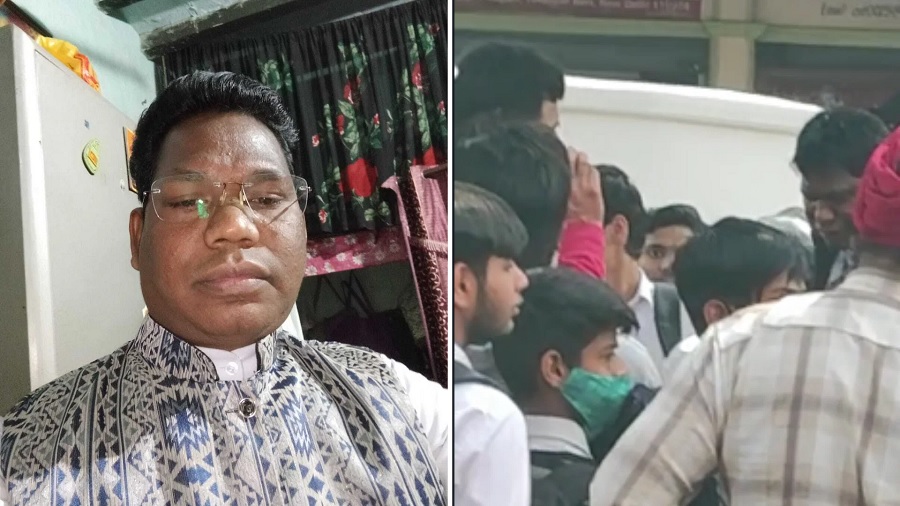 "My name is Kelom Kalyan Tete, I live in Fatehpur, Asola. On February 25, at 10:15A.M, I was going to my prayer place after meeting one Kalu bhai for 10 minutes. Then some unidentified men came, snatched my Bible, and started hitting me," recalls Pastor Tete. He was attacked by a communal mob, and beaten mercilessly on false charges of conducting conversions.
"They put me in a white car and took me towards Shanidham, then turned around and brought me to Fatehpur chowk near the peepal tree, and tied me with ropes and thrashed me. They accused me of conversion and also made me chant 'Jai Shri Ram'. This went on for an hour. Somehow I managed to escape, and went into a lane. No one helped me. I was traumatised, and very upset, I thought I would die… On february 27 I was advised by pastors to lodge a complaint," the Christian priest who hails from a Scheduled Tribe community from Jharkhand, and has lived in Delhi for a long time, recalled the horror he was subjected to by a mob in south Delhi's Fatehpur Beri.
"They accused me of doing forced conversions, which is not true," alleged Tete who put on record in his letter to the Commissioner of Delhi Police, according to Quint. This is the most used excuse by right-wing mobs to attack Christians, especially preachers and nuns. Tete claimed that "a mob of 100 people led by one Sagar Tanwar joined the attackers and brutally beat me up with the intention to kill me." He also recounted that he was forced inside a car, and told that he was being taken to a police station, but was taken to Peepal Chowk in Asola, allegedly tied to a divider's railing, and thrashed. The attackers "again forced me to chant Jai Shree Ram. I told them to stop but they didn't listen to me. Many people gathered to watch but not a single person came forward to help me," he added that his attackers also asked onlookers to slap him.
According to pastor Tete, he "submitted a written complaint at the Maidan Garhi police station on February 27. I visited the National Commission for Minority on March 2 and submitted a letter to the commissioner via them as well."
According to a report in The Quint, the Delhi Police have filed an FIR against unknown persons, additional DCP (south) Mandava Harsha Vardhan told mediapersons that an FIR has been registered under Sections 365 (kidnapping), 323 (voluntarily causing hurt), and 341 (wrongful restraint) of the IPC, and investigations were on, However, no arrests had been so far.
Pastor Kelom Kalyan Tete was allegedly beaten up, tied to a divider, forced to chant "Jai Shree Ram" and his Bible was snatched in #Delhi on 25 Feb. In the video, he says "I was accused of forceful conversions. No one helped me… I feared for my life."

FIR filed. @TheQuint pic.twitter.com/hV5mteBaC4

— Somya Lakhani (@somyalakhani) March 3, 2022
The pastor added that while he was forced to chant Jai Shri Ram, he was also called "Bangladeshi". This illustrates further how right-wing mobs prowling the streets are out "hunting" for minorities irrespective of whether they are Christian or Muslim, often conflating all identities into one "outsider" or "other" that makes it easy to vilify, hate and eventually verbally and physically abuse them.
Related:
Karnataka: What is the message sent by demolishing 18-year-old Jesus statue?
Law should be made against religious conversions: Kejriwal in Punjab
Paigam-e-Mohabbat: UP citizens call for harmony
Cardinal, CBCI must ask PM to respond to attacks on Christians in India: FRJ
To wear or not to wear the Hijab is not the point!