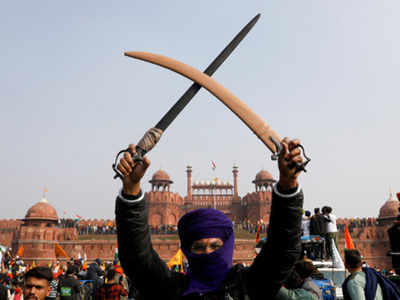 Image courtesy: Times of India

A Delhi court has denied pre arrest bail to a one Preet Pal Singh, who was allegedly seen in photographs and videos carrying a big sword and waving the same at the Red Fort on January 26, in connection with the violence that broke out during the tractor rally.
The Additional Sessions Judge remarked, "After seeing the videos and photographs, Ld. Senior counsel has argued that the applicant was doing the Martial art at the Red Fort with the kanda (big sword) and on the Republic Day every citizen has right to celebrate it in the way they want to celebrate it and the action of applicant by waving the kanda in his hands was a Tablaux by him, which probably was not liked by the State."
Judge Charu Aggarwal said, "The argument of Ld. Senior counsel that every citizen has the right to celebrate republic day in his own way and it was the way of applicant to celebrate the republic day is prima-facie not convincing because no citizen can have unfettered liberty to celebrate the national event in the way the applicant is shown in the photographs is doing. Liberty, albeit is fundamental human dignity of every citizen but such liberty is regulated by law."
Preet Pal Singh was booked for rioting, unlawful assembly, disobedience against order promulgated by a public servant, criminal conspiracy, attempt to murder under the Indian Penal Code and relevant sections of the Arms Act, Prevention of Damage to Public Property Act and Ancient Monuments Preservation Act.
The prosecution alleged that on the basis of photographs and videos placed on record, it was clear that Preet Pal carried and waved the sword at the Red Fort, thereby attacking the police personnel with the swords in both his hands. In view of this, the Additional Public Prosecutor Virender Singh vehemently opposed the grant of pre arrest bail to Singh.
The accused, however, argued that he was "neither the instigator, nor the agitator" and that he did not have any active role in the crime or violence which broke out in the area of Red Fort. Noting that the allegations against Singh were prima facie not convincing, the Court observed that no citizen has the liberty to celebrate the national event as was done by him.
Thus, the court held, "The allegations against the applicant are serious. His custodial interrogation is required to unearth certain facts. No ground for anticipatory bail is made out. The application is hereby dismissed."
Interestingly, the same judge had granted bail to one Akashpreet, observing that his mere presence and climbing on the Red Fort wall cannot justify his further incarceration, reported SabrangIndia.
The order may be read here:
Related:
Mere presence of accused at Red Fort cannot justify incarceration: Delhi court on R-Day violence
Farmer Navreet Singh's death: Delhi HC directs UP Police to submit post mortem video