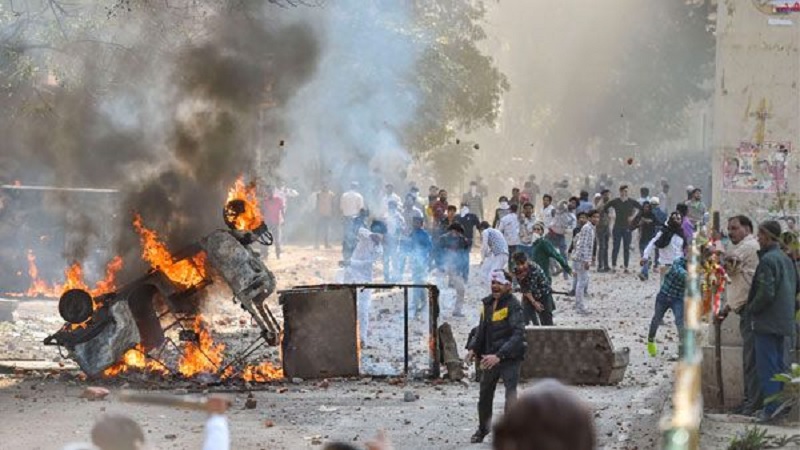 Image Courtesy:in.news.yahoo.com
A Delhi court (Karkardooma) denied bail to murder accused Ashish Kumar observing that the "offence in this matter is very grave, wherein one innocent person was brutally murdered, just because of the fact the belonged to the other community".
Additional Sessions Judge Vinod Yadav perused the post­-mortem report of the deceased that revealed that he had received as many as 11 injuries, out of which 7 injuries were so grave in nature that they itself were independently and collectively sufficient to cause death of any person in any ordinary course of nature. "This speaks volume about the intensity of the dastardly act committed by the riotous mob during the course of communal riots", said the ASJ.
The applicant Ashish Kumar applied for bail in a case where the victim Suleman was brutally murdered by the "riotous mob" near Prem Vihar puliya where his dead body was thrown into a drain (ganda nala). The prosecution had alleged that the investigation revealed that the mob of 30­-40 persons had apprehended the victims namely Sanober, Sunil Kumar and Suleman on February 26, 2020 having dandas (sticks) and rods in their hands.
The mob stopped the victims, asked them for their identity cards. Some members of the mob asked Sunil to leave the spot and "started beating Sanober and Suleman mercilessly". The allegations further read, "Someone from the mob hit an iron rod on Sanober's head as a result of which he fell unconscious. The mob continued to beat Suleman. Sanober regained consciousness and managed to escape while the mob was busy assaulting Suleman. The mob also robbed their mobile phones".
After considering the written statements of the parties, the District court observed that, "From the evidence of a number of witnesses recorded in the matter, it is prima facie apparent that the 'riotous mob' armed with 'weapons' had abducted the deceased Suleman to commit his murder merely on account of the fact that he was from a different community".
ASJ Yadav also noted that, "We have clear identification of the applicant through the evidence of public/eye witnesses namely Neeraj Kumar. He is also clearly visible in the CCTV footage walking behind the riotous mob that was prodding deceased Suleman with dandas" (sticks).
Adding that the nature of the allegations against the applicant/accused are "very serious", the court also said that the public witnesses in the matter are residents of the same locality and the possibility of the applicant threatening them could not be ruled out. Hence, it dismissed the bail plea of Ashish Kumar.
The order may be read here:
Related:
Court denies bail to man who pointed pistol at a cop during Delhi Riots
Delhi riots accused granted bail as eye witness account recorded after "humongous delay"
Faizan police brutality case: Delhi HC directs police to file affidavit on working CCTV cameras
Delhi Riots: 63-year-old accused gets bail from Delhi HC