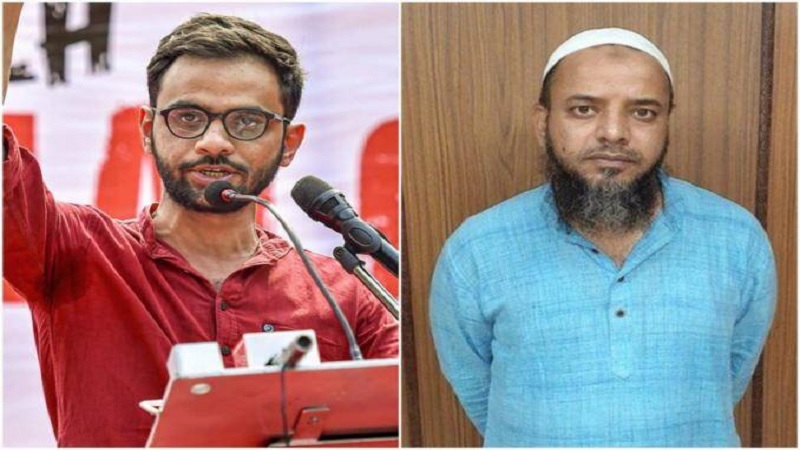 Image Courtesy:jansatta.com
A sessions court in Delhi has dismissed applications filed by Delhi Police seeking permission to handcuff Umar Khalid and Khalid Saifi while producing them before the court for trial. The Assistant Sessions Judge, Karkardooma, Vinod Yadav held that neither of the accused are gangsters, nor are they previous convicts, and the applications appear to have been filed without application of mind.
During the April 22 hearing, the court had called the application to be completely bereft of the reason(s), prompting the senior police officer(s) to take a decision to move such application(s). The court had thus directed the DCP (Special Cell) as well as Jail Superintendent to communicate the reasons for moving such applications before the court.
The Jail Superintendent of Mandoli Jail where Khalid Saifi is lodged mentioned that it is not a high risk jail, and has no high risk cells or barracks. The Jail Superintendent of Tihar jail where Umar Khalid is lodged mentioned that producing accused in handcuffs does not come under jurisdiction of jail administration. The DCP Special Cell filed a response stating that no such application to present in handcuffs has been moved by him before any court.
On the other hand, DCP, 3rd BN justified that the application moved as there was attempt made by armed assailants to free an undertrial prisoners Kuldeep on March 25 and hence, it was decided to request the court for permission to handcuff high risk prisoners who are prone to escape or attempts may be made to free them.
The court, after perusing the responses held that the material on the basis of which the applications were filed is devoid of merits.
"The Delhi Prison Rules are silent about the handcuffing and putting fetters upon the prisoners. The accused persons, who are sought to be produced in fetters and handcuffs are admittedly not previous convicts. They are not even gangsters. The applications appear to have been filed in a mechanical manner, without application of mind by the high echelon of Delhi Police and prison authority," the court observed.
Further, the court pointed out that in view of fresh Covid protocols the accused persons are not required to be produced before the court physically hence, these applications are not required. The court, thus, dismissed the applications.
On April 15, Dr. Umar Khalid was granted bail by ASJ Yadav in the Delhi violence case after noting that he cannot be incarcerated on the basis of sketchy material. However, he remains in jail under stringent UAPA charges for being part of a larger conspiracy in the north east Delhi violence case of 2020.
The order may be read here:
Related:
Application for production of Umar Khalid and Khalid Saifi in handcuffs 'bereft of reasons': Delhi Court
Delhi violence: "Police on wrong side of law", Court calls out Delhi police for incorrectly clubbing FIRs
Delhi violence: HC grants bail as CCTV video to identify accused differs from video shown in trial court