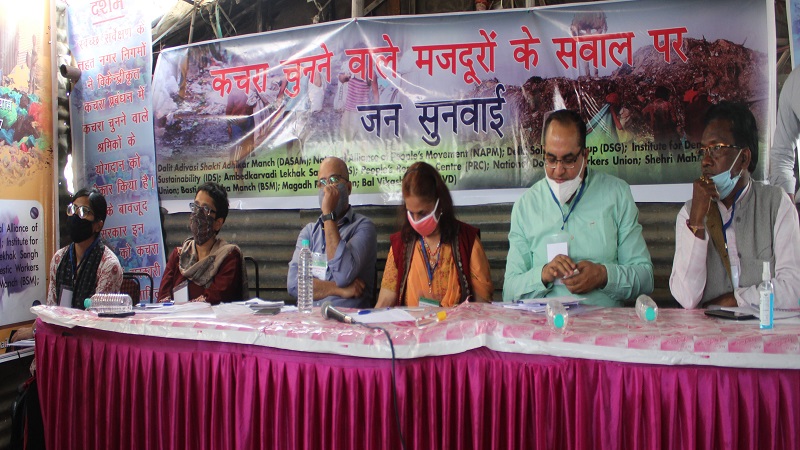 Waste workers should have a right to garbage and access to a place to sort it, said a jury panel during a public hearing on February 28, 2021 at Tilla Shebazpur village in Ghaziabad district of Uttar Pradesh where over 100 workers deposed before a panel of experts.
The Dalit Adivasi Shakti Adhikar Manch (DASAM) along with the National Alliance of People's Movement (NAPM), the Institute for Democracy and Sustainability (IDS), the Ambedkarvadi Lekhak Sangh (ALS) and others, called for the hearing to highlight the multiple layers of harassment faced by workers due to exclusion from provisions such as Solid Waste Management (SWM) Rules of 2016.
Accordingly, around 20 workers shared their experiences in front of the panel – Public Health Foundation of India (PHFI) Consultant Dr. Shyamala Mani, Centre for Science and Environment (CSE), Program Director Atin Biswas, Dr. Jitendra Nagar from Delhi University's Environmental Studies department, Institute for Human Development (IHD) Fellow Dr. Somjita Laha, Bal Vikasa Dhara President Debendra Kumar Baral and Jawaharlal Nehru University Research Scholar Sweta Celine Xess – and more than 150 people who were attending the event. The hearing concluded by emphasising a need for unionisation of waste workers in Delhi to better articulate their demands.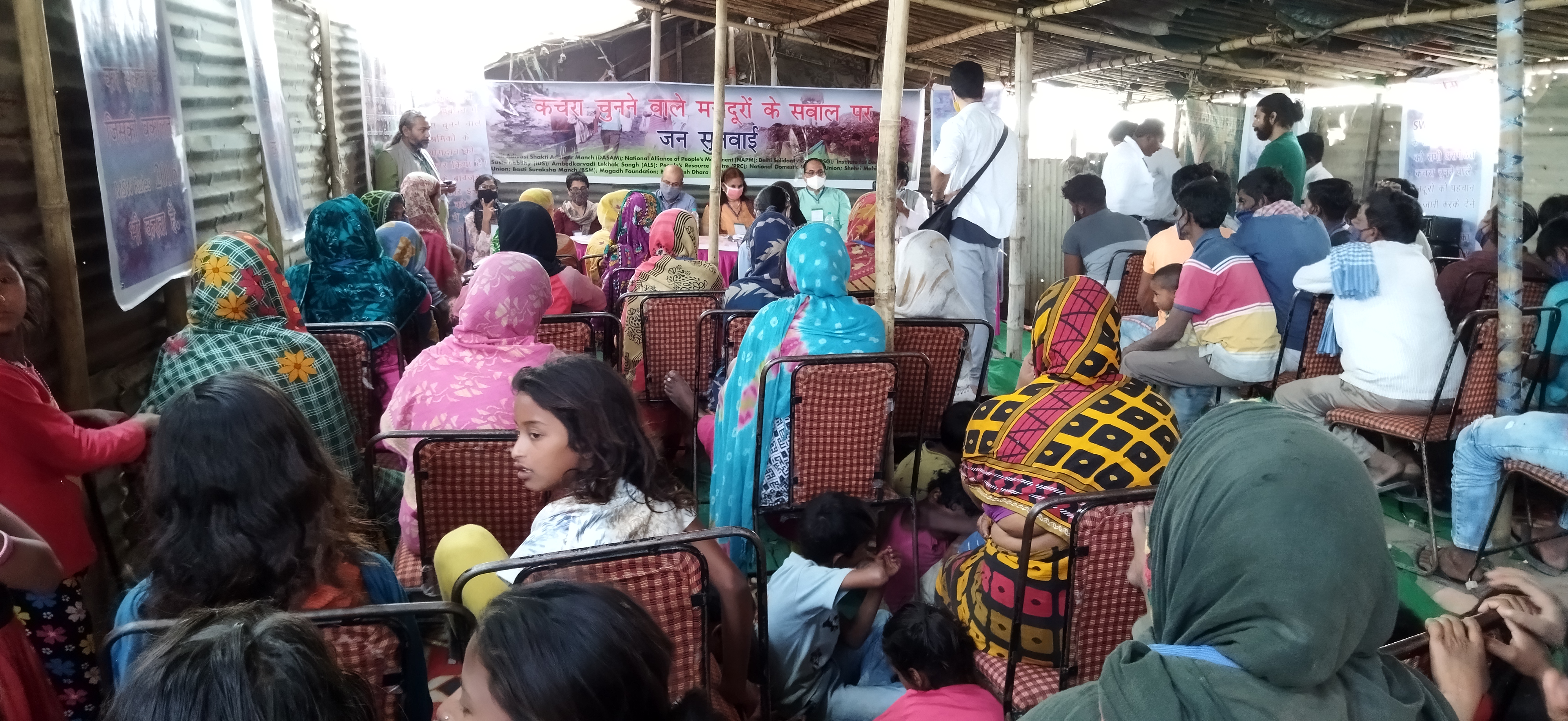 One of the workers testifying at the hearing was 77-year-old ragpicker Ram Kumar, who came to Delhi from Lucknow. Kumar said he was harassed by police and forced to lie about receiving bounty from the NDMC. He earns a minimum of Rs. 600-800 per week depending on his sales.
Similarly, Nun Nisa and Bibi Suraiya complained about facing double exploitation as waste workers and as women managing households. In addition, the women said they do not have access to a safe and closed toilet and have to defecate in open fields. Their settlement doesn't have any provision of electricity and water.
Another testimony was that of 7-year-old Shahida, who said she is unable to attend school because her parents do not earn enough. Shahida added that both her parents leave for work early in the morning and do not spend time with her.
Following these testimonies, the jury recommended workers should be provided with an identity card to avoid harassment from the police. They also acknowledged that workers lose out on government benefits because their role is not identified in government policies.
"The governing agencies such as NDMC, SDMC etc. should hire waste workers and work as allies instead of working against each other," they said.
In 2016, the SWM Rules were revised following the Swachh Bharat Mission (SBM) of 2014 that prioritised sanitation as one of its key priorities. The move initiated a positive change in the direction of solid waste management in India. The rules also recognized the contribution of waste collectors in solid waste management processes for the first time. However, it did not acknowledge waste collectors as labourers.
This failure to recognise them as laborers excludes and exacerbates the marginalization encountered by this worker group. As SWM Rules 2016 are formulated by the Ministry of Environment, its perspective is limited to the domain of environment which makes it incapable of addressing the concerns of waste collectors engaged in waste management processes at the lowest level.
"The SWM Rules 2016 takes a staunch managerial approach to solid waste without taking cognisance of the workers and their right to a life of dignity; a stance which firmly should be objected to," they said.
Of the approximately 4 million waste collectors in India, half a million waste collectors are engaged in the Delhi NCR area and most of them are migrants from different states. Further, most of these workers belong to the Dalit and Adivasi community who come to big cities in search of livelihood.
"They get entangled in the web of extortion and exploitation of civic bodies. This clearly shows that law in the capital is being mocked by the implementers of law and order itself," said the panel.
Related:
Two manual scavengers die in Chennai, death toll at six for this month alone!
Consider issuing directions for implementing Manual Scavenging Rules: K'taka HC
The state of stigmatized employment in India: Need to overcome historical injustices of labouring
Govt aims to eliminate manual scavenging by August 2021
Slums and judicial manoeuvring