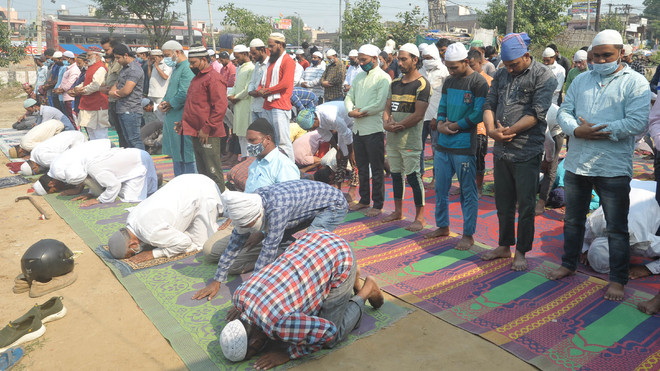 Muslims praying namaz on Friday are being harassed at Iqra Mosque in Nangloi, Delhi, as per a local news report. It was reported on November 20, by local newspaper, Inquilab, that for past two weeks, Muslims coming to offer namaz at Iqra Mosque were being stopped from offering namaz and were beaten up by a group of people. It has been alleged that the accused, who lives near the mosque, gathered a few other men and even molested women and assaulted them.
The name of the accused has not been reported however, it is stated that a complaint has been filed with the police as well as a complaint has been sent to the LG of Delhi. However, no action has been taken against the miscreant yet. There are other non-Muslim communities living around Iqra Mosque, whoever, they never raised any objection to namaz offering Muslims.
On December 23, NDTV reported that Bajrang Dal members disrupted Friday namaz in sector 69, Gurugram. As per the police, around 15 Bajrang Dal members led by its district security chief Amit Hindu disrupted namaz being offered on namaz site Haryana Shahari Vikas Pradhikaran (HSVP). This is a designated open ground namaz site as allotted by the district administration.
In 2021, the district administration allotted Atlas Chowk at HSIIDC Ground, Peepal Chowk in Udyog Vihar phase-2, HSVP land in Udyog Vihar phase-4, Leisure Valley Ground in Sector 29, HSVP land in Sector 42 and HSVP land in Sector 69 for offering Namaz, reported NDTV.
Amit Hindu said that he will give a memorandum to the deputy commissioner to stop namaz at the site as the worshippers are encroaching the green belt and he also claimed that this site was temporarily allotted.
The police state that when they reached the spot, the Muslim had already left, and they asked the Bajrang Dal members to vacate the site. No complaint has been filed in this regard.
Related:
Tales of love: Choosing humanity over religion in 2022
CJP's PIL seeking directions for established law & procedure on religious processions: A Factsheet
UP: After Gyanvapi, Mathura Court Orders Shahi Idgah Survey; 'Violation' of Places of Worship Act, Say Activists