The Delhi High Court on Friday slammed the city police over the manner of its probe into the disappearance of Jawaharlal Nehru University (JNU) student Najeeb Ahmad, who has been missing since October last year.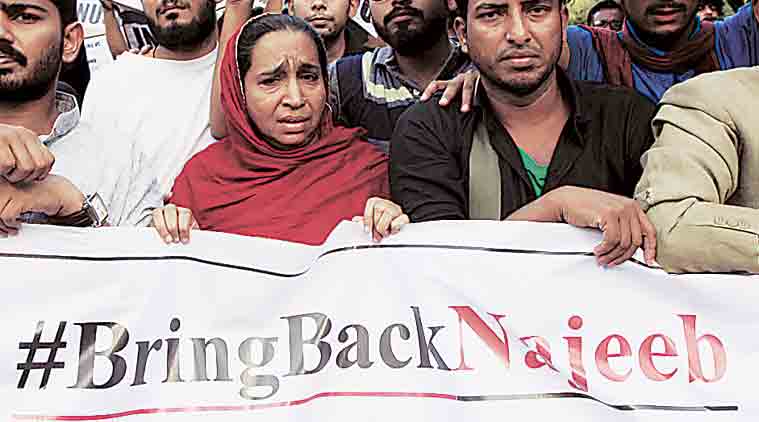 Najeeb Ahmed's mother among others demanding police bring back the 'missing' student. Photo credit: Indian Express
A bench of Justice Vipin Sanghi and Justice Deepa Sharma said Delhi police was giving "an impression that investigation was not being done properly". The conduct of the police showed it was trying to "sensationalise the matter or looking for a way out", the bench observed.
"The status report (of police) does not show that he (Ahmad) was accessing any fundamentalist website," the bench noted when senior advocate Colin Gonsalves, appearing for Ahmad's mother, contended that a newspaper had quoted a police source in a news report that claimed that before his disappearance, Ahmad had been looking for information on Islamic State (IS).
"We have to keep in mind the possibility that the police is trying to sensationalise or trying to find an escape route," the bench said.
The police should have carried out an internal inquiry as to who was the officer who had leaked or planted that information, it added.
The court also pulled up the police for not questioning the nine students suspected to be behind Ahmad's disappearance on day one and for not taking them into custody. It said: "What is the point of sending 400 men across the country to find Ahmad, when you have not probed any of the suspects.
The court, which was hearing a habeas corpus plea of Ahmad's mother Fatima Nafees, posted the case for further hearing on May 15 (Monday).
This article was first published on TwoCircles.net.