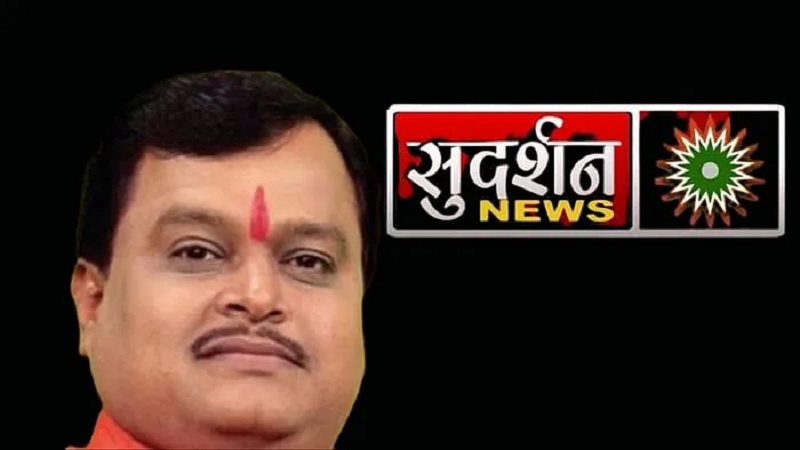 Image Courtesy:hindi.thequint.com
The Delhi High Court has put the brakes on Suresh Chavhanke's plan to air on his Sudarshan News channel a show that alleged that there had been an "infiltration of Muslims" in India's civil services. On Friday afternoon, The Delhi High Court ordered a stay on the broadcast of this show, which was being advertised by Chavhanke on social media, using hashtags such as 'UPSC Jihad'. According to the the petitioners, this was done to defame, attack and incite hatred against Jamia Milia Islamia, its alumni and the Muslim community at large, reported The Leaflet. Advocate Shadan Farasat appeared for the petitioners.
According to the report, the stay was ordered by a single-judge bench presided by Justice Navin Chawla, who issued a restraint order against the broadcast on a plea filed by former and current students of Jamia Millia Islamia University. The judge also issued notice to the Centre, UPSC, Sudarshan News channel and its Editor-in-Chief Chavhanke. The matter will be heard on September 7.
The plea contended that Suresh Chavhanke openly engaged in hate speech and defamation against students of Jamia Milia Islamia and the Muslim community, stated the news report, adding that he claimed that the success of Jamia Milia Islamia students in the Civil Services examination 2020 represents a conspiracy to infiltrate the civil service by Muslims. Chavhanke, stated the petitioner, incited his target non-Muslim audience by fearmongering that "jihadis" or "terrorists" from Jamia Milia Islamia will soon hold positions of authority and power.
According to the plea, the proposed broadcast along with the trailer violated the programme code set out under the Cable Television Networks (Regulation) Act, read with the Cable Television Networks Rules 1994, reported The Leaflet. The petitioners asserted that the show also constituted hate speech and criminal defamation and is an offence under Sections 153A(1) [Promoting enmity between different groups on grounds of religion, race, place of birth, residence, language, etc., and doing acts prejudicial to maintenance of harmony],153B(1) [Imputations, assertions prejudicial to national-integration], 295A [Deliberate and malicious acts, intended to outrage reli­gious feelings of any class by insulting its religion or reli­gious beliefs] and 499 (defamation) of the Indian Penal Code.
While Jamia Millia Islamia had written to the Union Education Ministry asking them to take action against Sudarshan News channel and its editor-in-chief Chavhanke for "tarnishing" the image of the university, the V-C Najma Akhtar told The Indian Express that the university was not likely to go to court over the issue. She told IE that Chavhanke had given a new "secular definition" of jihadi, adding that, "We don't want to give them too much importance. As far as our students are concerned, 30 students from RCA were selected this time out of which 16 are Muslims and 14 are Hindus. Since they were all called jihadis, it means 16 were Muslim jihadis and 14 others were Hindu jihadis. India has been given a new secular definition of jihadis."
The IE reported that Chavhanke maintained his stand and said he wanted to ask, "how their (Muslim) numbers are increasing in civil services. It's because of them being given back door favour, option of choosing Islamist studies, Urdu language, etc. If my show is found unconstitutional or doesn't meet the standard of broadcast authority, then let there be action against me."
Related
Who is protecting, encouraging and funding hate speech maker Suresh Chavhanke?
RSS backed Sudarshan TV ordered to pay Rs. 50 lakh for airing fake news
UP Police Registers FIR Against Sudharshan Channel
Bulandshahr violence: Fake news peddler Suresh Chavhanke attacks Muslims