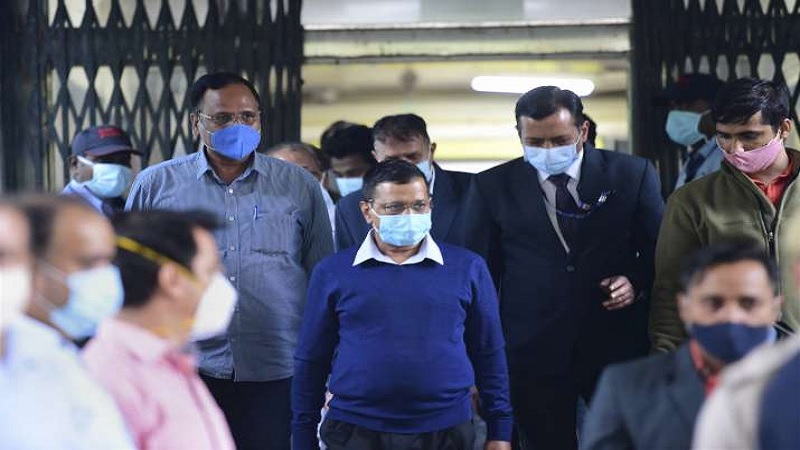 Image Courtesy:indiatvnews.com
If the Delhi High Court was a school it would have expelled Arvind Kejriwal as class monitor for not paying attention to an escalating crisis and instead spending time and money elsewhere. The High Court has minced no words to admonish the Delhi government for the way it is handling, rather not handling the Covid-19 crisis that threatens to explode once again in the city. The HC took note of the way the government first allowed 200 people to attend weddings, then went back to caping the number to 50 a couple days ago.
"You (Delhi government) saw from November 1 which way the wind was blowing. But you turn turtle now because we asked you some questions. The bell should have rung loud and clear when the numbers were spiralling. Why did you not wake up when you saw the situation was deteriorating," the court asked, reported NDTV and other media.
The HC bench asked, "Why did we have to shake you out of your slumber on November 11? What did you do from November 1 till November 11? Why did you wait 18 days (till November 18) to take a decision? Do you know how many lives were lost during this period? Can you explain it to those who lost their near and dear ones,".
It was only on Tuesday November 17, that the Delhi government scaled back the number of people allowed at weddings from 200 to 50. There is a massive surge in Covid-19 cases in the city, after the government opened up all markets and public spaces, including wedding venues. Before November 1, only 50 persons were allowed to attend wedding functions. As the festive season approached markets too saw a massive surge of crowds, with almost zero physical distancing, and incorrect or low usage of masks and face covers.
On Wednesday over 7,486 new Covid-19 cases, and 131deaths (the highest fatalities for a 24-hour duration) were recorded in the city.
The High Court has called the situation "disheartening". The total number of cases in Delhi is now over 5,03,084, and over 42,458 are active. Around 7,943 people have died of the disease in Delhi till now, putting the death rate at 1.58%, while the recovery rate is at 89.9%. For weeks now, the national capital has been recording over 5,000 fresh cases daily. On November 11, the number had crossed 8,000 cases in 24 hours. This is now being referred to as "the third wave of Covid-19" that is engulfing the city.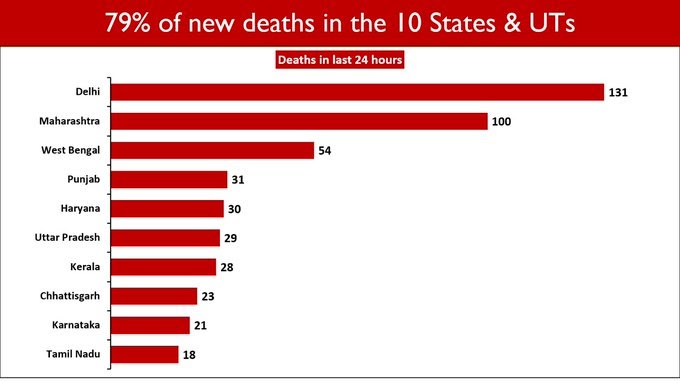 According to news reports the High Court also noted that the Rs 500 for first violation and Rs 1,000 for every subsequent violation fine for not wearing masks and not maintaining social distancing did not appear to be working as a deterrent.
Meanwhile the Delhi government, has decided to do the following:
Blame outstation Covid-19 patients getting treatment in Delhi hospitals increasing numbers

Cancel Chatt Puja gatherings at public ponds, water bodies, and Yamunna ghats

Fine to Rs 2,000 for not wearing mask in Delhi

Postpone non-emergency planned surgeries for now

Appeal that political blame games not be played

Double the number of testing centres in city by November 21

Private hospitals asked to reserve 80 per cent ICU beds, and 60 per cent non-ICU beds for Covid-19 patients
Delhi Chief Minister Arvind Kejriwal announced all those measures at a public/ press conference, streamed live on Thursday.
Even though the court has observed that the Rs 500 fine for not wearing a mask, which is still quite high for the average citizen, has not been a deterrent, the Delhi chief minister Arvind Kejriwal is hoping increasing it to Rs 2,000 will prove effective, "We need to tighten the screws. The fine which was Rs 500 so far has been increased to Rs 2,000," Kejriwal said. He had also called for an all-party meet on Thursday to address the Covid-19 crisis in the Capital.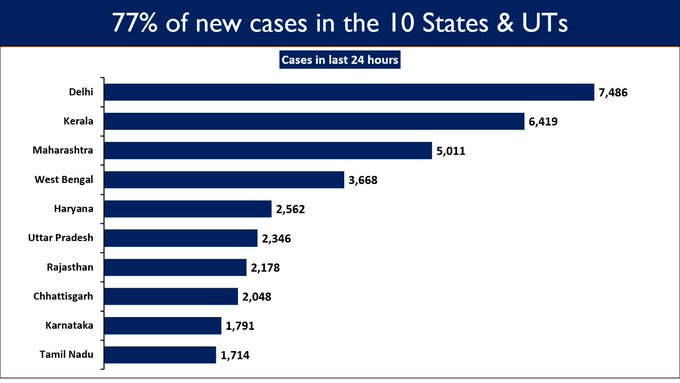 Once again the Delhi government will ask hospitals to stall non-emergency operations for now. Kejriwal said. "If you have a tonsils, you can schedule the operation next month as it is not an emergency," he said. The Delhi government has also asked all private hospitals to reserve 80 per cent ICU beds and 60 percent of non-ICU beds for Covid-19 patients.
Kejriwal, who had recently held a massive Diwali pooja as a state event, has also appealed that no politics should be played over the restrictions on Chhath Puja tomorrow. The festival has over the years become bigger each year as thousands who hail from Bihar and Uttar Pradesh celebrate it across the city at the riversides, and in public water bodies. The restrictions this year are in view of the ongoing Covid-19 surge. Kejriwal put out an emotional appeal as a 'brother' and 'son' to those celebrating praying that they do not indulge in politics, "We all celebrate, why would I not want Delhi people to celebrate Chhath? People should celebrate it but in their homes this time. Don't gather at public ponds and other water bodies as it may cause a massive spread. If one person with Covid-19 gets into the water, the virus will infect all 200 praying together," he said he had also told all parties at the meeting that this "difficult time for the Delhi was not the time for politics," and that politics can be done later, "people will remember how we served them, not our politics," he said.
According to news reports after attending the all-party meeting, Delhi Bharatiya Janata Party chief Adesh Gupta put the blame on the AAP government, and said if it had taken the right measures people would not have had problems celebrating Chhath Puja together, "markets should remain open with Covid-19 guidelines. The need of the hour is ICU beds and ventilators".
This is the national Covid-19 status on November 19, 2020.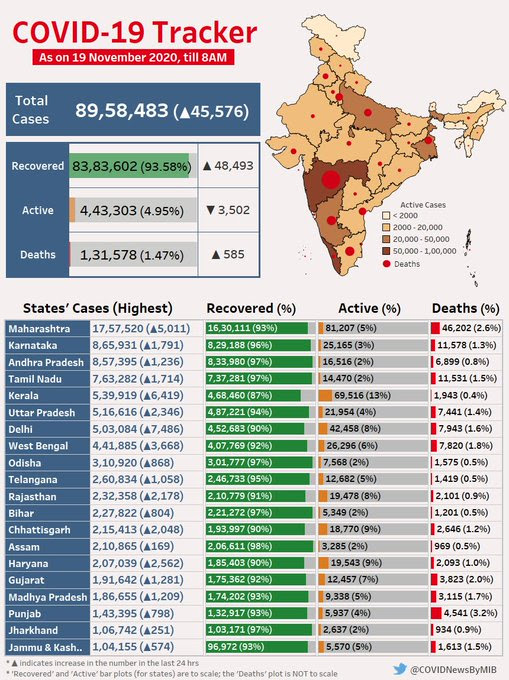 Related
Arvind Kejriwal faces the heat as Delhi braces for another Covid-19 surge
Covid-19 spike: Delhi records over 8,593 Coronavirus cases in 24 hrs!