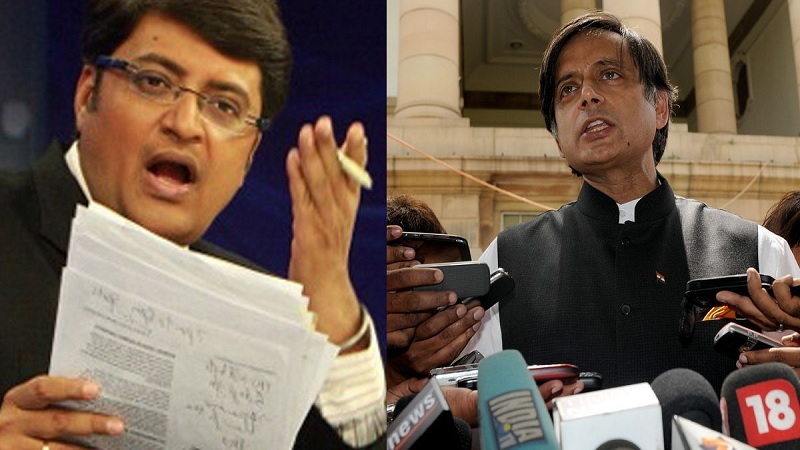 Image Courtesy:scroll.in
It is time for Arnab Goswami to calm down and listen to some sage advice from the Delhi High Court, which has told him to "bring down the rhetoric" and "respect the sanctity of criminal investigation". As reported by the legal news portal LiveLaw, Congress leader Shashi Tharoor had moved a plea seeking an interim injunction against Goswami to restrain him from broadcasting allegedly defamatory news reports on Sunanda Pushkar's death. Tharoor's wife had been found dead in 2014. Since then, whenever a chance arose, Arnab Goswami's Channel Republic TV had run shows on the investigation, much like they are now doing in following the death of actor Sushant Singh Rajput.
The single bench of Justice Mukta Gupta noted that the media "can't be allowed to run a parallel trial or make unsubstantiated claims", adding that "You are not in the field of collecting evidence, you have no access to the evidence, do you even know how evidence is collected and appreciated in a criminal trial? Can the media act as an appellate authority?"
According to news reports, advocate Kapil Sibal who appeared for Tharoor told the court that Goswami "is claiming in his shows that he has no doubts that Sunanda Pushkar was murdered". As LiveLaw reported, these claims are being even made even though the chargesheet filed in the case made out no case for murder.
"When a case under abetment for suicide is made out in the chargesheet, why are you still saying that murder has been committed? Were you there at the spot, are you an eyewitness? You must understand and respect the sanctity of criminal investigation and the various contours of it. Just because there's a bite mark, it doesn't amount to murder. Do you even know what constituted murder? You need to first understand what murder is before claiming that a murder took place," the court added.
According to the report, the court also told Goswami's lawyer, Malvika Trivedi, that Goswami and Republic were "not in the field of collecting evidence… have no access to evidence" adding, "Can the media act as an appellate authority over what is stated in the chargesheet? There's no gagging of the media but the law also prohibits media trial."
The court warned of "strict consequences" if its directives are not followed by Arnab Goswami and Republic TV.
According to a report in Bar and Bench, Shashi Tharoor has sought an interim injunction restraining Goswami from making defamatory remarks against him with respect to the ongoing criminal proceedings. In response the Delhi High Court directed Arnab Goswami, Editor-in-Chief, Republic TV to "be bound by" his undertaking on "showing restraint and bringing down the rhetoric" while covering the Sunanda Pushkar case. Shashi Tharoor who is the sole accused in the criminal case pertaining to her death. Tharoor had filed a suit against Goswami and his channel seeking compensation and damages for making allegedly defamatory remarks during their reportage of Sunanda Pushkar's death, reported B&B.
The Court had been informed that defamatory content was broadcast by Goswami on multiple occasions in July and August, where Goswami allegedly claimed that he had "investigated the Sunanda Pushkar case better than Delhi Police and that he still had no doubt that Pushkar was murdered."
"Chargesheet has been filed. Can a man be abused?..alleging that there was a murder. How can this happen," asked Senior Advocate Kapil Sibal who appeared for Tharoor argued, stated the news report. Sibal urged the Court that an injunction be granted to restrain any broadcast that implicates Tharoor. The Court expressed its displeasure at the claims being made by Goswami when the trial was still pending, adding that it was for a court of law to decide what was "evidence" in a criminal trial.
"This is not evidence. They are statements from here and there. A court has to take a point of view on what is evidence. You are nobody in the field to get evidence or get access to evidence.. understand what is evidence in criminal law," Justice Gupta is quoted by news reports. The Court observed that there were "serious consequences" to alleging that a murder had taken place and one cannot sit in appeal against chargesheet filed by an investigating agency.
The court added that this is not a "reflection on the Plaintiff (Tharoor) but the investigating agency. Can there be a parallel investigation or trial?.. Would you not like the courts to take their own course?" The B&B news report added that the High Court said that nobody wanted to gag the media but at the same time, sanctity of investigation must be maintained. "People must take a course in criminal trial and then get into journalism", the Court remarked.
According to the news report, the Court noted that in December 2017, an undertaking was given by counsel for Goswami that restraint would be shown and rhetoric would be brought down while covering the Sunanda Pushkar case. Since the suit is still pending, Goswami is bound by the undertaking, the Court concluded. The HC has reiterated that the media cannot convict anyone and no unsubstantiated claims can be made. The next date of hearing is on November 20.
Related:
CJP calls out Sudarshan News' hate agenda; moves NBSA
Delhi court orders FIR against Arnab Goswami for accessing confidential data
Promoting fraternity: Courts to the rescue
Delhi HC stays broadcast of Suresh Chavhanke's 'UPSC Jihad' show