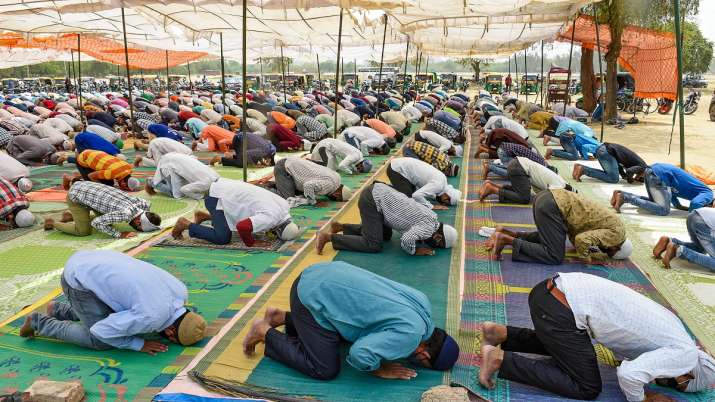 Image: PTI
Few knew that the Delhi Jal Board had granted "short leave" of two hours a day to its Muslim employees during the month of Ramzan, till it publicly withdrew it on Tuesday. When it was offered the two hour leave was granted on the condition that the employees must complete their designated work on time.
Delhi Jal Board withdraws its circular dated 5th April 2022 for short leave to all its Muslim Employees during the days of Ramzan issued earlier. pic.twitter.com/7l3rDvkGOs

— Delhi Jal Board (@DelhiJalBoard) April 5, 2022
The board, which comes under the Aam Aadmi Party (AAP) run Delhi Government has not yet given any reason for the withdrawal. However it has come under severe criticism from the Bharatiya Janata Party (BJP), and the right wing ecosystem. Some right-wing aligned Twitter users asked if the DJB gave "leave to Hindus fasting for Navratri", even though the nature of the two fasts is very different.
The BJP has accused the water supply body "of appeasement politics". Now the Delhi Jal Board has made it official that the easter circular has been "withdrawn with immediate effect." Leading the criticism of the circular was Bharatiya Janata Party's Delhi spokesperson Vinit Goenka.
Appeasement politics by @DelhiJalBoard ?? pic.twitter.com/RtHhj9Kl3w

— Vinit Goenka (@vinitgoenka) April 5, 2022
The Delhi unit BJP's Adesh Gupta, attacked Chief Minister Arvind Kejriwal saying, "He is giving a 25% discount on liquor and has opened thousands of liquor shops during the period of Navratri." Gupta alleged that Kejriwal, was "giving two hours" leave to Delhi Jal Board employees for namaz during Ramzan and accused him of "appeasement".
ये है @ArvindKejriwal का असली चेहरा,

एक ओर नवरात्रों के दिन दिल्ली में हजारों ठेके खोल कर शराब पर 25% छूट देकर नशा बांट रहे हैं।

दूसरी ओर दिल्ली जलबोर्ड के कर्मचारियों को रमजान में नमाज पढ़ने के लिए काम के समय में से 2 घंटे की छुट्टी दे रहे हैं।

ये तुष्टिकरण नही है तो क्या है?

— Adesh Gupta (@adeshguptabjp) April 5, 2022
His criticism here was of the Delhi government allowing private liquor stores to give discounts up to 25%. This came after the government had told shops to discontinue the discount on liquor on February 28, reportedly because "it was causing law and order problems due to overcrowding and unhealthy market practices." According to news reports, on Monday, South Delhi Mayor Mukkesh Suryaan had said that he wrote to Kejriwal, asking that "discounts on alcohol during Navratri" be stopped as should the sale.
Related:
Will Delhi's Mayors ban onion and garlic too during Navratri?
DUJ announces Committee for Communal Harmony to battle hate
Hate Offender Yati Narsinghanand violates bail conditions, calls for communal violence
Are increasing calls for economic boycott of Muslims a sinister precursor to something