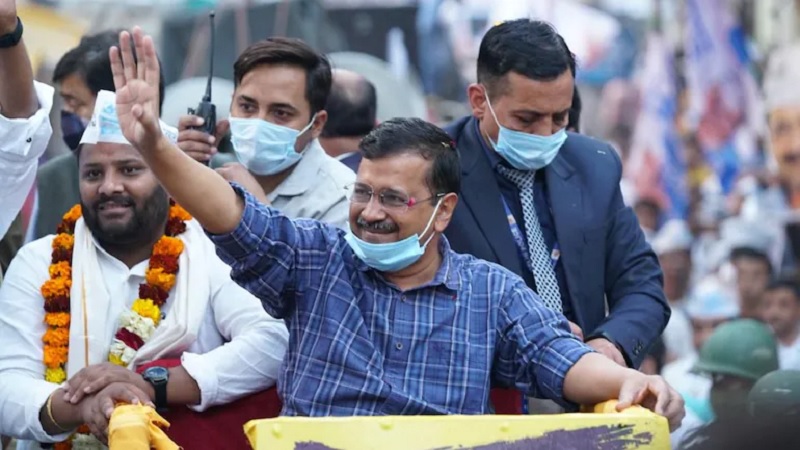 Image Courtesy:indiatoday.in
Delhi civic body by-poll elections in five wards concluded with four seats for the Aam Aadmi Party (AAP), one seat for the Indian National Congress and none for the Bharatiya Janata Party (BJP). The voting was held in two North Delhi Municipal Corporation (NDMC) wards, Rohini-C and Shalimar Bagh (North) and three East Delhi Municipal Corporation (EDMC) wards, Trilokpuri, Kalyanpuri and Chauhan Banger, on February 28. The voter turnout was 50.86 percent.
AAP retained Kalyanpuri and Trilokpuri seats and won the Rohini C voting. The latter seat was previously won by the Bahujan Samaj Party (BSP) but was vacated when its councillor won an MLA election on an AAP ticket. Meanwhile, AAP also won the Shalimar Bagh ward, previously held by BJP.
Dhirender Kumar won the Kalyanpuri ward by 7,043 votes. Vijay Kumar who won the Trilokpuri seat defeated BJP's Om Prakash by 4,986 votes and Sunita Mishra defeated BJP's Surbhi Jaju in Shalimar Bagh ward by 2,705 votes. Ram Chander defeated BJP candidate Rakesh Goyal by 2,985 votes in Rohini C. Interestingly, Congress candidate Chaudhary Zubair Ahmad defeated AAP's Mohammad Ishraq Khan by 10,642 votes for the Chauhan Banger seat.
Deputy Chief Minister Manish Sisodia congratulated party workers for the victory and said people were fed up with BJP and would bring in AAP leader Arvind Kejriwal's politics of honesty next year.
On the other hand, BJP Delhi Chief Adesh Gupta said there was enough time for the party to improve its performance before the 2022 municipal polls. He said the party would introspect on the losses, especially the loss of the Shalimar Bagh seat that was "disheartening".
Related:
Farmers focus on assembly election stating "govt only understands votes"
Battleground Bengal: Is BJP's Poriborton Yatra failing to take off?
Polling dates announced for 4 states and one union territory
SC issues notice in plea seeking caste-based census in 2021