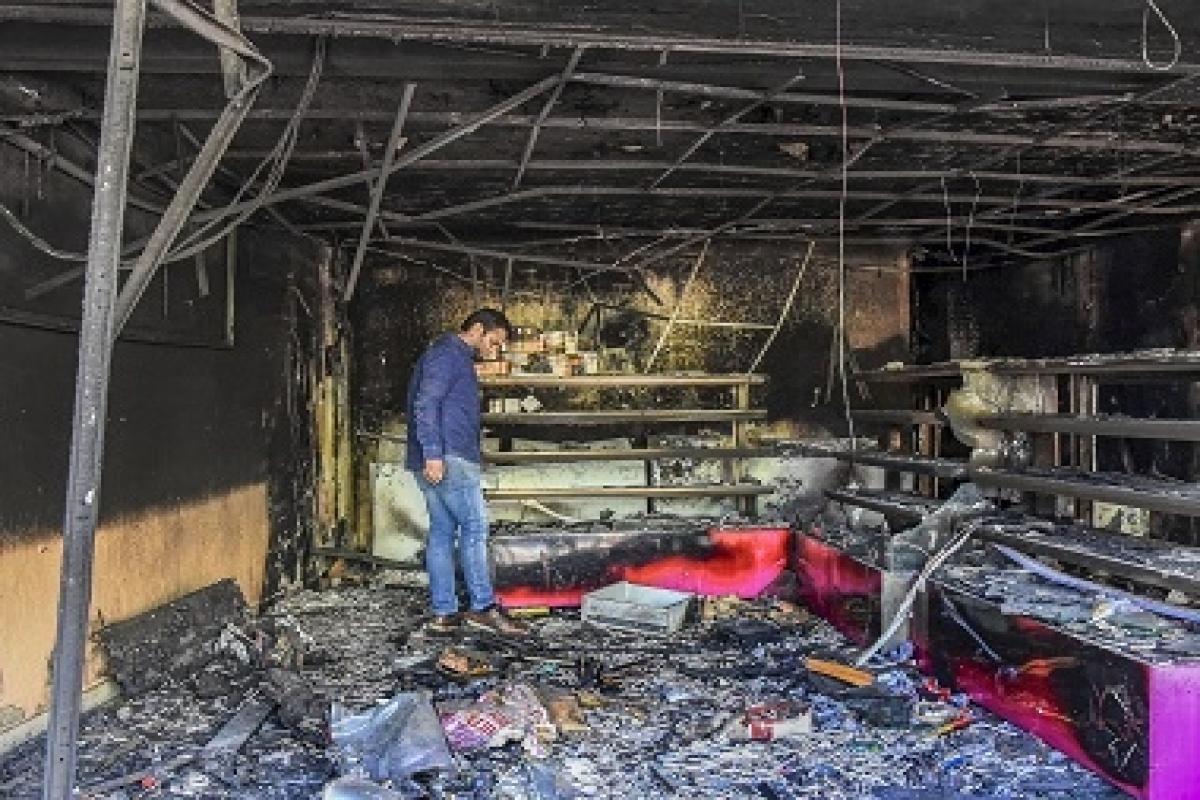 10 month old Baby Maryam's story was shared by many, as the youngest victim of violence in Delhi Pogrom. She was beaten with sticks and hurled on the road. He collar bone was broken. Her father Sarfaraz's car was burnt. Dushyant A put out a Call For Action to raise funds for Maryam's family, and the fundraising then snowballed as other volunteers and media picked it up. Barkha Dutt also covered the story and put out the call for fundraising.
These fundraising efforts started by Dushyant A during, and in the aftermath of the Delhi Pogrom which took place between February 24 and 27, 2020, were swiftly joined by multiple people who stepped forward to help. Citizen volunteers like Nupur Singh Riat, Swati D'souza, Minu Jain and on ground co-ordinator Doctor Muheet Saifi, started raising awareness about more families that were affected and urging people to donate via their posts on Twitter. This core team is supported by 10 volunteers who undertake in-person field visits, interact with the victimized families, raise funds, and handle the administrative tasks involved.
The volunteers liaise with and obtain leads from journalists and legal teams who are on ground with the victims and citizen volunteers engaged in relief efforts. Some victims who receive help may also share stories of other families in need and these are then included in the relief efforts once a due process of verification is followed. Once the volunteers asses the scale of losses suffered and verify bank details, the calls to action are shared on social media. Since the donations are deposited directly in the victim's bank accounts, there is no middle man and the process is quicker.
The quick and accessible aid is evident in the story of Salman and Wasim. Volunteer Hasiba Amin shared their story in a Tweet on March 10, 2020.

This is Salman. He and his brother Wasim ran this general provision store. It was completely vandalized during the #DelhiViolence and stuff was looted. They are the sole bread winners for their family of 15 members and this store was their sole source of income. pic.twitter.com/T9qRV65Obz

— Hasiba Amin ? (@HasibaAmin) March 10, 2020
Within 3 days, the volunteers raised enough funds and supplies to start rebuilding and re-stocking the store. This story also highlights the intent behind this fundraising effort. People lost their livelihoods. They are not looking for money, they are looking for means to get back to work and start earning their bread like they used to.
Ibran, for example, worked as a field blood collector for a Pathology Lab. He relied on his bike to reach people's homes to provide this medical service. A mob destroyed his bike and he could no longer continue his work. When his story was shared, people came forward with offers of not just funds, but even donating their own vehicles to him.
Ibran now has a new bike. He can start his work once again as a field worker of a pathlab. Thanks to each and everyone who contributed. Special thanks to @atti_cus. He sends his love to all of you ❤ https://t.co/WitqPpHEha pic.twitter.com/Qmbv6QAFMI

— Hasiba Amin ? (@HasibaAmin) March 11, 2020
Again, within 3 days, he had received enough funds and could resume work immediately. Every day that someone cannot earn for their family, can be very hard not just financially but emotionally as well. All people are looking for, are the means to restore their homes and livelihoods, and resume their lives with dignity.
As of March 17, 2020, the informal core team with its numerous volunteers, has raised about 1.42 crore for more than 80 families, with the funds being deposited directly into the bank accounts of the victims. This is no small feat, and yet, there is a long way to go.
With the looming threat of COVID-19, it has become even more critical that families be able to survive and live in hygienic conditions, and provide their members with enough food as trade and economic activities slowly shut down. These families have borne the brunt of a communal Pogrom and now they face a bigger threat of poverty and vulnerability to disease. Even after being victimized by communal hatred, they still hope to see the good in people, and need continued efforts on our parts to support them. One of the people who received donations, Shahzad, put it poignantly, "I, Shahzad Zaidi, on behalf of my family, from the bottom of my heart, thank those who are helping us through this difficult time. I promise that once I stand on my feet again, I will also extend help to others in the same way. I am witnessing people from every religion extending their help to me even when they don't know me in person. I salute their humanity. May God keep you safe from all evil."
The volunteers are still looking for donations and help to rehabilitate more families. The verified fundraisers can be found on any of the following Twitter handles:
Dushyant A – https://twitter.com/atti_cus
Nupur Singh Riat – https://twitter.com/thoumayestnow
Swati D'souza – https://twitter.com/Sw0oti
Minu Jain – https://twitter.com/minu_jain
Doctor Muheet Saifi – https://twitter.com/saifizoology
In these difficult times, if you are able to, please donate or reach out to the affected families in Delhi. If you cannot help monetarily, please amplify the volunteer efforts and help them increase their reach by spreading the word. Shahzad has faith in humanity. Let us strive to keep this faith alive.
Related articles: