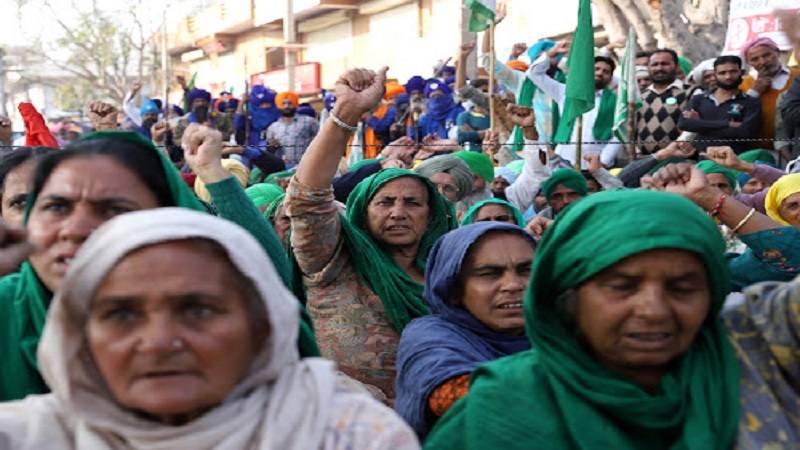 Image Courtesy:caravanmagazine.in
In an incident condemned by farmers organisation Samyukt Kisan Morcha (SKM), 25 women farmers and a 2-year-old child said they were detained by Delhi Police in the intervening night between March 2, 2021 and March 3, 2021 for displaying Kisan Union and Nishan Sahib flags.
Members of the Kisan Union Amritsar were travelling to Rakabganj Gurudwara at around 1:30 AM on Wednesday, when local police allegedly stopped their vehicle that had the Sikh religious flag Nishan Sahib and farmers' protest flags. Authorities demanded farmers remove these flags from their vehicle. However, when the women, including farmer Manjeet Kaur Dobka, refused to comply with the order, police detained the group at Tilak Marg police station.
SKM legal cell member Vasu Kukreja told SabrangIndia although words were exchanged during the altercation, the law disallowed women from being arrested after sunset or 7 PM. Even at the police station, women constables were absent which also violated Indian laws. However, when SabrangIndia contacted local police, they denied any such detention.
Kukreja stood by his account adding that although the group was released later on Wednesday, the farmers organisation had appealed to UNICEF, UN India and other organisations to demand action against the police for detaining a child.
"Just because they had flags on their cars of Nishan Sahib and Kisan Union, their vehicle was stopped near the outer ring road check post of Delhi police. The group also included toddler Yasmi Kaur. As per the law, no child below the age of 7 shall be detained at a police station; secondly, no woman shall be detained after sunset. Clearly, Delhi Police's actions are illegal and SKM condemns the same," said farmer leader Darshan Pal in a press release.
SKM Legal Cell Convener Prem Singh Bhangu said the team would take action against these illegalities following release of all farmers who were arrested on Republic Day. Regarding the claims of the police, Kukreja said, "The group was not displaying an Indian flag. It was not illegal. Even political party members use their political flag. Nishan Sahib is not even political. This is discrimination in the sense that police fear farmers will enter Delhi and Jantar Mantar and are trying to keep us from entering at the border itself."
Kukreja, who had similar flags on his car, was heckled by police while travelling to Tilak Marg police station. He was forced to take off the flag.
While the women and the young girl rest before Mahila Kisan Diwas, more women farmers continue to travel towards various farmers protest sites. Earlier, women leaders asked for police permission to observe a candle march at Jantar Mantar. However, police refused citing Section 144 restrictions. Nonetheless, farmers asserted that they will observe a candle march nonetheless.
Bharatiya Kisan Union (BKU-Ekta Dakaunda) leader Jagmohan Singh told Sabrang India that people would see a sea of women protesters on March 8.
Related:
Karnataka farmers ask: Where is MSP Modi ji?
India's farmers and workers to commemorate Anti-Privatisation Day on March 15
Labour activist Shiv Kumar granted bail by Haryana court
Nodeep Kaur case: NHRC seeks report from Haryana Police over alleged custodial torture
IT raids, govt's desperate attempt to attack farmer supporters: SKM
Farmers focus on assembly election stating "govt only understands votes"
2020-2021: The historic farmers agitation and its significance