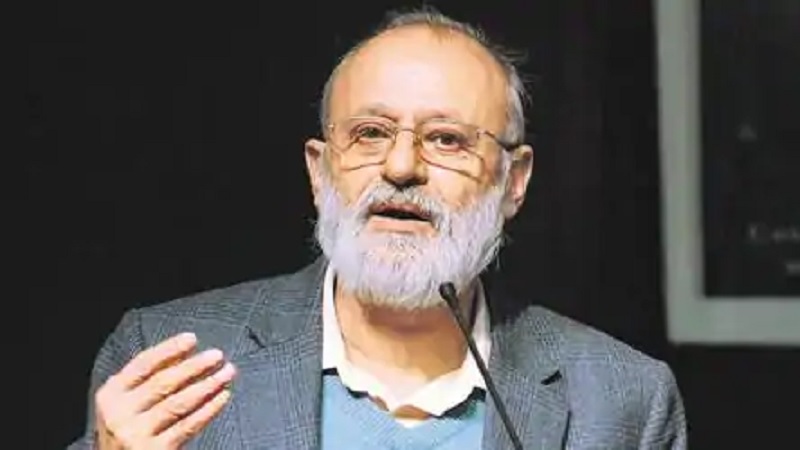 Image Courtesy:hindustantimes.com
Gauhar Raza is a well known scientist, poet and filmmaker. He is also a civil rights activist. And that, probably pre-qualifies him to be added to the growing list of eminent citizens, who have been named in a list Delhi Police seems to be tending, and growing as if it were a houseplant.
Raza's name is the latest addition on the 'list' which also includes advocate Prashant Bhushan, CPI-ML Politburo member Kavita Krishnan, Congress leader Salman Khurshid and student activist Kawalpreet Kaur. All of them have been named in the "disclosure statements" that have been attributed to those accused, and under investigation into an alleged 'conspiracy' that is said to have somehow led to the North East Delhi riots of February 2020. The Delhi Police filed the chargesheet last week.
Gauhar Raza has issued a strong statement addressing the Delhi Police. He stated:
"The Delhi Police, which operates directly under Ministry of Home Affairs, has been creating a narrative about the North-East Delhi violence (Feb 2020) which can very well qualify for a fictional novel on the one hand, and on the other, an eye opener for all justice loving people of India to understand how state agencies under an authoritarian rule can manufacture facts to target all voices of dissent.
It is indeed shocking that the charge sheet relating to the Delhi riots has created a narrative that implicates leaders of opposition parties, students, academics, activists and others who have been vocal in criticizing the CAA, the NRC and the NPR. The Delhi Police is clearly trying to frame political leaders, academics and activists who are critics of the anti-people policies and programs of the current regime. Leaders of the opposition political parties including Sitaram Yechury, Brinda Karat, Kavita Krishnan, Salman Khurshid ,Annie Raja and academics like Apoorvanand, Jayati Ghosh, activists including Prashant Bhushan, Anjali Bhardwaj, Yogendra Yadav, Harsh Mander, and film makers Rahul Roy and Saba Dewan have been named in the charge sheet filed by the Delhi Police in FIR 59/2020. They are being shown in different ways as provocateurs and planners of the Delhi violence. This is supposedly a result of the investigation by the Delhi police to unearth the conspiracy behind the Delhi violence.
I have been informed by the media that my name also appears in the charge sheet along with many others.
This basically serves two purposes – one to save the actual perpetrators of the violence and second to ensure that all voices of dissent in Delhi are suppressed. This false narrative is part of a witch hunt to take revenge on those who dared to disagree with the government and exercise their democratic right of freedom of speech and expression in a peaceful manner to oppose the discriminatory and anti constitution CAA. Since coming to power in 2014 the fascist forces have been targeting intellectuals, writers, poets, activists. They have effectively used the media to discredit and malign them. Now they have gone one step further to falsely implicate them in Delhi riots.
I maintain that disagreement with the policies of the Government and dissent is a constitutionally guaranteed right. I have always protested against injustices and against the anti people policies and draconian laws including the CAA, NRC and NPR and I will continue to raise my voice against those actions which I find anti-democratic and anti-people. This is what scientific temper demands from me.
I demand that the government stop criminalizing dissent.
Gauhar Raza
September 27, 2020"
Apart from Raza, others in this batch of names include advocate Prashant Bhushan, CPI-ML Politburo member Kavita Krishnan, Congress leader Salman Khurshid and student activist Kawalpreet Kaur. Khurshid' name figures in the disclosure statements of accused Khalid Saifi as well as former Congress councillor Ishrat Jahan reported Indian Express. It was reported that Saifi's disclosure statement from March 30 mentions that to "keep the protest going and sustaining it for long", he and Jahan called many people, including Khurshid, to deliver "provocative speeches (bhadkau bhashan)" which apparently would entice those sitting on protests "to campaign against the government for the sake of their religion," his disclosure statement reportelty reads. The IE added that statement of a protected witness, made under Section 164 CrPC, also names Khurshid as having made a provocative speech.
Meanwhile Khurshid told the IE that "If you pick up all the garbage there is, you will end up with over 17,000 sheets of a chargesheet. A chargesheet is supposed to be distilled, authentic, effective and useful evidence of a cognizable offence. If someone says that 12 people came and made provocative speeches, it can't be that 12 people made the same kind of provocative speech and each one had the same level of provocation. Provocation and mobilisation is not a criminal offence in this country."
Raza's name too came up for allegedly "instigating Muslims" through his speech at Khureji. According to IE, a protected ected witness said Raza, along with others, "spoke wrong and objectionable things against CAA, NRC and the current government, and instigated Muslims". Prashant Bhushan was named in the statements of Saifi and Ishrat Jahan as also having given a speech at Khureji.
Bhushan told IE, that "This is a part of Delhi Police's strategy to gradually implicate any prominent person who was speaking in support of the protest against CAA. I did go to a few places and speak quite strongly against the CAA and in support of the protest. I never make any speech which is provocative in the sense that it provokes violence. I did speak strongly against the government and if they get provoked, then I can't really help it."
Kanwalpreet Kaur's name is mentioned in the original disclosure statement of Saifi dated May 25, in which he says he was in touch with her, among others, to "plan with them" and get them to send "provocative messages/tweets" so that the "Muslim community feels angered towards the government and its policies due to religious reasons".
Kawalpreet Kaur, once the state president of All India Students Association (AISA), had already been subjected to security by the Special Cell. The police had seized her cell phone for 'investigation'. In April, a team of around six police persons, including a police woman, went to Kanwalpreet Kaur's house and asked her to surrender her android phone to them. "I have nothing to hide," she had told SabrangIndia once she was reachable on a relative's phone. That was not the first time the police had come looking for her, that month.
The disclosure statement of one of the 15 accused, Shadab Ahmed, dated May 27, mentions the names of 38 persons, including Krishnan, Kaur and Umar Khalid's father S Q R Ilyas, as having made "provocative speeches" at the Chand Bagh protest site.
Kaur told IE that allegations against her were "absurd and false". "None of this is true. None of my speeches talked about violence. With regard to Saifi, I was not in touch with him on WhatsApp or other platforms. This is part of the larger witch hunt of activists dissenting against the government," she said.
Related:
Didn't give speech, told police about dharna plan: Delhi police charge sheet believes Kapil Mishra
Communal violence was to uproot elected govt: Delhi police riots chargesheet
More activists named in riots case: Delhi Police getting desperate?
Police need to stop criminalising the anti CAA protests: Prof. Apoorvanand
Umar Khalid arrested by Delhi Police Special Cell
"To my utter shock, the police seized my phone citing inquiry into the Delhi violence"