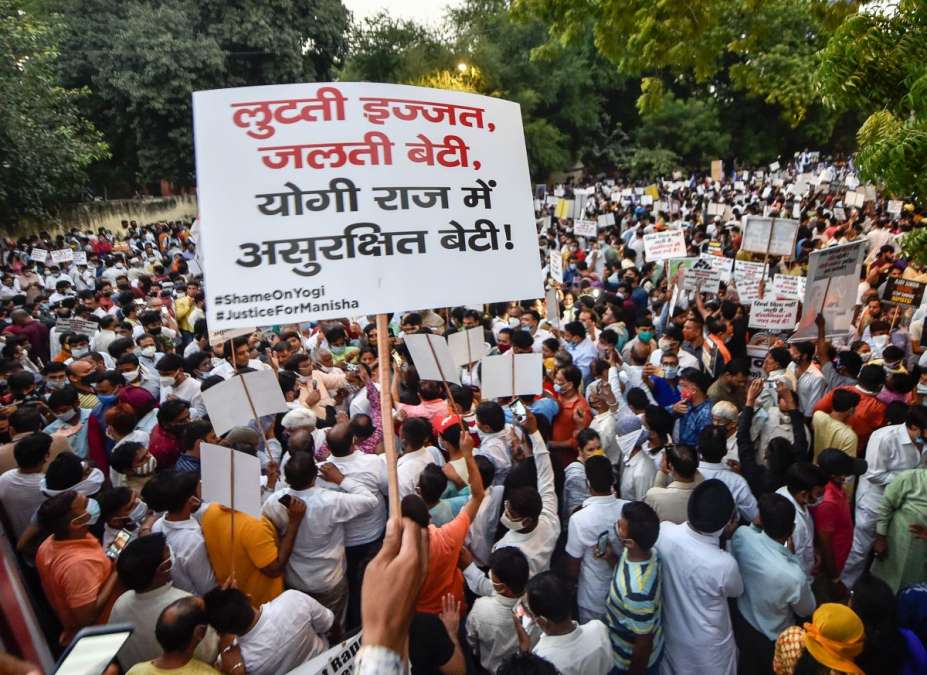 Image: PTI

Delhi Police, which reports directly to the Union Home Ministry, has registered cases against citizens demanding justice for the 19-year-old Dalit victim who was raped and murderd, allegedly by upper caste men. The massive peaceful protests in the national capital were led by citizens and activists, had been going on since the day the Dalit victim was brought to Delhi in a critical condtiion, and later succumbed to her injuries at Safdarjung Hospital. These peaceful protests by citizens groups, and Dalit activists, and a few politicans were perhaps the first such in the capital after the lockdown restrictions began to be lifted.
Today at Jantar mantar…@ManishPaswan_ pic.twitter.com/04V84QazgZ

— Jignesh Mevani (@jigneshmevani80) October 2, 2020
Streets are raging again. From Jantar Mantar today. #YogiResignNOW pic.twitter.com/Mp6XHgbfid

— Kawalpreet Kaur (@kawalpreetdu) October 2, 2020
Met this old couple at #JantarMantar today.#HathrasCase #HathrasHorrorShocksIndia pic.twitter.com/m8x7TFu8ta

— Anjali Ojha (@ojhaanjali) October 2, 2020
However, according to the police, the protesters were demanding justice, were violating laws and orders including those given by the Supreme Court, NGT, and also a violation of Section 144 of CrPC which had been imposed in the area. The Police issued a statement on the protest: "Members of many political parties and different NGOs in different groups reached Jantar Mantar to stage a protest demanding harsh punishment for accused persons in Hathras Gangrape Case," and added that some protestors were from groups that "were demanding fair investigation in Sushant Singh Rajput death case."
The Delhi Police, as reported by news media, have stated that the protestors have violated orders under Section 144 CrPC, and other laws related to Covid-19 protocol, a case under section 188 of IPC, 3 Epidemic Act and 51(b) Disaster Management Act, and cases were subsequently registered at Parliament Street police station. The protests peaked on October 2, as the world observed the birth anniversary of Mahatma Gandhi as the International Day of Non-Violence. Even Delhi Chief Minister Arvind Kejriwal showed up at Jantar Mantar to in soliarity with those protesting to seek justice for the Dalit victim who was gangraped in Hathras. Dalit organisations, student and women's groups, members of Bhim Army and Left parties, were a part of the protest that was originally to be held at India Gate, and when that area was closed, moved to Jantar Mantar, which before the lockdown was the designated venue for most protests. As the protest grew and more people came in even there all day, the Delhi Police added swiftly, and charged the protesters, just as their colleagues in Uttar Pradesh police continued to do.
Lawyer Prashant Bhushan posted: "The govt, scared of public outrage on the #HathrasHorror… Now police will charge protesters!"
The govt, scared of public outrage on the #HathrasHorror shut IndiaGate where protestors were to gather. The site was shifted to JantarMantar. As large numbers were gathering there,that too was shut down.Yet,1000s gathered to express their rage. Now police will charge protestors!

— Prashant Bhushan (@pbhushan1) October 3, 2020
Of course, it is not yet known if Uttar Pradesh police have take the cue from Delhi Police and charged the 'upper caste' panchayat that was convened in Uttar Pradesh to support the rape and murder accused, of violating the Covid-19 protocols. However Delhi Police did seem to recall Mahatma Gandhi's mantra: "You must be the change you wish to see in the world – Mahatma Gandhi"
You must be the change you wish to see in the world – Mahatma Gandhi@CPDelhi @LtGovDelhi @PMOIndia @HMOIndia #GandhiJayanti pic.twitter.com/2S0jFCg9Es

— #DilKiPolice Delhi Police (@DelhiPolice) October 2, 2020
Related:
Caste attacks on Dalits continue: Panchayat to support rape and murder accused!
UP Police breached the law in Hathras
UP Police now claim that Hathras Dalit victim was not raped!
Why are rapists and 'upper-caste' supremacists getting bolder in UP?
Hathras rape a case of Caste Supremacist Atrocity: AIPWA
Hathras Dalit girl rape: Why are Smriti Irani, PM Modi, UP CM Adityanath quiet?