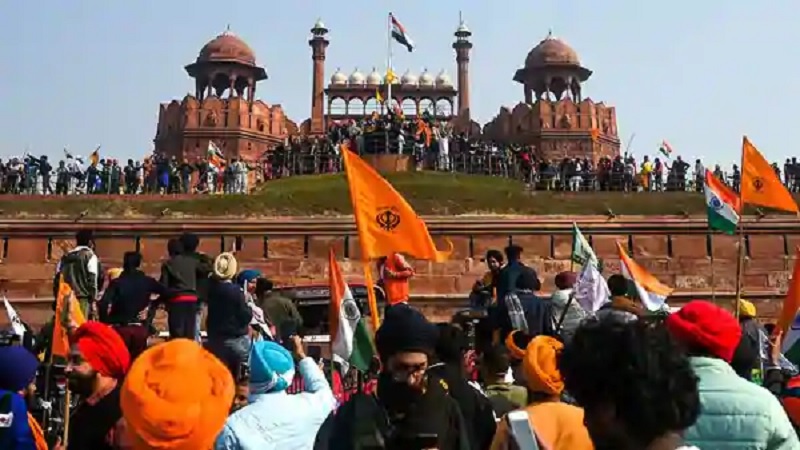 Image Courtesy:livemint.com
Farmers organisation Samyukt Kisan Morcha (SKM) sent a letter to the Commissioner of Police Delhi on February 26, 2021 in response to multiple show cause notices received by different farmer leaders shortly after the Republic Day violence.
"The SKM did not violate any of the understandings arrived at between the officers of the Delhi Police and SKM representatives for regulating the routes and broad guidelines for the protest… The FIR does not reveal any covert act by any of the leaders of the Samyukt Kisan Morcha and is liable to be cancelled," said the SKM in the letter.
Having stated the above, leaders alleged that the city police were complicit with rioters, and therefore allowed some people to deviate from the decided route, refused to re-barricade those routes despite repeated requests from volunteers and left the Red Fort area unguarded. Meanwhile, the Delhi Police issued circulars stating that it was "on high alert regarding protesters sitting at borders."
"It is not difficult for us to conclude, and it has been reported by senior former government servants, that a deep conspiracy was afloat to malign the many-months-long peaceful and resolute farmers' movement," said the SKM.
Accordingly, it asked for the FIRs against farmers to be cancelled and demanded a judicial enquiry in the whole set up of circumstances. The SKM also alleged that the police knew but continued standing by as mute spectators while unrest broke out in different parts of the city on January 26.
"The police had all information from intelligence agencies, and this is apparent from the fact that the Commissioner of Police repeatedly came on television screens, expressing an apprehension that they had credible information that some undesirable elements prompted by anti-national forces may play a mischief," they said.
Farmer leaders questioned why despite "so-called credible information," no arrangements were made to effectively safeguard national monuments such as the Red Fort.
Further, the SKM objected to paragraph 3 of the show cause notice that stated conditions to which farmer leaders never agreed. They asked how authorities expected them to hope for a fair enquiry or fact-finding process, if the investigation is based on false and fake documents.
"We reiterate that we have committed no offence regarding which FIR has been registered without verifying the facts," said the SKM explicitly condemning the police for compelling SKM participants to follow different routes adopted by the splinter groups that were not part of the farmers' group.
Related:
Farmer Navreet Singh's death not due to gun-shot injury: Police to Delhi HC
Farmers organisations condemn DAV school for loaded comment against farmers in exam paper
Key suspect in the Red Fort violence case arrested
Kisan Ganatantra Parade: A picture of peace
Why did Delhi Police mislead us, not stop the outsiders who initially broke the barricades: Farmers
Attempt to vilify the farmers protests will create unhealthy atmosphere for negotiations
Kisan Ganatantra Parade: How the mainstream media deliberately ignored ground realities