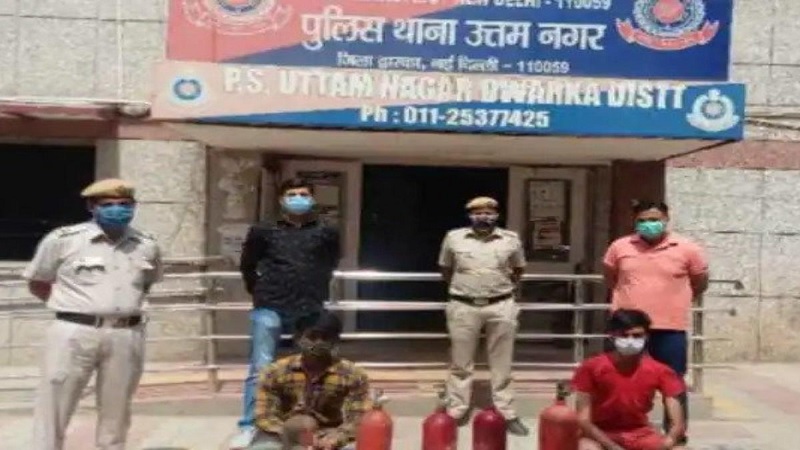 Image Courtesy:indiatimes.com
Delhi police arrested two men from Dwarka neighborhood for allegedly fooling a Covid-19 patient by selling fire extinguishers under the guise of oxygen cylinders, reported the Indian Express on April 29, 2021.
Police recovered five fire extinguishers from the accused, each selling at Rs 10,000 for Covid-19 patients. As per the report, DCP (Dwarka) Santosh Kumar Meena identified the accused as Ashutosh Chauhan and Ayush Kumar.
Local police registered an FIR after complaint by Geeta Arora that two persons sold her a fire extinguisher while promising an oxygen cylinder. Her relative was suffering from Covid-19 and had a breathing issue. Despite attempts, Arora could not admit him in a hospital. Thereafter, she tried to arrange an oxygen cylinder and came in contact with the accused who charged her for the fraud equipment.
Police tracked the two men using technical surveillance and during questioning discovered that they resolved to use fake cylinders to cheat patients.
Of late, social media is flooded with potential contacts for oxygen cylinders, Remdesivir and other medical supplies. Citizens for Justice and Peace (CJP) earlier flagged similar messages that spread misinformation and rumours amidst the epidemic.
It is advised that people only contact verified contacts for such necessities. CJP has compiled verified information for pan-India use.
Related:
Combat Covid-19 with CJP
Delhi gov't cancels order reserving 5-star hotel for judges and staff; HC closes case
Shun selfishness and greed: Delhi HC on hoarding of medicines, oxygen cylinders
Delhi HC asks govt to "pull up its socks", points out black marketing and hoarding of oxygen