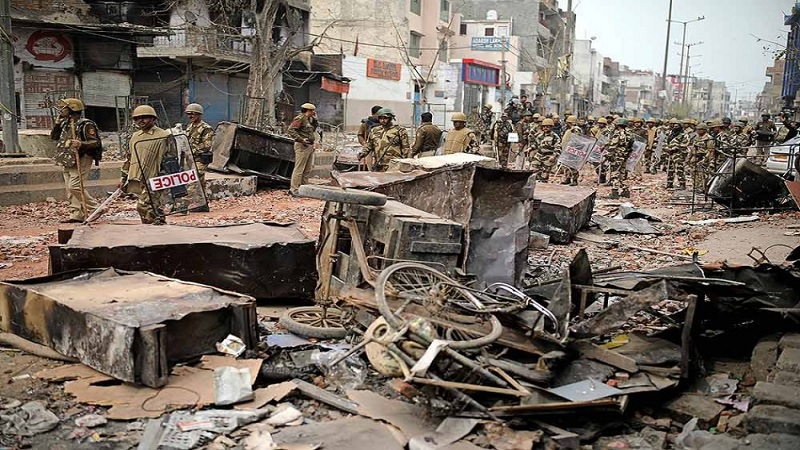 Image Courtesy:outlookindia.com
After the Delhi violence in the north east region of the National Capital, the Delhi Police had registered an FIR on March 6 last year booking 18 people under relevant sections of the Unlawful Activities (Prevention) Act, 1967, Indian Penal Code, Arms Act, 1959 and Prevention of Damage to Public Property Act, 1984.
People implicated under this FIR 59 of 2020, are Tahir Hussain, Abdul Khalid Saifi, Ishrat Jahan, Meeran Haider, Gulfisha Fatima Khatoon, Safoora Zargar, Shifa-Ur-Rehman, Asif Iqbal Tanha, Shadab Ahmad, Natasha Narwal, Devangana Kalita, Taslim Ahmed, Saleem Malik, Mohd. Saleem Khan, Athar Khan, Faizan Khan, Sharjeel Imam and Umar Khalid. Safoora, Asif, Natasha, Devangana and Faizan are out on bail.
During human rights defender Ishrat Jahan's bail arguments in August this year, the Delhi Police questioned the maintainability of her plea. As we have previously reported in SabrangIndia, Additional Public Prosecutor (APP), Amit Prasad (appearing for Delhi Police) argued that Jahan's bail application was not maintainable because it was filed under section 439 (Special powers of High Court or Court of Session regarding bail) of the Criminal Procedure Code whereas, the special court can only hear cases filed under section 437, which deals with the provisions of when bail matters may be taken up in case of a non-bailable offence.
Pradeep Teotia who is representing Ishrat Jahan, argued that the court had heard bail applications under section 439 and that the prosecution knew this beforehand and still did not point it out earlier. He had said, "Rule of practice and Rule of law are different. Prosecution wants to derive sadistic pleasure that I will continue to be in custody? I can file a new application. The Court has already heard the application on merits." He contended that this objection does not matter as his arguments and prayers will remain the same. The court will now hear Ishrat's matter on September 10.
Soon after, in the ongoing bail hearing of Umar Khalid, his lawyer, Senior Advocate Trideep Pais withdrew his bail application under section 439 and filed a new one under section 437, as we have reported in SabrangIndia. On September 6, 2021, Pais submitted to the court, "I have moved an application under section 437, and removed section 439. I don't want it to come in the way. There is no impediment for the court to consider under the relevant provision." He alleged that the Police was indulging in "dilatory tactic". To this, the APP Amit Prasad argued that he would file a reply to this application. Today on September 8, the arguments in his case were adjourned to September 23 and the court will now hear his bail plea under a fresh application.
Co-accused Khalid Saifi, represented by Rebecca John, also withdrew his bail plea under section 439 of CrPC and later filed it under Section 437 of the CrPC.
Shifa-Ur-Rehman
Jamia Alumni Association President, Rehman was arrested on April 26, 2020. Advocate Abhishek Singh, appearing for Shifa-ur-Rehman, argued today, on September 8, that the objection raised by prosecution on the maintainability of bail plea filed under section 439 of the CrPC is a "wrong preposition".
He relied on a couple of judgments to argue that, "The application for regular bail before the special court will lie only under section 439 and not section 437 because of the NIA Act. The NIA act or the UAPA act does not provide for application of bail. Section 43D (5) is just a restriction to grant bail. So, the application will be dealt with section 439."
He clarified that he argued on the issue of maintainability because he anticipated that this issue may arise later. He said, "I knew it may arise in future. I read it in the media so I dealt with it beforehand."
Judge Amitabh Rawat added that in one of the cases (referring to Ishrat Jahan), the State has questioned the maintainability of the application. "The prosecution took this technical objection. There were some arguments but some co-accused withdrew their applications without the court's findings…I understand their anxiety but there are no findings of this court…I have faced this objection for the first time."
Shifa's hearing has now been adjourned to September 21.
Meeran Haider
Meeran Haider's lawyer, Faraz Maqbool appeared today, on September 8 and raised the same issue. Maqbool said, "We are also in a similar situation where we don't know if the prosecution is taking the objection with regards to maintainability". He sought a clarification from the court whether or not he is supposed to file a fresh application.
Judge Rawat responded by saying that he might have to adjudicate on this issue and pass an order if bail pleas under section 439 are maintainable or not. "I think they (prosecution) are going to take it. Whether or not it is written, since they have taken it in one case. The difficulty is that some co- accused have withdrawn 439 and filed fresh 437 [applications]….and some are agitating under section 439, so I will have to give a finding to avoid confusion, and this will keep angering the accused because what to do…"
Advocate Maqbool argued that APP Prasad should clarify if he is going to take any further objection about the maintainability in Meeran Haider's case. Without offering any clarity, Prasad said, "In any case a finding has to come from this court. Mr. Teotia (Ishrat's counsel) has made it clear that he wants a finding from the court. Whether I take that objection or not will remain at the root of the matter." His matter has been scheduled for hearing on September 18.
Student activist Meeran Haider from Jamia Millia Islamia University was summoned to the Special Cell Police Station, Lodhi Road on April 1, 2020, and after being questioned for almost all day, was arrested the same day by the Special Cell.
Related:
State is deriving sadistic pleasure by extending custody period, its torture: Ishrat Jahan
Umar Khalid files fresh bail plea, opposes State's "dilatory tactics"
Chargesheet calls me 'veteran of sedition', gives it a communal colour: Umar Khalid to court
UAPA case is to selectively target people who oppose CAA: Dr. Umar Khalid
Why is Delhi Police using anti-terror law against Jamia Milia Islamia scholars?
Human Rights Defenders' Alert India asks NHRC to step in to probe Meeran Haider's arrest
Delhi HC upholds detainee's right to legal consultation, guaranteed by the Constitution