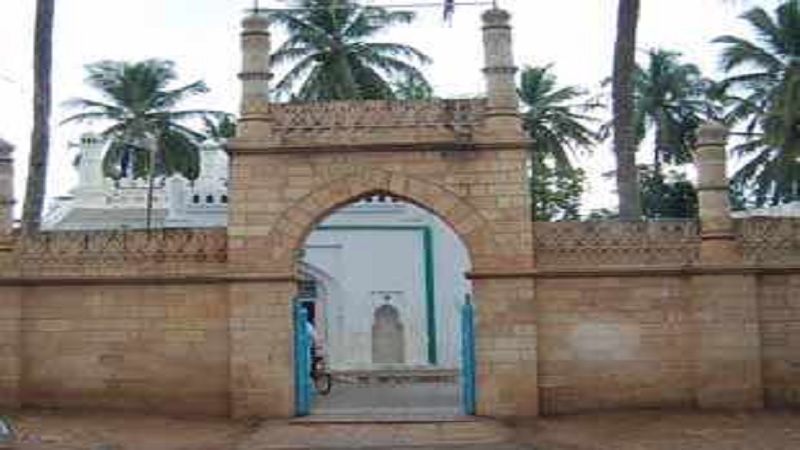 Image Courtesy:bangaloremirror.indiatimes.com
Sri Ram Sene Chief Pramod Muthalik goes looking for controversy, on a regular basis. A serial hate offender, he has specialised in creating communal unrest, and resurfaces every now and then in the hope that the right wing ecosystem gives him some recognition.
Recently speaking at a public gathering, he said that the Gadag Jama Masjid or Gadag Jumma Masjid "was actually a temple and it should be taken down". Muthalik also gave a call to communal unrest and potential violence and said that "a new campaign will start to demolish Gadag Jama masjid and build Venkateshwara temple." He announced that he will also work on an "an awareness campaign" in Gadag.
However, this time he is up against an entire district known for its communal harmony.
*A new campaign will start to demolish #Gadag Jamia masjid & build Venkateshwara temple* says#SriRamSene Chief #PramodMuthalik. *This Tippu era masjid will be raised down and a temple will be built*. An awareness campaign was also organised over this issue In Gadag, #Karnataka pic.twitter.com/ZkoncOHzUk

— Imran Khan (@KeypadGuerilla) October 18, 2021
Did you know about the Veeranarayana Jumma Masjid Trust?
According to a 2020 report in The New Indian Express, Gadag is known for religious harmony. Leading by example is the Veeranarayana Jumma Masjid Trust, which has existed for 70 years. According to the news report, the "trust handles celebrations for all the Hindu and Muslim festivals, and also the other activities run by both the communities in the city. It manages the Veeranarayana temple as well as the Jumma Masjid. Members of the trust management belong to both the communities, with Hindus and Muslims taking turns to manage it each year."
The Jumma Masjid is "built between Veeranarayana temple and Trikuteshwara temple. The latter is located 1 km away from the Veeranarayana temple, and the mosque is situated very close to the Trikutesh wara temple" stayed the report that quoted Gadag Deputy Commissioner M G Hiremath as saying, "The Trikuteshwara temple follows the Shaiva tradition, and the Jumma Masjid is sacred for Muslims. They have a common trust for administration and organisational purposes, which is a rare thing to find in the whole world."
The official Gadag district website to notes its religious harmony, saying, "The Veeranarayana temple of Vaishnava tradition ,Trikuteshwara temple of Shaiva tradition and Jumma Masjid of Islam have the common Trust for the administration and organizational purposes. This is a rare and only one example in the whole world. In similar way, Fakkireshwara Math od Shirahatti , Mouneshwara temple at Varavi are the very good examples of Hindu-Muslim religious harmony. The Tontadarya Math of Gadag has opened its door for all religions."
Even the right-wing is wary of Muthalik
It is the communal harmony of Gadag, that Muthalik who wants to be recognised as a "Hindutva leader" now wants to break. He was once a Bajrang Dal member, and even started a Shiv Sena unit in Karnataka, but is better known rabble rouser who has not even found favour even with right wing organisations. The Bajrang Dal expelled him in 2005. In 2014, he joined the Karnataka unit of Bharatiya Janata Party (BJP) "but was forced to exit within hours after protests from other members". Goa's Chief Minister Manohar Parrikar had banned Muthalik's entry to the state.
He had earlier been banned by the BJP led state government and banned him from entering Mangalore, where he had allegedly planned the attack on a city pub. On January 24, 2009 scores of Sri Ram Sene goons had allegedly barged into the pub and assaulted the women and men, accusing them of "violating traditional Indian values". Video clip of the attack had gone viral and showed that the accused dragged the women out of the pub by their hair, and hit them. In 2018, nine years after the Mangaluru pub attack a local court acquitted Pramod Muthalik and several others in the case "citing lack of evidence."
Even after he was removed from the BJP in 2014, he fought the 2014 Lok Sabha elections as an Independent Candidate from Bangalore South and Dharwad and lost in both constituencies. Muthalik in February, had given a call to violence against Christians, saying they "should preach in their churches. If Christian preachers come to any Hindu's house saying-Jesus will save you- you will be hit. Our patience is over."
Provocative speech by #sriramsene chief @pramodmuthali: From now on #Christians should preach in their churches. If Christian preachers come to any Hindu's house saying-Jesus will save you- you will be hit. Our patience is over. pic.twitter.com/N8rWUEha48

— Imran Khan (@KeypadGuerilla) February 20, 2021
The hired hitman of Sene?
Recently, after their daughter fell in love with a Muslim man, the Hindu parents, reportedly hired a hitman from the right-wing outfit Sri Rama Sena Hindustan to kill 24-year-old Arbaz Aftab Mullah. They allegedly paid Pundalik Mutgekar, a member of the Sri Rama Sena Hindustan, Rs 5 lakh to kill Arbaaz. Belagavi police told mediapersons that ten people were arrested in the case including the girlfriend's parents and Pundalik Mutgekar, in Khanapur in Belagavi. Arbaz Aftab Mullah's body was found decapitated on the railway tracks in Belagavi on September 28. The news had failed to make it to the national discourse, till his mother Najeema Shaikh, a school teacher, put it on record in her police complaint that she "suspected the father of the Hindu girl, with whom her son was involved", and some others she stated were "associated with a radical right-wing group" of murdering her son. This is reportedly the same "Shri Ram Sena (SRS)" was founded in 2006, and on its Facebook page, proudly announces that "an ever increasing presence of Shri Ram Sena is seen in all villages & towns in Karnataka including Tamil Nadu, Maharashtra, Andhra Pradesh and Delhi."
Related:
Survey of Karnataka's Christian missionaries and places of worship, a dangerous
Karnataka: CM Bommai normalising 'moral policing', gets schooled by ex-CM Siddaramaiah