The Capital is left with just a fourth of its migrant workforce. And most of them aren't coming back in a hurry.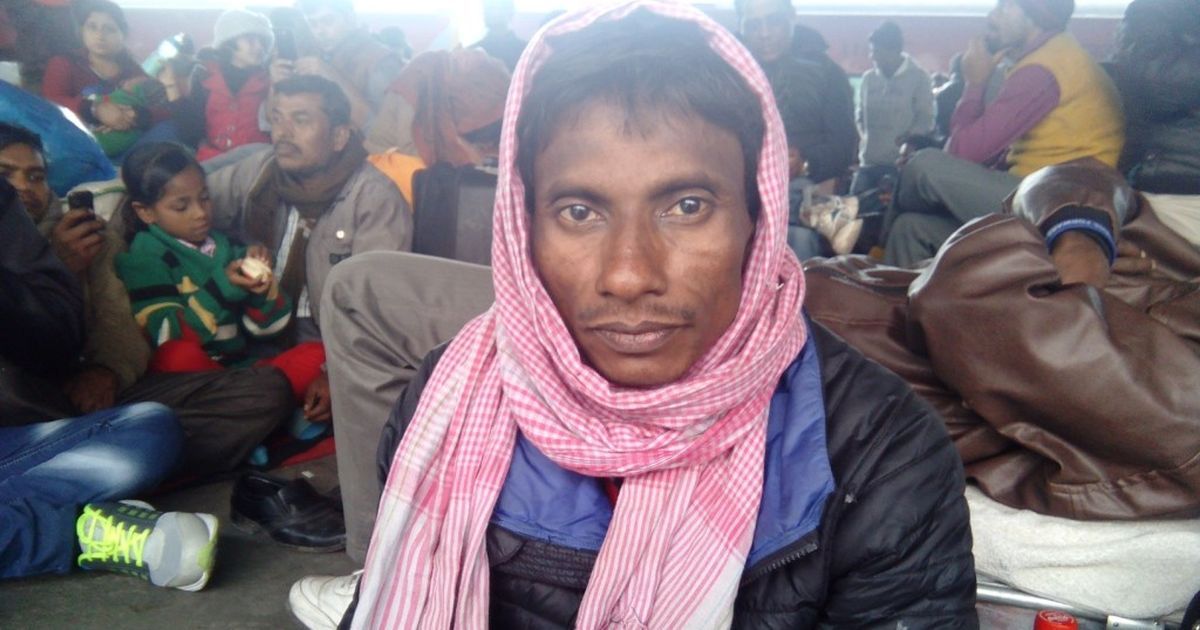 Image credit: Abhishek Dey
On a crowded platform of the New Delhi Railway Station on Thursday, Angad Tiwari, 28, ran as he stole hurried glances at the overcrowded Poorvottar Sampark Kranti Express – scheduled to depart in the next three minutes – looking for a place for himself for the nearly six-hour journey to his village near Kanpur in Uttar Pradesh.
Till last week, Tiwari had a job with a cardboard carton manufacturing unit in Faridabad. Then, the owner closed down the section that employed Tiwari and 27 others. "The factory owner said he did not have the cash to run the unit in full production capacity or to pay our wages," he said. "Fourteen of us were laid off while the others were accommodated in another process."
On November 13, five days after he announced the demonetisation of Rs 1,000 and Rs 500 notes as a tool against black money and counterfeit currency, Prime Minister Narendra Modi had appealed to the people to give him 50 days to deliver to them the "India of their dreams". And he promised that he would suffer any punishment if any fault was found in his intentions and actions.
On Thursday, a day before the December 30 deadline, Scroll.in met factory workers and labourers who had migrated from their villages, mostly in Bihar and Uttar Pradesh, to the National Capital Region to earn a living. These interactions took place at the New Delhi Railway Station, as they waited to catch various trains to take them home. Their reasons for returning – from steep declines in income to being laid off – all boiled down to the severe cash crunch brought on by the demonetisation exercise.
"Had things really changed for the good in these 50 days, I would not be heading home," Tiwari said. "For factory workers, the demonetisation announcement has dealt a double blow. Our wages for October were pending on the day of the announcement [November 8]. And we had to accept old notes and later get them exchanged at the banks after standing in long queues, sacrificing our wages for those days."

Angad Tiwari, who lost his job, waits for his train on Platform 13 at the New Delhi Railway Station on Thursday.
And on pay day on December 7, he added, even as the workers demanded their wages in the new currency notes, the factory owner offered them cheques or bank transfers. But most of the workers, including Tiwari, neither had bank accounts, nor the documents to open one in such a short span of time. "I asked the employer to credit my wages to a colleague's bank account, which he did," he said. "But that will not work any longer as that colleague, too, had to leave after the department in which the he was employed shut down earlier this month."
Tiwari said he would not be coming back to Delhi to look for work for at least a month, adding, "I do not see the situation changing much till then."

Going back empty
The days following the demonetisation announcement were probably tougher for 36-year-old Madan Nishad, a resident of Mirzapur in Uttar Pradesh, who was unemployed and looking of work. "I had lost my last job after I took leave for two months to attend to urgent matters at home," he said. "I was already facing a tough time finding a new job and after the November 8 announcement, there was no chance of getting any work."
He arrived in the Capital last week, hoping the situation would have settled somewhat. "We were expecting things to get smoother by this month as we trusted the prime minister," he said. "So last week, a friend from Mirzapur, who is working at a construction material manufacturing unit in Delhi's Narela, asked me to come over. I arrived on Sunday [December 25]. However, the factory owner refused to employ me, saying he is still to recover from the cash crisis."
Ramdev Rai, a 30-year-old rickshaw-puller who worked in the areas around the University of Delhi, also gave up on hoping for better days. On Thursday, he was at the railway station, waiting for a train to take him home to Banka district in Bihar.
"In November, my daily income dropped to Rs 150 from what used to Rs 350 to Rs 400 in normal times," he said. "I was expecting better days in December but that did not happen. After this cash crisis, people do not spend at all." Rai added that he would not be returning to Delhi for another two to three months at least.

Cash is still king
This reverse migration of workers has left the Capital with roughly one-fourth of its total migrant workforce, said Rajesh Kumar, general secretary (Delhi) of the Indian Federation of Trade Unions. Most were left with no option but to head home after their employers shut shop or reduced operations massively.
Kumar said roughly 95% of units in Delh's industrial areas – Mayapuri, Okhla and Wazirpur being the biggest ones – come under the unorganised sector and have been hit the hardest by demonetisation. "To lay off employees on such a scale without the government's permission is also a violation of the Industrial Disputes Act, no matter what the reason," he said. "This demands the immediate intervention of the labour department."
But the employers, too, claimed to be in a helpless situation, facing circumstances never seen before. Many of them criticised the push for cashless transactions.
"The last 50 days have shown us that we cannot be a cashless economy," said Neeraj Sehgal, a factory owner and general secretary of the Mayapuri Industrial Welfare Association. "Most factories have cut production capacity by over 25% owing to the cash crisis, which persists. The major hurdle is to deliver the final goods from the point of production to the point of sales as transporters demand only cash."
Workers, too, prefer being paid in cash because the other alternatives, such as cheque payments and bank transfers, lead them to another problem – withdrawal. "But nothing can be done as the employers, too, are short on cash even after 50 days of the demonetisation move," Sehgal added.
Courtesy: Scroll.in