As the Rabi sowing grinds down; and the sales of tractors and two-wheelers dip all over; Cauliflower prices in Maharashtra fall from Rs 80,000 fall to Rs 6,000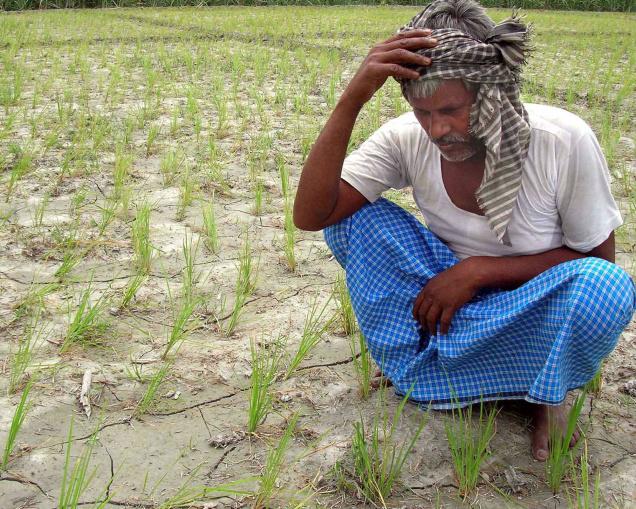 The demonetisation of high-value currency notes seems to have crushed the tender green shoots of economic recovery in rural India by choking off life-sustaining money supply and impeding the wheels of commerce from spinning. Farmers all over the country have been deeply impacted as traders helplessly dole out cheques instead of much-needed cash after purchasing their produce.The seat of the agricultural mandi where the television camera does not reach is today the seat of great distress. Farmers after collecting cheques from traders were found struggling to withdraw huge amount for taking up rabi crop. As bank authorities were limiting withdrawals to Rs. 10,000 at a time and Rs. 24,000 in a week, the regular tasks of purchase of seeds, fertilizers, pesticides and also payment of wages to labourers has assumed nightmarish challenges.
Fast on the heels of de-monetization, there was a battle royale between the finance and agricultural ministries of the Modi government when the former, at first refused concessions to farmers and agriculturists to use the older Rs 500 and Rs 1,000 notes for the purchase of seeds. Following the outrage, this decision was thereafter, reversed.

Predictions across the board indicate that production in 2016-17 could drop if sowed acreage reduces for want of enough seeds on time to exploit the adequate soil moisture. A bank manager said that farmers were reluctant to visit banks and deposit their cheques as they were worried that banks would debit their crop loan amount. The agricultural market committee authorities suggested that the government ensure one-time payment of cheques for the farmers after showing the proof of purchase of their farm produce to the banks.
The impact is visible in different sub-segments. Winter crops such as wheat, mustard, chickpeas are due for sowing in a fortnight. Wheat prices were already up due to low stocks and anticipated shortfall in 2015-16 output and have firmed up further as demonetization fallout pushes traders to build more inventories. Production in 2016-17 could drop if sowed acreage (rabi) reduces for want of enough seeds on time to exploit the adequate soil moisture. Yields could fall from late sowing and subsequent exposure to rough spring weather, the lack of sufficient or timely application of fertilizers, pesticides, etc. Farm labour, vital for this period, is reported to be unpaid as farmers have no cash. Many of them are reported to be returning from some northern parts to homes in UP and Bihar. Labour shortages and wage-spikes may follow with a lag.
Plantation crops such as rubber, tea, jute, cardamom are seeing no wages paid to workers. Small-medium tea growers have few buyers now (a third of the tea was unsold in recent auction in the south). Raw jute trade is halted as paucity of funds affects procurement-delivery by traders. Projections of scarcity have appeared with appeals for official procurement support. Cotton is witnessing havoc: daily arrivals have plunged to 30,000-40,000 bales against the usual 1.5-2 lakh bales at this time (harvest) as per reports and prices have soared 9% in a week, pushing up global prices in turn.

Vegetables and fruits that along with crops added 61% of agriculture's gross value added in 2015-16, depends critically upon a cash-strapped transport sector for daily supply network. Sales have dropped sharply (25-50%) across markets with occurrences of dumping. At present, demand is repressed for want of currency, so prices are subdued, but eventually, supply shortages could cause prices to rise.
How long can the demonetization drag upon agriculture persist? And how soon could the segment rebound? The answer is up in the air at this point. Production patterns and cycles vary and there is little guidance as to when the demonetization dust finally settles. However, gestation periods extend from 2-3 months for vegetables and 4-6 months for oilseeds, pulses and cereals. Production losses in vegetables cannot be recouped and is a permanent loss. Lower cereals, oilseeds outputs would persist until the next harvest, or about nine months and it is certain that incomes and profit margins will be hurt.
Price and output effects will reflect all the above listed factors. This means considerable fluctuations, increased uncertainty and risk.
The Horticulturist Farmer
The Hindustan Times reports that, if Sanjay Gunjal's one acre of cabbage field had just ripened before the decisive November 8 decision by Prime Minister Narendra Modi to scrap high value notes of Rs 1,000 and Rs 500, he would have been contended farmer today. Instead, the cabbage took a tad longer and by the time a deal was made the agriculture market was reeling under a cash crunch that slashed prices of all farm produce.When Gunjal, a farmer from Khandgaon village in Ahmednagar district finally sold his cabbage, he got only Rs 6,000 for the entire acre of produce instead of Rs 80,000, the market price he could have got earlier.
And yet, from prime minister Narendra Modi to ministers Nitin Gadkari and Prakash Javdekar, these high in the sky politicians are busy 'celebrating' the BJP's gains in the local municipal polls.
The tragedy for farmers like Gunjal has been worsened by the insensitive de-monetization decision. On the heels of three consecutive droughts and unseasonal rains, Gunjal and his family was counting on this cabbage field to make some headway in 2016. "The money I would have got from the cabbage would have gone into planting of pomegranates in this season, paying back one instalment of loan, running the house and paying labourers. Now, I have been left with half a field of cabbage that even the trader did not bother to take and will have to plough over it,'' said Gunjal, whose family including two other brothers owns 16 acres of land, where they grow vegetables, sugarcane and fodder crops.
Like Gunjal, lakhs of farmers in rural Maharashtra are facing the brunt due to demonetization as the cash crunch has led to a drop in prices of farm produce. Majority of agriculture markets in the state that have so far been dealing solely in cash, were working at only 50 % or less of their capacities this month.

From FMCG firms to two-wheelers to tractor makers, companies had been looking forward to an increase in rural demand in the wake of an adequate monsoon after two years of sub-normal rains. But just as things were beginning to look up, the withdrawal of ₹500 and ₹1,000 notes has hit rural India hard.
Unlike metros, rural areas do not have adequate numbers of ATMs or digital payment options. Given the cash dependence, and the fact that even small-denomination notes are not in active circulation, the demand recovery in rural areas has been badly affected.
"The agriculture sector will bear the brunt of demonetisation," said Dharmakirti Joshi, Crisil Chief Economist to The Hindu. "Farmers are finding it tough to sell their produce in the APMC markets. Therefore, despite a good harvest, there is unlikely to be a commensurate improvement in rural demand."
The cash crunch is also adversely impacting the rabi sowing season. According to research firm Edelweiss, about half the rabi sowing season is over, but as on November 25, sowing was down by about 7.5 per cent compared to the normal.
Sales of two-wheelers and tractors, a barometer of sentiment in rural India, also dipped in November, the month of the demonetisation announcement. Rural India accounts for over 50 per cent of two-wheeler sales, which were down 12.8 per cent year-on-year for Hero MotoCorp and 13 per cent for Bajaj Auto. Both companies are strong players in the rural markets.
For Mahindra & Mahindra, domestic tractor sales declined 24 per cent year-on-year to 15,918 units in November. "In my view, there will be a 25 to 35 per cent further reduction in demand from rural areas in December and January," said Abdul Majeed, Partner at PwC India. This will impact the sales of not only two-wheeler and tractors, but also of SUVs, which are typically bought in cash by rural customers.
"The general sentiment is down. Many farmers have been forced to dump their produce as trucks are not operating. And those who have the money are postponing purchases owing to the uncertainty. All this will impact demand in the auto sector," Majeed added.

Consumer durables hit
The consumer durables segment, which normally sees good demand from rural areas, is also bearing the brunt of the currency crunch.
Storeking, an assisted e-commerce player focussed on rural areas, has seen a dip in demand for brown goods. It has kiosks at retail outlets, where shopkeepers assist customers in selecting products from its online shopping platform and get them delivered to the shop within 48 hours.
"People are buying necessities, but not home appliances, TVs, refrigerators and mobiles. Discretionary purchases have taken a beating," said Sridhar Gundaiah, Storeking founder and CEO.
According to Dhananjay Sinha, Head of Institutional Research at Emkay Global Financial Services, the demonetisation shock is expected to nip the budding recovery as it will have an adverse impact on demand, corporate performance and the labour market, and have a ripple effect on various other fronts.
"The cumulative impact will vary depending on the time it takes for the economy to remonetise and on the quantum of notes extinguished," he added.