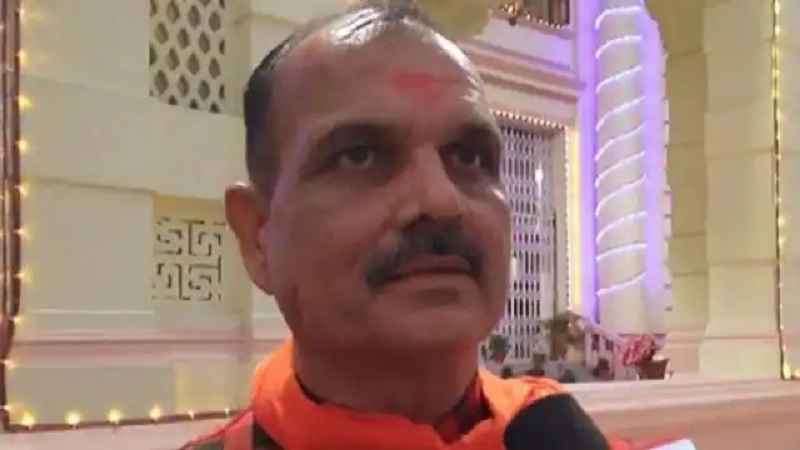 Image Courtesy: livehindustan.com
On June 20, 2022, Hari Bhushan Thakur Bachaul, a habitual spewer of hateful anti-minority venom, used the term "Jihadi" to describe youth protesting the Agnipath scheme for army recruitment. "Jihad" is a vilified term that originally means Muslims who carry out a holy war as sacred duty, and has been often used by Islamophobes in an attempt to demonise the minority community. Though he has made remarks targeting Muslims in the past as well, his intentions appear to me more sinister this time.
Given how the outbreak of violence during the Agnipath protests took place shortly after the anti-Nupur Sharma protests that were led by the Muslim community, one wonders if Bachaul is trying to conflate the identities of all protesters, so that it comes easier to dehumanise, demonise and hate them.
What did Bachaul say?
According to the The Times of India Bahaul, a Bharatiya Janata Party (BJP) Member of Legislative Assembly (MLA) from Bisfi, said, "Who are indulging in violence? Those involved are the 'jihadi' people and also the 'samikaranvadi log' (people who believe in forging political equations to form a government)." Bachol further said, "Those who are desperate to form government by hook or crook are behind the violence," referring to the Rashtriya Janata Dal (RJD) without actually naming it specifically. He continued, "However, youths who nurse 'desh prem' and are ready to sacrifice themselves for it are happy (with the Agnipath scheme)."
Bachaul's previous hate offenses
Hari Bhushan Bachaul is a habitual hatea offender against whom the Citizens for Justice and Peace (CJP) had complained to the National Commission for Minorities in May 2022. In May 2022, Haribhushan Thakur Bachaul's statements, telecast on a video uploaded by News 24, he had openly compared Muslims to demons and called for them to be set ablaze… something that is in effect an open call for genocide of members of the Muslim minority.
While speaking to news reporters, comparing Muslims to demons like Ravan (the chief antagonist of the Hindu epic Ramayan), Bachaul had said, "We need Hanuman ji so that our youth can be strong, and the people of our country can be strong. Just like Ravana's Lanka was burnt by Hanuman ji, the demon-like Ravanas, who are hovering over Bihar and the country, should also be burnt."
CJP's complaint had pointed out how this statement was a clear violation of Indian criminal law. Acting on CJP's complaint, NCM had written to the Director General of Police (DGP) Bihar to act within 21 days.
Going into the background of the MLA from the party that rules in the Central government and is an alliance partner in the Bihar government, the complaint also spotlighted the earlier, derogatory remarks made by Bachaul in February this year stating that Muslims living in India should be stripped of voting rights and treated as second class citizens. He said, "In 1947, the country [India] was divided in the name of religion and they got another country [Pakistan]. They should go to another country. If they are living here, then I demand from the government that their voting rights be withdrawn. They [Muslims] can live in India as second-class citizens."
Again, also highlighting another incident from last year where he makes remarks on Muslims fertility rate, the CJP complaint contains a detailed documentation of his hate-filled conduct. The legislator was caught in 2021 saying, "Muslims want to convert India into an Islamic state. Law should be brought to control the population in the country. The resources in the country are very limited but some people want to increase the population and capture and turn India into an Islamic country. Muslim community is indulging into this. It is important to control the population in order to make India into a developed country from a developing country."
Will this affect political equations?
On June 20, while commenting on the protesters who are agitated over the Agnipath scheme, he not only termed them "jihadis" but also slandered the opposition RJD. Both the RJD and also the BJP's ally in Bihar, HAM(S) have, since criticised his remarks. Without naming the political parties, but broadly meaning RJD and like-minded parties, Bachaul also said that it was the handiwork of "people who believe in forging equations to desperately form governments."
He did not spare even the BJP ally JD(U) and said its national president Rajiv Ranjan alias Lalan Singh and parliamentary board chairman Upendra Kushwaha also fanned the violence of the Army aspirants by making their anti-Agnipath remarks.
The constituency from where Bachaul has been elected in 2020 falls in the Madhubani district. He won the seat in 2020, defeating Da. Faiyaz Ahmad of the RJD by a margin of 10241 votes. In the 2019 Lok Sabha elections, BJP candidate Ashok Kumar Yadav won from Madhubani Lok Sabha (MP) seat with the margin of 4,54,940 votes by defeating Badri Kumar Purbey of the Vikassheel Insaan Party.
Related:
CJP IMPACT: NCM acts on CJP's Complaint against genocidal speech of BJP MLA Haribhushan Bachaul
Apply more stringent sections in FIR against Bajrang Muni Das: CJP to UP DGP
CJP moves NCM over Pravin Togadia's communal oath at Trishul Diksha event
CJP urges DGP Haryana to act against cow vigilantes in Mewat, Haryana