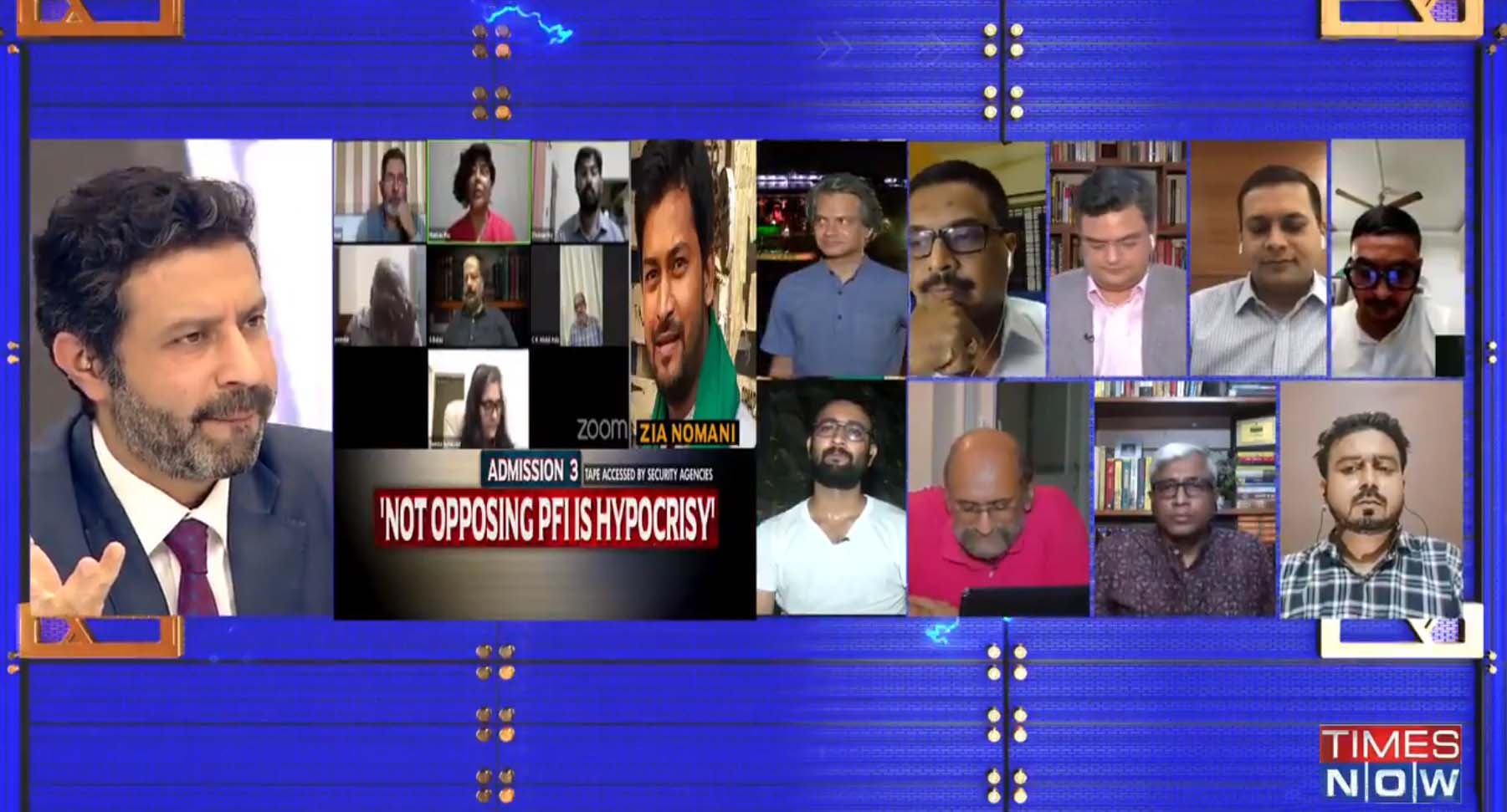 On Monday night, Times Now, a channel now infamous for making a mockery of journalism on a daily basis, put its foot in its mouth yet again, when it broadcast a 'secret tape' where several well-known human rights activists were seen and heard decrying the activities of Muslim extremist groups. The only problem was that this was not a 'secret tape' as claimed by the channel, but a publicly available Facebook Live broadcast where all activists were speaking openly, knowing full well that thousands of people could see and hear them!
Truth is that the footage is from a publicly broadcast webinar titled Reclaiming Freedom of Speech and Liberty in Times of Intensified State Aggression and Repression organised by Pedestrian Pictures and Counter Currents on August 16, 2020. In this webinar, Swaraj India Party member Zia Nomani shared how he was present outside the police station in a bid to control an angry mob that attacked an MLA's home in Bengaluru on August 11, when the MLA's nephew Naveen posted objectionable content about Prophet Mohammed's family on Facebook.
Two organisations, Social Democratic Party of India (SDPI) and Popular Front of India (PFI), have often been accused of radicalising impressionable Muslim youth and encouraging them to adopt violent means. These groups were also accused of planning and executing the attack on the Bengaluru MLA's house. Nomani said that the crowd could not be controlled as they had been radicalised by hardline Muslim groups and that this was dangerous and must be condemned.
To this human rights activist and journalist Teesta Setalvad said, "I admire your honesty and integrity but I only want to add two points…Whenever there is such a tendency developing among Muslims, we can't [counter it] with bitterness…I will only say this much for now that SDPI and PFI remain problematic for people like us – Communalism Combats, CJP, Sabrang India – we have taken a public stand not to share a platform with them. People who consider themselves Left, should also stand against them."
But all of this was used by Times Now to suggest that while activists agreed in private that Muslim extremist groups were dangerous, in public they supported such groups… a claim that is both baseless and absurd.
The 'secret tape' was broadcast by Times Now in its show India Upfront, a day after the arrest of activist Dr. Umar Khalid in connection with the February 2020 Delhi violence. In fact, the channel made a facile attempt to link Umar Khalid to PFI. Also, many of the panelists were invited after being told this is a programme on Umar Khalid's arrest, as evidenced by Mr. Paranjoy Guha Thakurta's shock at the manner in which the show was twisted to showcase the 'secret tape'. Thus, it appears there may have been an element of deception in this context as well. The channel even trended a special hashtag #UmarLobbySecretTape to promote the show, where anchor Rahul Shivshankar dutifully berated the activists for being members of the "Left Lutyens Lobby" and claimed that the same activists who support Umar Khalid accepted in secret that organisations like SDPI and PFI, were radicalising Muslim youth and that this was dangerous.
RSS is also a radical organisation: @sunnywakker, Student Leader tells Rahul Shivshankar on India Upfront. | #UmarLobbySecretTape pic.twitter.com/iEyfrhwDHq

— TIMES NOW (@TimesNow) September 14, 2020
We urge people to watch the entire Facebook Live and make up their own minds instead of falling for drivel generated by channels like Times Now. In the webinar, Zia Nomani talks about PFI at 2:40:52 and Ms. Setalvad responds at 2:49:45

Also, Zia Nomani had also spoken to SabrangIndia soon after the Bengaluru violence stating categorically that he does not support radical organisations like PFI. The entire interview may be read here.
Related:
Bengaluru riot: 3 dead, journalists beaten up by cops, vehicles gutted
Karnataka CM invokes UAPA against Bengaluru rioters
To ban or not to ban: K'taka cabinet yet to decide SDPI-PFI fate