Image Courtesy:amnesty india
The just released Amnesty International India field investigation has documented several human rights violations allegedly committed by the Delhi Police during the 2020 February communal riots. Their allegations include Delhi Police officers indulging in violence with the rioters, torturing detainees in custody, using excessive force on protesters, dismantling protest sites used by peaceful protesters and being mute bystanders as rioters wreaked havoc.
Amnesty International India interviewed several survivors who witnessed the carnage when communal violence erupted in residential neighbourhoods of North East Delhi, where Muslims and Hindus had lived peacefully as neighbours for decades. The hate speech triggered communal riots spread fast, and it later came to light that in the wake of delayed responses from government emergency services, most survivors were left to fend for themselves over a period of six days of violence in Delhi, from February 23 to 29, 2020. The riots claimed at least 53 lives and injured more than 500. During these six months, the Delhi Police in their investigations into the riots have filed more than 750 First Information Reports (FIRs) and at least 200 chargesheets.
Amnesty India investigated and spoke to riot survivors from both Hindu and Muslim communities. Almost all eye witness accounts recorded and analysed have led to the Amnesty report holding Delhi Police responsible for multiple "human rights violations." Survivors and eyewitnesses told Amnesty International India that the Delhi police could have stopped the violence, if they had responded in time.
These are the memories the survivors now have to live with, as noted in the report. (Excerpted from the Amnesty India investigation report that can be read here)
Moinuddin, whose shop at Maujpur was burnt down by rioters, told Amnesty that he witnessed Bharatiya Janata Party politician Kapil Mishra's speech at Maujpur Chowk on February 23. "From my shop, Maujpur Chowk is about 100 meters. Over there, I saw Kapil Mishra come and give an inflammatory speech. After his speech, the public which was listening to him started gathering sticks and other weapons. I got scared and shut my shop. Within hours, I came to know that my shop was set on fire. I called the fire brigade but they did not even respond to my phone calls. I live in Brahampuri, where both Hindus and Muslims have shops. We have lived peacefully till the riots. I do not understand what is happening now in Delhi".
Amnesty has recorded that the riot claimed "almost three times the number of Muslim casualties compared to Hindus. Muslims also bore the brunt of loss of business and property." However, even though, "the percentage may be lower but establishments and homes owned by Hindus were not left completely untouched," it stated. One of the most prominent Hindu owned establishments in the area, DRP Convent Public School, Shiv Vihar was targeted, allaegedly by a 'Muslim mob'.
Roop Singh, the caretaker, and security incharge of the DRP Convent Public School, Shiv Vihar, recalled what he saw: "They were raising slogans of 'Nara-e-takbeer Allah o Akbar' (God is Great)". The DRP Convent Public School was vandalised during the riots on February 24 and 25. Singh recalled that he "saw two ropes hanging into our compound from Rajdhani School next door and about 40-50 men climbing down. They were raising slogans of 'nara-e-takbeer allah o akbar' (God is Great). They opened the gate and more men came in. They fired in my direction with a locally made pistol. They said, 'There is a Hindu, kill him'," he recalled that the "rioters did not let the police enter".
Kamlesh Uppal, also recounted her horror of calling the police in vain. "In the afternoon, they broke the locks and burnt my house. We were living there for the last 22 years and they didn't leave anything. We built our home with so much hard work but the people burnt it down. We tried calling the police, we thought they would come and control the law and order situation but it took them more than three days to come to our locality," she said.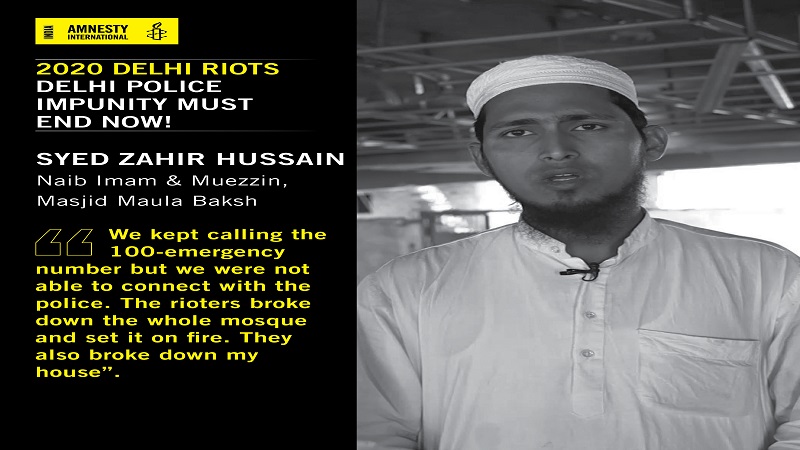 Image Courtesy:amnesty india
Amnesty also took note of a video that went viral on social media, where Delhi Police officers are seen kicking and hitting a group of five wounded men, ordering them to sing the Indian National Anthem. After the video was shot, the men were taken to the police station on the same day and detained.
Kismatun the mother of 26-year-old Faizan, one of the men in the video, told Amnesty she had seen the video several times but did not realise until much later that her son was also there in the video. "I went to the police station along with my son's photograph. I showed them his photograph and asked if he was there and they said yes. I asked them if they would let me see him and if they would let him go. The policeman said no. But I still waited there till 1 o'clock in the night," she said. Faizan was detained by the police for close to 36 hours without any charge. He was handed over to his mother at 1 AM on 26 February after his condition deteriorated. The police refused to give any paperwork to the family to show that he had been detained, stated Amnesty.
"I asked them why they were allowing me inside the police station late in the night when just the previous night they had told me that women were not allowed. I said this after they handed over my son." The policeman told her "to be grateful that I had got my son back and told me to go," Kismatun told Amnesty International India. She took her son to a clinic where the doctors told media houses that he had "an open wound on his head and blood clots everywhere" and that his "pulse was fading". His family admitted him to the Lok Nayak Jai Prakash Narayan hospital in New Delhi on the afternoon of February 26. He died the same night.
Despite multiple video evidence, the Delhi Police have denied that they tortured Faizan or unlawfully detained him, states Amnesty. Lack of investigation into the torture and subsequent death of Faizan signals towards the multiple violations committed by the Delhi Police that remain to be investigated.
Babu Khan's two sons were killed in the violence that followed immediately after Ajit Doval's visit. The Delhi Police have arrested 11 people, all Hindus so far in the case. He recalled the horror, "after everything had calmed down, Ajit Doval came here. He told us that we had nothing to worry about and that the Central Reserve Police Force had been deployed. The [mainstream] media played that up in a big way. My sons were too young to assess the situation. Had they spoken to me, I would have told them to not come home. When they were coming back home the next day, the rioters made my sons lie down on a bike and beat them on their head and face. There were deep wounds. There is no count of the number of times they were hit on their heads with a sword. It was the handiwork of at least 10-15 people".
Most riot survivors recalled that the common response from the police when the victims tried calling was "Ye lo Azaadi (Take your Freedom)", evidently a response to the popular slogan of 'Hum Kya Chahte? Azaadi (We want freedom)' used by protesters.
Shahida, a riot survivor who saw rioters setting mosques on fire and throwing bottles inside people's homes to set them ablaze said, "We called the 100-emergency number so many times but not even once did anyone answer. When they did answer our phone they said, 'you wanted Azaadi (freedom), here take your Azaadi now".
Amnesty International India interviewed several survivors who said that the Delhi police was unsympathetic towards the grave risks' survivors were facing during the violence.
Nawab Ali, a riot survivor said, "We kept calling them but they did not come. From 4 PM to 1 AM, we were calling them. We just wanted to come out of this alive. Those people were very dangerous. It wasn't merely an organic crowd. It was a massive crowd and they had all sorts of weapons".
Shabnam, a riot survivor who lost her house to the arson during the riots said, "My husband called the police, my father called them, several times. They asked, 'Tell us your address, tell us where you live'. We told them our address, but they did not respond, and no one came to our help. When our house was burnt, even then we called the police at about 1 AM. Then, the police said, 'How much will you disturb us? We are sending the police vans.'"
Syed Zahir Hussain, Naib Imam & Muezzin, Masjid Maula Baksh recalled, " We kept calling the 100-emergency number but we were not able to connect with the police." He said the rioters broke down the whole mosque and set it on fire. They also broke down my house. After everything had been reduced to ash, they found out that we were seeking shelter in the house next door and reached there as well. They broke open the door and started climbing upstairs. We had mixed chilli powder with water to use for our protection. We kept calling the 100-emergency number throughout but we couldn't get through. We were not able to connect with the police," he told Amnesty.
Related:
Establish independent review of Delhi Police's role North East Delhi riots: Amnesty
Hate Speech and Delhi Pogrom 2020
Delhi Violence case: Court reprimands police for failure to get video footage
North-East Delhi Riots: Minorities Commission investigations reveal role of Delhi Police, politicians
Hate Speech by BJP's Top Brass fuelled Build Up to Delhi Violence: Minorities Commission