New Delhi:
On July 27, 2018, Rajendra Birhor, a 40-year-old Adivasi, starved to
death
in Ramgarh, a district in eastern Jharkhand. He belonged to a "particularly vulnerable tribal group" (PVTG) and should have had access to at least two welfare measures that could have saved his life: A pension and a ration card.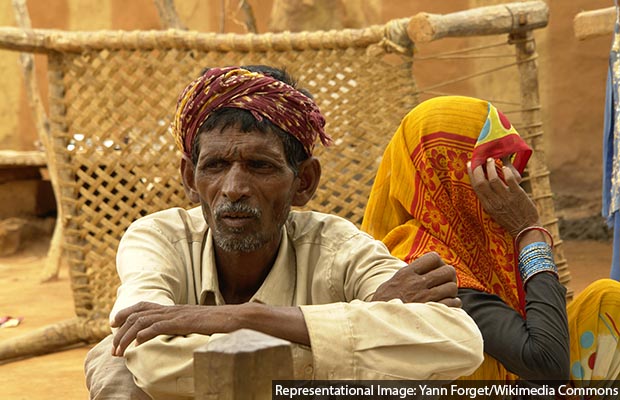 Like him, 13 others died of starvation in Jharkhand over the last 10 months, according to the latest available data from the Right To Food (RTF) campaign, an advocacy group. They should have all benefited from Antodyay Anna Yojana (AAY), the food ration scheme meant for the poorest of poor in India.

In most cases, the Jharkhand government denied that deaths were caused by starvation (You can read those denials here, here and here). The state food and supply minister Saryu Roy has accused food activists, who see a link between starvation and these deaths, of "playing politics".
भूख से मौत की अफवाह फैलाने वालों की पोल आज रामगढ के कुज्जू मे खुल गई जब मृतक के पुत्र ने मुखिया एवं अन्य कई के सामने कहा कि मौत भूख से नहीं हुई है इसलिये शव को क़ब्र से निकालकर पोस्टमार्टम कराने की ज़रूरत नहीं है.यह बात उसने पहले भी कईयों के सामने कहा था जिसका वीडियो मौजूद है.
तथाकथित भूख से मरने की ख़बरों पर अफवाह उड़ाने वाले और राजनीति की रोटी सेंकने वाले बतायें कुज्जू की दुर्भाग्यपूर्ण मौत के बारे मे सरकार से क्या चाहते हैं.वे चाहें तो मृतक शरीर को क़ब्र से निकालकर सरकार पोस्टमार्टम करा देगी.दूध का दूध और पानी का पानी हो जायेगा.
भूख और मौत पर राजनीति की रोटी सेंकने वाले राजनेताओं और तथाकथित समाजकर्मियों के असली इरादे बेनक़ाब होंगे.गिरिडीह और चतरा की असलियत जांच में सामने आ गई है.फिर भी स्व० सावित्री देवी के गाँव ओछी राजनीति करनेवाले किरदारों की भूमिका की जाँच अभी कुछ दिन चलती रहेगी.

IndiaSpend spoke to medical experts and social activists and found that the government response does not take into account two factors involving the links between malnutrition and starvation:

Medically, these deaths are most likely due to infections and diseases. But prolonged malnutrition undermines the immune system, making the body prone to life-threatening infections;
Starvation deaths are caused by a circle of poverty, government apathy and mandatory Aadhaar-ration-card integration, the lack of which deprives poor citizens of foodgrain they are entitled to under government schemes. Over a period of time, this results in malnutrition and death.

As the following table shows, in half the cases of starvation deaths reported from Jharkhand between September 2017 and July 2018, the deceased did not get the ration promised under the public distribution scheme (PDS) and AAY.

The reason can be traced to the complications arising from the government mandate that ration cards and bank accounts be linked to Aadhaar, according to RTF campaigners. Aadhaar is a 12-digit unique identification number issued by the Indian government to every citizen and declared mandatory for various government welfare schemes.

Starvation Deaths in Jharkhand, September 2017 To July 2018
Name of victim
Age (In years)
Block, District
Date of death
Details
1
Santoshi Kumari*
11
Jaldega, Simdega
Sep 28, 2017
Family denied ration for five months as its ration card was cancelled for want of a link to Aadhaar.
2
Baijnath Ravidas
40
Jharia, Dhanbad
Oct 21, 2017
Despite repeated applications, the family did not get a ration card.
3
Ruplal Marandi*
60
Mohanpur, Deoghar
Oct 23, 2017
Family denied ration for two months as the thumbprint of Ruplal and his daughter did not work in the Aadhaar-based biometric authentication (ABBA) point-of-sale machine.
4
Premani Kunwar*
64
Danda, Garhwa
Dec 1, 2017
After September 2017, Premani's pension was redirected to someone else's bank account linked with her Aadhaar. Premani did not receive her ration in November 2017 even though she successfully authenticated herself through ABBA. MGNREGS work unavailable.
5
Etwariya Devi*
67
Majhiaon, Garhwa
Dec 25, 2017
The family did not get ration from October to December 2017 due to ABBA failure. Etwariya's old pension was not credited in her account in November. In December, the Common Service Point operator did not give her the pension as the internet connection was disrupted just after she authenticated through ABBA. MGNREGS work unavailable.
6
Budhni Soren
40
Tisri, Giridih
Jan 13, 2018
The family was not issued a ration card (presumably as it did not have Aadhaar). Budhni Soren was also not issued a widow pension.
7
Lukhi Murmu*
30
Hiranpur, Pakur
Jan 23, 2018
The family was denied its PDS rice since October 2017 due to ABBA failure. In June 2017, the family's Antyodaya Anna Yojana card was converted into a priority ration card without its knowledge. No MGNREGS work available in the village.
8
Sarthi Mahtain*
Exact age not available
Dhanbad
Apr-18
She was denied her ration and pension for several months as she could not go to the ration shop and bank for Aadhaar-based biometric authentication due to illness.
9
Yurai Devi
Exact age not available
Ramna, Garhwa
May-18
Denied ration
10
Savitri Devi*
60
Dumri, Giridih
Jun-18
Did not have a ration card despite having applied for it. She was sanctioned a widow pension in 2014, but the first pension instalment was transferred in her account in only April 2018 as her Aadhaar was not linked with her bank account. No MGNREGS work available in the village for the past two years.
11
Mina Musahar
45
Itkhori, Chatra
Jun-18
Did not have ration card or shelter. Was forced to beg for food and was hungry for four days.
12
Chintaman Malhar
50
Mandu, Ramgarh
Jun-18
Was not issued a ration card or particularly vulnerable tribal group pension. Lived in makeshift shelter. No MGNREGS work available. Lived in state of semi-starvation.
13
Lalji Mahto
70
Narayanpur, Jamtara
Jul-18
Did not receive pension for the last three months
14
Rajendra Birhor
40
Mandu, Ramgarh
Jul-18
Was not issued a ration card and particularly vulnerable tribal group pension.
Source: Right To Food Campaign
* Cases where Aadhaar-related failures clearly contributed to starvation

Compulsory linkage of Aadhaar, ration card continues, despite govt claims

In line with Prime Minister Narendra Modi's vision of Digital India, the Jharkhand government in July 2016 transitioned to a "paperless" public distribution system (PDS), linked to individual Aadhaar numbers, as TheWire.in reported on July 18, 2017.

This system has two requirements: One, each person's ration card has to be linked to their Aadhaar card; and two, each time a person wants ration under PDS, she must have biometric authentication done at a 'point of sale' machine, which then calculates eligibility. These machines are installed at PDS shops, where the dealer is supposed to authenticate each transaction.

In the two months after this Aadhaar-PDS linkage rule, in Ranchi district, ration-card holders received only 49%, or less than half, of their entitlement, according to an analysis of government data in July and August 2016 by development economist Jean Dreze.

The denial of foodgrain in Jharkhand has been reported before (here, here and here) and contested.


In October 2017, the Jharkhand government claimed that Aadhaar is not mandatory for collecting foodgrain under PDS. However, district administrations in the state continue to adhere to the mandatory Aadhaar-ration card rule, according to RTF activists. This happened in Birhor's case as well.

"Whatever the food minister or others may have told the media, the Jharkhand government never retracted its policy of compulsory linkage of ration cards with Aadhaar," Dreze, also a visiting professor at Ranchi University, told IndiaSpend.

Activists are demanding that Aadhaar be delinked from all social-security schemes, including pensions, to save the poor from distress. Swati Narayan, an activist with the RTF in Ranchi, believes that the Aadhaar-ration integration requirement is behind the trail of starvation deaths in Jharkhand.

"The Jharkhand government needs to immediately universalise the rural ration eligibility from 86% to 100% of the population to ensure that no family is left out," she said. "Additionally, excluded families should be immediately paid compensatory food security allowance for the last one year at least to prevent more horrific deaths due to starvation."

Food and supply minister Roy insisted the 14 deaths were not related to starvation. "(They) can be attributed to the lack of ration cards, which is due to the lacunae in the government system, but they are not starvation deaths," he told IndiaSpend. "RTF activists are hyper-ventilated (sic) people who are motivated against BJP [Bharatiya Janata Party] governments. I have not seen them commenting on the starvation deaths in Delhi."

On July 27, 2018, three sisters were found dead under unexplained circumstances in Delhi's Mandawali area. They possibly died of malnutrition or starvation, their postmortem reports said.

Given the inequalities in India's population–India's top 1% have 73% of India's wealth–it is the government's responsibility to provide food and nutrition to the marginalised, said Anjali Bhardwaj, an activist with the RTF in Delhi. "In Delhi and Jharkhand, the political will is lacking," she said. "They may promise a lot of things, but on ground, the ill-thought move of PDS-Aadhaar linkage is starving people."

Shamika Ravi, research director, Brookings India and a member of the Prime Minister's Economic Advisory Council, countered that the emphasis should be on resolving systemic problems, not discrediting Aadhaar.

"Any exclusion error or case, where a person is being denied their benefits, is unacceptable and absolutely unjustified," she told IndiaSpend. "However, the focus should be on strengthening the Aadhaar system. There are exclusions, yes, but what is still not clear to me is at exactly what stage is the problem (occuring)? Is it a problem at the point of authentication? Or there is a problem in how the PDS programme is linked with Aadhaar? Aadhaar has become a favorite whipping boy of many activists, but we need to identity the exact pain points and work on strengthening them."

Dreze concurs partially with Ravi. "If Aadhaar is to be used at all for welfare schemes, it should be restricted to cases where it serves a clear purpose and where Aadhaar seeding can be done in a reliable and non-coercive manner," he said. "Aadhaar-based biometric authentication should never be made compulsory."

Starvation deaths must be established by social, medical history, not autopsy: Activists

In June 2018, the Jharkhand government made an autopsy a must for starvation deaths. But campaigners say this is not a fail-proof method for determining if death was caused by hunger.

"Historically, if post-mortems/autopsies have found a single grain of rice in bodies, they haven't been classified as starvation deaths," said Dipa Sinha, assistant professor at Ambedkar University, Delhi. "In Odisha, people have eaten mango kernels as they didn't have anything else to eat. So, officially, they may not be starvation deaths medically, but I would classify them thus. In Jharkhand, the government has been hiding behind technicalities to absolve itself of responsibilities, but we cannot miss the fact that denial of food leads to chronic malnutrition."

Narayan pointed out that the medical and social histories of those living in starvation zones are more important than autopsies to fix the reason for death. "After one year of screaming, the Jharkhand government has finally changed its definition of starvation, but has done little else," she said.

In March 2018, the Jharkhand government set up a nine-member committee which was supposed to define parameters by which starvation deaths can be established officially. However, the committee has missed its second deadline to compile the report and make it public, as the New Indian Express reported on July 31, 2018.

"From what I know, the committee has analysed information and (is) almost done with its report," Jharkhand minister Roy said. "It will release the final report very soon. However, I cannot comment on the exact date as it is an autonomous committee and they will take their own time and decisions."

There is no need to set up a committee to define starvation as a lot of literature and research already exists on the subject, said NC Saxena, former secretary of the erstwhile Planning Commission and former commissioner of a Supreme Court-monitored committee on food and hunger. "In my experience, in Jharkhand, the government usually under-reports starvation and malnutrition levels," he said. "They should rather focus their energies on collecting proper data and on how severely malnourished children and people can be identified and intervened (with)."

Malnutrition and infections: A two-way causal association

In September 2017, an 11-year-old girl Santoshi died allegedly due to starvation. She and her family did not get foodgrain because their Aadhaar cards had not being linked to ration cards. In response to criticism over Santoshi's death, Amit Malviya, incharge of the BJP's information technology cell, cited a district official's report and claimed that her death was due to malaria, and not starvation.

11-year old girl in Jharkhand died because of malaria and not because her family was denied ration. DC's report enclosed. Fact check anyone?

However, experts told IndiaSpend that malnutrition and disease are so interlinked that it is hard to separate the two. Undernourished children principally die of common infections and immune defects, according to this 2016 paper.

"Lack of adequate nutrition or undernutrition leads to infections which can be life-threatening," said Bhavna Dhingra, a pediatrician with the All India Institute of Medical Sciences, Bhopal. "However, these infections can reduce the appetite of children, which severely affects the already precarious nutrition situation."

Giridhara R Babu, an epidemiologist and additional professor at the Public Health Foundation of India, explained how malnutrition works to weaken the body: "In the shorter term, malnutrition leads to weight loss due to depletion of fat and muscle mass, including some of the organs. In the long run, prolonged decreased dietary intake leads to a reduction in functional energy reserves and changes in body composition."

Starvation itself rarely results in death which is usually caused by infections among those lacking in malnutrition, said Nehal Vaidya, a pediatrician from Bhuj, Gujarat.

"In case of a reported case of child malnutrition, where a child has stayed hungry for many days, first, a clinical assessment should be done to analyse the child's body and hunger and then the appropriate intervention should be done and the parents should be counselled on how to feed the child," she said. "However, in rural and urban areas, lack of infrastructure is a big problem. You need specialist doctors, paediatricians, nutritionists and public health experts to deal with such cases."

Severely malnourished children in state-run malnutrition treatment centres (MTCs) in Jharkhand showed poor recovery, most demonstrated poor weight gain, and a high number of illnesses were reported post- discharge, according to this 2018 paper which examined the efficacy of an MTC in Jharkhand. Malnourishment at an early age can have long-term consequences, affecting an individual's motor, sensory, cognitive, social and emotional development, as IndiaSpend reported on July 22, 2017.

There is a 90% shortfall of specialists (surgeons, obstetricians & gynaecologists, doctors, and paediatricians) across community health centres (CHCs) in Jharkhand, according to the Rural Health Statistics 2017. Other than specialists, India is short of doctors in general. India's doctor-to-population ratio of 1:1,674 is 75% lower than Argentina and 70% lower than the US, as IndiaSpend reported on November 16, 2016.

The CHCs constitute the secondary level of health care and provide specialist care to patients referred from primary health centres, four of which feed into each CHC, serving roughly 80,000 people in tribal, hill or desert areas and 120,000 on the plains.

(Devanik Saha is a doctoral candidate at the Institute of Development Studies, University of Sussex, UK. He also works as consultant with Policy & Development Advisory Group, Delhi)
Courtesy: India Spend