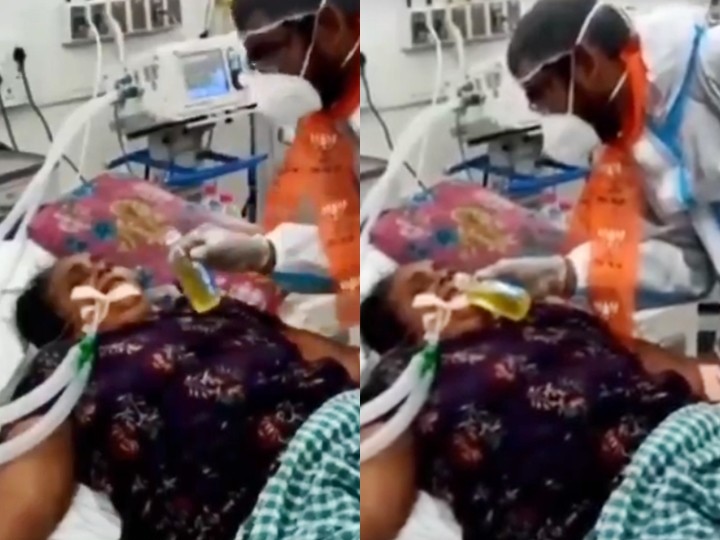 The Covid-19 pandemic has also given rise to a number of unfounded and unscientific 'cures' circulating over social media. Most are quickly debunked and fact checked before they do harm. However, there has been a disturbing video of a man attempting to pour a yellow liquid, that according to ABP news could be cow urine, or gau mutra, down the throat of a woman who is hooked to a ventilator.
Who is this man, and how did he manage to get into a ward where only authorised medical professionals are allowed? It has been a couple of days since that video went viral on social media, but the questions remain. He is wearing a PPE suit, accessorised with a saffron scarf, and then he bends over the female patient who has what seems to be a ventilator tube down her throat. The man is seen making the elderly patient drink the fluid, which is allegedly cow urine, or 'Gau Mutra', considered sacred and 'healing' by some.
According to ABP news the woman is reportedly a Coronavirus patient and the video was first shared by Bharatiya Janata Party's Surat General Secretary Kishor Bindal. Bindal deleted it but not before others had retweeted it and taken screen shots of the disturbing visual.
Shameful act…

BJP worker giving gaumutra to patient on ventilator.

Have no words left for this ruthless government!! pic.twitter.com/SzGpXahYRE

— Youth Congress (@IYC) April 24, 2021
It has been reported that Bindal tweeted this video and captioned it as 'a BJP worker helping a Covid-19 patient'.
The tweet, and the saffron party, came under attack from many, including the Congress' Youth Wing. The BJP leader who shared the video in the first place is yet to clarify the matter. The video has now gone international, and even though it was subsequently deleted after it amassed nearly 80,000 views but was later uploaded to Reddit, reported Newsweek.
In March 2020, the All India Hindu Mahasabha of which the RSS is an ideological cousin, had held a 'gau mutra' (cow urine) party. They distributed cow urine to attendees claiming it would help ward off the Coronavirus. Swami Chakrapani, the head of the outfit, also poured cow urine on a poster of the 'corona monster' – a multi-armed, lion headed caricature of a demon as part of the proceedings. As widely reported in 2020, West Bengal BJP chief Dilip Ghosh too had advocated drinking cow urine to ward off Covid-19. In 2019 he had claimed that "desi cows have a hump on their back" and that "the hump has a 'Swarna nari'. When sunlight falls on the hump, it produces gold." A blog on the Rashtriya Kamdhenu Aayog (RKA) website claimed that experiments had "successfully identified more than 752 compounds found in cow urine having immense medicinal value."
Meanwhile, a year later, as hospitals, and patients India continue to be crushed under the aggressive Covid-19 surge, another video is now going viral, some ABVP members allegedly entered the Covid ward of Doon Medical college and hospital in Dehradun, Uttarakhand and "removed oxygen pipes of the patients and handed them glasses of juice" shared a social media user.
ABVP members entered the Covid ward of Doon Medical college and hospital in Dehradun, Uttarakhand and removed oxygen pipes of the patients and handed them glasses of juice

To show they are doing "seva", these idiots can go to any length.
Who let them enter inside the Covid ward? pic.twitter.com/pQSUvOWXyC

— Ravi Nair (@t_d_h_nair) April 30, 2021
How are all these unauthorised persons getting access into ICU and Covid-19 isolation wards is yet to be investigated.
Related:
UP: Covid crisis claims at least 706 primary teachers and kin
Delhi Lieutenant Governor Anil Baijal tests positive for Covid-19
SII provides 3 lakh doses, vaccination for 18-44 age group to begin in Maharashtra