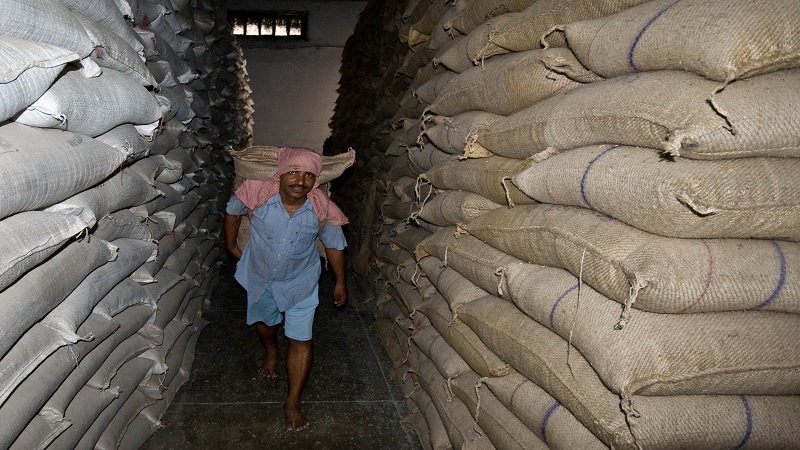 Image Courtesy:fci.gov.in
Recently pictures of an Adani operated Food Corporation of India (FCI) grain silo went viral online fueling speculation that the groundwork for the three new agricultural laws was being laid as far back as in 2016. But the bigger question is why was it necessary to involve a private player in the first place?
It was in June 2016, that Adani Agri Logistics Ltd (AALL) a part of Adani Ports and Logistics first entered into an agreement with the FCI to build two silos to store wheat. These were to be constructed in Kotkapura in Punjab and Katihar in Bihar. The two silos were to have a joint capacity of 75,000 tonnes and the project was estimated to cost Rs 80 crores. But as the project grew many new silos were constructed.
As per AALL's website, "Adani Agri Logistics Limited (AALL) has signed an exclusive service agreement with the Food Corporation of India. The project has been implemented at a total cost of nearly Rs. 700 crores."
AALL explains further, "The key feature of the project is that the entire handling of the food grains, right from receiving at Base Depots, cleaning and drying as well as storage and transportation to field depots is carried out in bulk form, thus minimizing the losses. These units are notified procurement centers of FCI, where farmers deliver their produce directly in bulk form."
Detailing where the project currently stands in terms of scope, AALL says, "AALL handles 5,75,000 MT of food grain for FCI in the states of Punjab, Haryana, Tamilnadu, Karnataka, Maharashtra and West Bengal. Another 3,00,000 MT of food grain is handled for Govt. of Madhya Pradesh. Additionally, AALL has expanded its footprints in Bihar, UP, Punjab, Haryana, Maharashtra & Gujarat with upcoming capacity of 400000 MT."
According to AALL, "The transportation of the stored food grain is in specially designed covered wagons, capable of handling bulk food grains (which are top loading and bottom discharge). Adani Agri Logistics has procured seven rakes, each consisting of 50 wagons."
But why was it necessary to draw in private players? Were government facilities inadequate, or unsuitable?
According to the Government of Punjab's Department of Food, Civil Supplies and Consumer Affairs, a Private Entrepreneur Guarantee (PEG) Scheme was necessitated because, "Govt of India assessed the storage capacities gap through Food Corporation of India and planned for construction of further capacity during the 11th plan period throughout India. A substantial storage gap in various states was found. To cover this gap PEG scheme was launched in 2008. A capacity gap of 71 LMT was identified by GOI and there after more than 21 LMT was shifted to other states, out of the balance 41.25 LMT was identified to be constructed by private investors, 4 LMT reserved for Silo's at 8 places, some capacity is being constructed by CWC (Central Wharehouse Corporation) and SWC (State Warehouse Corporation)."
The PEG was devised after a study by the National Institute of Agriculture Extension Management (MANAGE), Hyderabad to assess storage gaps. As per a report titled Scheme for Construction of Godowns for FCI, "As per estimates, FCI requires funds to the tune of about Rs. 4000 crores to fulfill the gap as indicated in MANAGE report. Even if the need is limited to the proposals already sent by the FCI field offices and for creation of additional godowns at places where SYGS(Seven Year Guarantee Scheme) godowns will complete the guaranteed period during the XIth (about 30 lakh MTs), we need substantial funds for creation of about 45 lakh MTs capacity." This was at a time when the Planning Commission of India was still functional, and the fund allocation in the 11th plan was found to be inadequate. "Therefore, the scheme has been formulated to plan for creating additional capacity through private participation," said the report adding that the draft scheme proposed by the FCI was considered in detain in consultation with the Central Warehousing Corporation (CWC) and State Warehousing Corporations (SWC) of Andhra Pradesh, Chhattisgarh, Haryana, Punjab and Odisha. Detailed guidelines issued for the purpose may be viewed here:
Revised FCI Action Plan for Construction of Silos dated January 14, 2016 which stated:
The Government had initially approved setting up of silos for a capacity for 20 lakh MTs which was part of the capacity sanctioned under the PEG scheme. It was decided that 20 lakh MTs will be set up in the following ways:-
i) Silos under PPP with VGF funding (Niti Aayog model): Silos to be set up on land belonging to FCI/State Agencies. Under this, Niti Aayog (Planning Commission) and Ministry had proposed setting up of silos under PPP mode with VGF funding from DEA. Silos were to be set up on existing depots of FCI/State Agencies for a concession period of 30 years. All the silos planned were to be with railway sidings. Under this, FCI did Action Plan for construction of Steel Silos by FCI – Jan 2016 3 an assessment of existing depots where vacant land or CAP storage was available and identified six locations viz. Changsari (Assam), Katihar (Bihar), Narela (Delhi), Whitefield (Karnataka), Sahnewal (Punjab) and Kotkapura (Punjab) where FCI had vacant land that was sufficient to set up silos. At two additional locations, namely Kilaraipur in Punjab and Baramati in Maharashtra, State Agencies had land available on which Silos could be constructed. For these locations, State Agencies were to invite the bids. For the FCI locations, RFQ has been floated and 21 bids have been received. However, 5 of these locations required split placement of rakes for which the matter was taken up with Railways. As per the response received from Railways, the Railways have asked for certain additions at Changsari and Narela to allow for full railway siding. The same is being examined. RFQ for these locations will be floated with the concurrence of Railways and DEA for VGF. For Sahnewal, as per the joint verification done with railways, it shall be possible to have full rake placement. As per decision arrived at in a meeting held in Prime Minister's office, split placement of rakes will be allowed for Kotkapura and Whitefield. Accordingly, approval of DEA for VGF is being sought and RFP will be issued for selection of the Silo operators. Additional locations are being examined for considering setting up of silos in this mode.
ii) Silos under PPP with VGF (DEA model) : On locations, where there is a Storage Gap and FCI does not possess land, Silos will be set up by private parties on private land with the condition that the land would be transferred to FCI on the date of commencement of operations. Under this mode, DEA had proposed setting of silos under PPP with VGF funding for 30 years concession period at 2 locations namely Mohnia and Buxar. These Silos have been planned as road fed Silos without the railway sidings. At these locations rice silos for capacity of 12,500 MTs have also been planned on a pilot basis. The bid documents under this mode are finalised and approval for VGF is being submitted to DEA.
iii) Silos on non VGF model : At other locations where there is a Storage Gap and land is not available with FCI or State Agencies, Silos have been planned to be constructed on private land without any land transfer: Under Action Plan for construction of Steel Silos by FCI – Jan 2016 4 this mode silos have been proposed to be constructed without any VGF funding and bids for 36 locations were invited in November 2013 which had to be cancelled due to single bid being received and that too only for three locations. Under non VGF mode bid documents have been finalized and tenders are to be floated for 27 locations for a capacity of 13.5 lakh MTs. These Silos are planned with railway sidings and 30 years concessionaire period.
iv) Silos by State Governments (MP) : State Government of Madhya Pradesh is constructing silos on PPP mode with VGF funding (Niti Aayog model) on land belonging to State Government. Work is already under progress for 5 lakh MTs at ten locations. These silos have been proposed without railway siding.
v) Silos by State Governments (Punjab) : in Punjab, State Agencies – PUNGRAIN and PSWC have floated tenders for construction of silos for capacity of 11.75 lakh MTs which are primarily mandi silos and silos to be built on land belonging to State Agencies under PPP mode with VGF funding. However, VGF has been proposed to be given by Punjab Government. These Silos are without railway sidings.
vi) Silos by CWC : CWC has also proposed constructions of silos at land which is owned by them. For this a proposal is being prepared for working out the costs for such silos. CRWC has also been asked to explore the possibility of construction of silos at locations where they have land.
vii) Silos at PFTs : FCI is also exploring construction of silos where Railways have allocated private freight terminals and the concerned operators have the capability of constructing silos on land belonging to them and offer it to FCI on rates equal to that of conventional hiring from CWC. Since the PFT operators already have railway sidings, it will take lesser time to construct these Silos.
The entire action plan may be read below:
On September 1, 2016 during the 73rd meeting of the Empowered Institution for the Scheme for Financial Support to Public Private Partnerships in Infrastructure (Viability Gap Funding Scheme) chaired by Additional Secretary, Department of Economic Affairs, the development of foodgrain silos was discussed at length. This office memorandum gives details of the discussion:
On August 17, 2014, the Planning Commission was dissolved and the Niti Aayog was brought in as a replacement. The Niti Aayog relied of the January 14, 2016 MANAGE report and the Public Private Partnership scheme continued. Bids were invited and opened as per procedure for different locations. An example of a bid evaluation with names of all successful contenders may be viewed here:
As per the FCI's latest status report, as of November 25, 2020, "FCI has so far tendered capacity of 30.50 LMT at 60 locations as against a target of 29 LMT, out of which, a capacity of 2.25 LMT at 4 locations is complete and put to use. At 40 locations, capacity of 20 LMT is under various stages of implementation. Balance 8.25 LMT capacity at 16 locations had to be dropped because of various reasons like termination/withdrawal/rejection of bids."
The report added, "CWC was allotted a capacity of 2.5 LMT. State Govt. were allotted a capacity of 68.5 LMT, out of which 6 LMT is completed (4.5 LMT in MP and 1.5 LMT in Punjab), 1.5 LMT (UP) has been awarded and 1 LMT at Kilaraipur (Punjab) has been given to State Govt. on nomination basis."
The entire status report may be read here:
Related:
Unique anti-Adani protest stops play during AUSvIND cricket match!