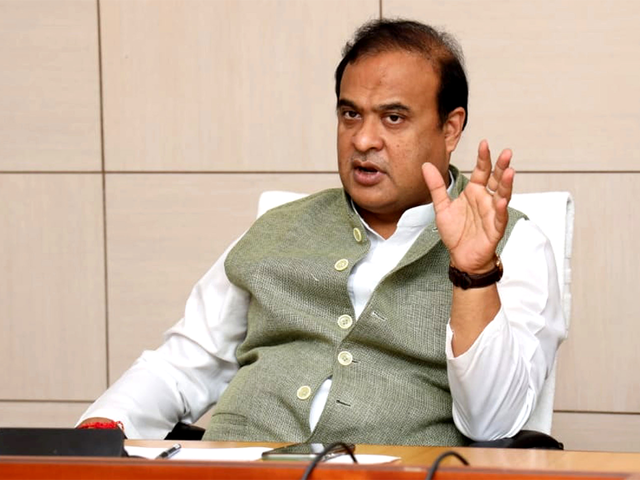 Five assembly constituencies are going to polls in Assam on October 30, and campaigning has entered its most intense phase. But Assam Chief Minister Himanta Biswa Sarma may have crossed a line.
Sarma has been announcing a slew of sops for constituencies where polling will be held, something that is a violation of the Election Commission of India's Model Code of Conduct (MCC). Under the rules for the Party in Power, point 6 says:
"From the time elections are announced by Commission, Ministers and other authorities shall not –
(a) announce any financial grants in any form or promises thereof; or
(b) (except civil servants) lay foundation stones etc. of projects or schemes of any kind; or
(c) make any promise of construction of roads, provision of drinking water facilities etc.; or
(d) make any ad-hoc appointments in Government, Public Undertakings etc. which may have the effect of influencing the voters in favor of the party in power."
But Sarma appears to be undeterred by this, and has been proudly posting about loan waiver schemes, bridges and schools, and other development projects on his official social media handles with impunity. Sample this:
MFI loan waiver scheme will be rolled out from Nov which will benefit poor women immensely.

Mobile connectivity in Nagrijuli will be improved in next 2 months; bridges over Gotonga & Balti rivers will be constructed.

We will upgarde Kawli High School to Higher Secondary School. pic.twitter.com/Uj9xgg2KzI

— Himanta Biswa Sarma (@himantabiswa) October 24, 2021
In tea garden areas govt will bear cost of bleaching powder & electricity for clean drinking water; electric meters will be installed in all households; 3 ambulances will be made available within 45 days.

Dibong Wildlife Sanctuary will be transformed into tourist destination. pic.twitter.com/FzqsRt3jKU

— Himanta Biswa Sarma (@himantabiswa) October 22, 2021
All school buildings of Sankardev Sishu Niketan will be constructed in Bhabanipur constituency.

Needed steps will be taken for infrastructural development of Anada Bazar including building a cold storage.

For better connectivity, all roads in BTR areas will be developed. pic.twitter.com/bVnp2JvmtZ

— Himanta Biswa Sarma (@himantabiswa) October 24, 2021
To strengthen power supply infrastructure in Gossaigaon a 3-phase line & transformers will be provided.

More than 1 lakh youths will be given jobs on merit basis. Microfinance loans will be waived off for poor women. 7000 beneficiaries will be added under Orunudoi scheme. pic.twitter.com/K7VVb1Y1Zd

— Himanta Biswa Sarma (@himantabiswa) October 24, 2021
The Congress has now written to the state's Chief Electoral Officer Nitin Khade urging him to ban Sarma from campaigning in the state. It is noteworthy that during the Assembly elections held earlier this year, the Election Commission of India (ECI) barred Sarma from campaigning for 48 hours after it emerged that he had allegedly said that Molihary, a Bodoland People's Front (BPF) leader will go to jail if he engages in extremist activity, and that the case was being given to the National Investigation Agency (NIA).
By-elections were necessitated in Tamulpur and Gossaingaon after the death of sitting Members of Legislative Assembly (MLAs). But in Bhapanipur, Mariani and Thowra by-elections are taking place because the candidates had switched parties and joined the BJP.
Phanidhar Talukdar had won in Bhapanipur as a member of the All India United Democratic Front (AIUDF). Interestingly, he was the AIUDF's only Hindu MLA. But he resigned at the end of August from his party citing "the larger interest" of the people of his constituency. Similarly, Rupjyoti Kurmi, an influential tea-tribe leader was originally with the Congress when he won the elections earlier this year, but has now switched to the BJP after a disagreement in promotions within the party. In Thowra, Sushanta Burgohain had won the election as a Congress candidate earlier this year, but jumped ship to the BJP after citing "internal differences" within his former party. Kurmi and Burgohain's exits dealt a body blow to the Congress in Upper Assam.
The Assam Assembly has a total of 126 seats, out of which 59 are currently held by the BJP after Sarbananda Sonowal's seat fell vacant when he was elected to the Rajya Sabha. BJP ally Asom Gana Parishad has nine seats, and another ally the United People's Party Liberal has five. The Congress meanwhile has 27 seats, AIUDF has 15 Bodoland People's Front has three and CPIM one. There is also one independent MLA.
Related:
Himanta Biswa Sarma barred from campaigning, cop brother transferred