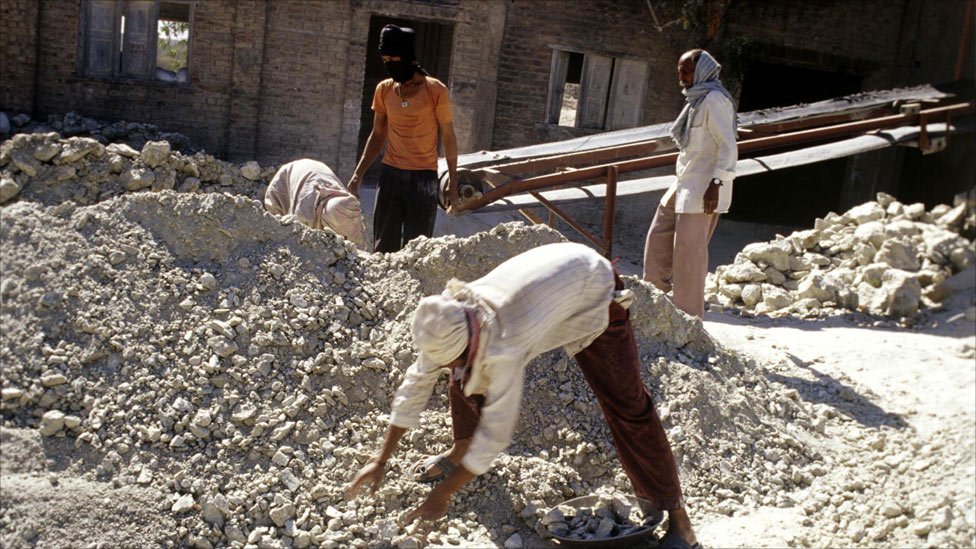 At India-EU Seminar 2011, India's Labour Ministry presented a paper disclosing that, "The Government of India is considering a ban on the mining and use of chrysotile asbestos in India to protect the workers and the general population". But now, according to the Journal of Ban Asbestos Network of India (BANI), and its 'Asbestos Free India' campaign, the paper has allegedly been removed from the labour ministry website. Before it vanished it was accessible here:
http://labour.nic.in/lc/Background%20note.pdf
However, what is still available on the union government's own national health portal is alarming in itself. The portal details how exposure to asbestos occurs through "inhalation of fibers in air in the working environment, ambient air in the vicinity of point sources such as factories handling asbestos, or indoor air in housing and buildings containing friable asbestos materials."
Asbestos is a mineral used for insulation in buildings, and to make roofing tiles, water supply lines, fire blankets, as well as clutches and brake linings, gaskets, and pads for automobiles. Here is the alarming bit: "Asbestos causes cancer and chronic respiratory diseases in humans. All forms of asbestos are carcinogenic to humans. Exposure to asbestos (including chrysotile) causes cancer of the lung, larynx, and ovaries, and also mesothelioma (a cancer of the pleural and peritoneal linings). Asbestos exposure is also responsible for other diseases such as asbestosis (fibrosis of the lungs), and plaques, thickening and effusion in the pleura."
In a bizarrely twisted policy, mining of asbestos has been banned, but not its trade, manufacturing and use in india. The Union Government still allows import of white chrysotile asbestos from countries like Russia, Brazil, Zimbabwe, Kazakhstan and others. The dangerous part is that even though the mining is banned in India, "Asbestos deposits are found in Andhra Pradesh, Bihar, Jharkhand, Karnataka, and Rajasthan. In India, the domestic consumption of asbestos is 1.25 lakh tones annually, out of which more than a 1.0 lakh tonnes is being imported. Significant occupational exposure to asbestos occurs mainly in asbestos cement factories, asbestos textile industry and asbestos mining and milling."
According to the World Health Organization, "At least 1,07,000 people die each year from asbestos-related lung cancer, mesothelioma and asbestosis resulting from occupational exposures. Approximately half of the deaths from occupational cancer are estimated to be caused by asbestos. In addition, it is estimated that several thousand deaths annually can be attributed to exposure to asbestos in the home".
According to the government portals, "The burden of asbestos-related diseases is still rising, even in countries that banned the use of asbestos in the early 1990s. Because of the long latency periods attached to the asbestos related diseases, stopping the use of asbestos now will result in a decrease in the number of asbestos-related deaths only after a number of decades. There is no safe use of asbestos and no safe limits set by WHO, ILO (International Labour Organization)."
Gopal Krishna, of Toxics Watch Alliance (TWA) and Occupational Health India (OHI) has raised the critical issue and written to the Chief Minister, West Bengal seeking a "stoppage of carcinogenic asbestos cement roofs for shelter amidst Amphan, Covid-19 pandemic."
In India the Labour Ministry had constituted a committee to ensure compliance with the verdict of Supreme Court dated 27 January 1995 upholding right to health as part of right to life in Consumer Education and Resource Centre v Union of India case. The verdict required state and central governments to update their laws in the light of fresh resolution of ILO. The committee remains dormant. It failed to submit its report. ILO resolution 2006 recommends elimination of all kinds of asbestos because its "safe and controlled use" is not possible. Some 70 countries have banned all kinds of asbestos. Indian ban is partial, say environmental activists. India still needs to ban its trade, manufacturing and use.
"Is it logical and scientific on the part of the governments to knowingly subject present and future generations of Indians to the killer fibers of asbestos under the influence of the anonymous foreign and Indian donors of the ruling parties? Indians continue to be exposed to Russian and Chinese asbestos, now that Canada and Brazil have banned asbestos in their own countries with no relief in sight," states Gopal Krishna.
Notably, in educational institutions like Jawaharlal Nehru University (JNU), the yoga centre and the swimming pool in the vicinity of JNU and Kendriya Vidyalaya in Delhi, are run under asbestos roofs unmindful of the fact that some 8,000 railway stations are in the process of removing asbestos roofs because of hazards from the carcinogenic mineral fibers.
"Asbestos related diseases are also incurable despite this environmental clearances are still being given by the central environment ministry but health being a state subject, your government can act to safeguard the life of present and future generations by stopping it," the letter states, adding, "Health is a state subject. In such a backdrop, the government must stop manufacturing, procurement and use of all forms of asbestos including white asbestos."
Activists have asked that the "use of asbestos-cement roofs and other asbestos based products are prohibited to prevent preventable diseases and deaths. It is your solemn duty to protect the residents of West Bengal from the exposure of fibers of chrysotile asbestos."
The activists have suggested that the asbestos industry "must be persuaded to phase out in two phases in West Bengal. In the first phase the goal must be to eliminate use of chrysotile asbestos and record the number of exposed workers and consumers in the country. In the second phase, the goal must be to create incentives for the use of safer materials, ensure, create a registry of asbestos laden buildings and victims of asbestos-related diseases and ensure decontamination of the former and compensation for the latter. There is an immediate need to conduct an audit of the current status of the victims of asbestos related diseases from the government hospital records in the country and make it mandatory for medical colleges to provide training for doctors so that they can diagnose diseases caused by occupational, non-occupational and environmental exposures to killer fibers and substances."
The entire letter may be read here.

Related:
Final SC hearing soon on Google and Ban Asbestos Network of India (BANI)