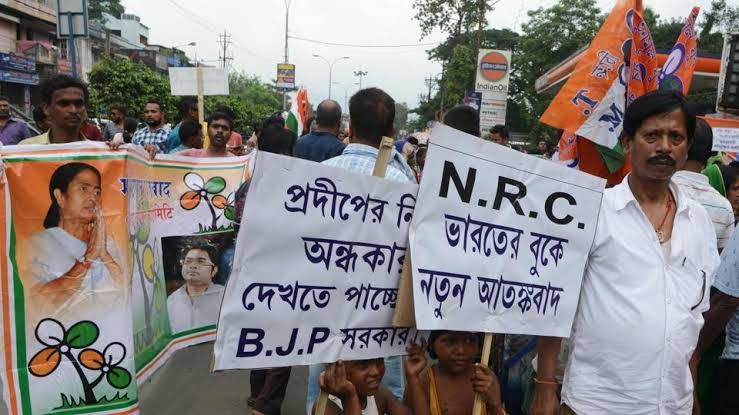 The Trinamool Congress delivered body blows to the BJP in all three constituencies where bye elections were held in November, winning even the state BJP state chief's constituency! So how exactly did the all-powerful and extremely well-funded BJP snatch defeat from the jaws of victory?
Look no further than its misadventures on the subject conducting a National Register of Citizens (NRC) exercise across India. While the BJP investigates the reasons behind its failure, there are whispers by party members themselves that it was the manner in which the subject of NRC was approached that tanked their chances of success.
Bengal had already witnessed what was happening next door in Assam where over 19 lakh people were left out of the final NRC published on August 31, 2019. In fact, panic cause by the NRC has already led to a spate of suicides in Bengal. It was these concerns that the BJP failed to address as it brandished about its shiny NRC-CAB double edged sword.
BJP Chief Amit Shah has never minced words about the party's desire to replicate Assam's NRC across India. He reiterated his government's commitment to conducting a nationwide NRC in the Lok Sabha recently. Bengal has been a much-coveted state for the BJP that is desperate to make further electoral gains in the state following the 2019 general elections where it made significant inroads.
Meanwhile, West Bengal Chief Minister and TMC chief Mamata Banerjee has been extremely vocal about her determination to ensure a similar exercise is not conducted in her state. It is noteworthy though, that Banerjee has come a long way since her 2005 campaign against illegal migrants from Bangladesh, a move many political pundits attribute to minority appeasement for cultivating a dependable vote bank.
In fact, the BJP's Kaliaganj candidate Kamal Chandra Sarkar told The Telegraph, "Trinamul went on campaigning on NRC and highlighted the consequences. On the other hand, our leaders went on asserting that our party is determined to introduce it in Bengal, which is why it backfired. As a result, a section of voters did not support us this time like they had in the parliamentary polls."
Kaliaganj has a large population of Rajbanshis, as well as refugees and alleged illegal migrants from Bangladesh. It is alleged that right wing supremacist organisations wanted to club together Rajbanshis and Bengali Hindu migrants and refugees, leaving those from the Muslim community to bear the brunt of the proposed Citizenship Amendment Bill (CAB). Karimpur shares a 25-kilometer-long border with Bangladesh and it is alleged that close to a quarter of the electorate comprises Bangladeshis who crossed the border in wake of the 1971 war. The talk of NRC is therefore a huge cause for concern, putting any party, that advocates it, on shaky ground.
Thus, results in these constituency were a clear indication of public rejection of a divisive agenda and the politics of fear.
Related:
WB bye elections: TMC knocks the wind out of BJP, wins all three constituencies
TMC-BJP face off in crucial by-polls in Bengal
Bengal Suicide: Panic over NRC is taking lives