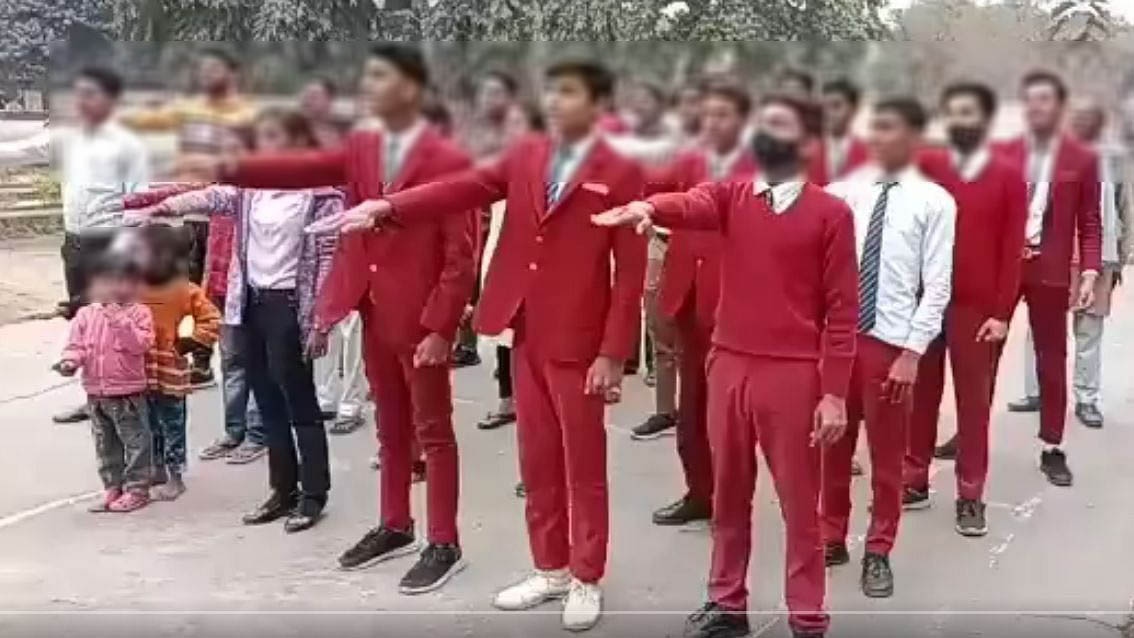 Suresh Chavhanke, CMD and editor-in-chief of Sudarshan News, it seems, is on a mission to administer what he has called #हिंदुराष्ट्र_की_शपथ or the oath for a Hindu nation. That he is a citizen of a secular India does not matter to him as he asks others to also "openly support" his 'dream of a "Hindu Rashtra". Since most mainstream media ignore him, he often seeks support of fellow right wingers on Twitter.
In the run up election season 2022, Chavhanke has upped his pace to public the so called 'oath for a Hindu nation'. He has claimed this 'oath' if being taken across the nation.
नागपुर में हिंदुओं ने दोहराई #हिंदुराष्ट्र_की_शपथ आप भी करे खुलकर समर्थन #HinduRashtra #एक_ही_सपना_हिन्दुराष्ट्र @TeamHinduOrg

— Suresh Chavhanke "Sudarshan News" (@SureshChavhanke) December 29, 2021
He recently tweeted a video where over two dozen boys and girls, many dressed in their school uniform of maroon blazer or sweater, maroon trousers and white shirt, some in casual wear, pledging to "fight, die and kill" to create a "Hindu Rashtra". The kids repeat what the man chants even as a few toddlers are seen in the front. The kids extended their right arm forward and in Hindi said, "We give our word, we pledge to fight, die and kill, if necessary, and be ready for any sacrifice till the last moment of our lives to make this country a Hindu Rashtra and take it forward at any cost. We shall not step back even for a moment. May our Gurudev, our Kul Devata (family god), our Gram Devata (village god), our ancestors and Bharat Mata give us strength and victory."
हिंदुस्थान में जगह जगह ली जा रही #हिंदुराष्ट्र_की_शपथ

यूपी के सोनभद्र में स्कूली बच्चों ने शपथ लेकर हिंदू विरोधियों को ललकारा #एक_सपना_हिन्दूराष्ट्र#एक_ही_सपना_हिन्दुराष्ट्र #एक_सपना_हिन्दूराष्ट्र
pic.twitter.com/cIo9QVQeVH

— Suresh Chavhanke "Sudarshan News" (@SureshChavhanke) December 29, 2021
Chavhanke had allegedly sent a team from his office to Vimla Inter College at Robertsganj in Uttar Pradesh's Sonbhadra district, to "make the children take the oath and film them doing so." So far it appears that the children were made to take the oath and were filmed without any consent being sought from their parents. According to a report in The Telegraph Jitendra Singh, the school's manager said, "A crew that introduced themselves as from Sudarshan News had asked to take boys from the school to a nearby park for a debate they said they wanted to film." Singh said the Sudarshan News crew had microphones that bore the name of the channel and told him they "wanted the students to gather at the nearby Chacha Nehru Park for a debate on rashtra dharma (national duty)." He claims he did not object as he had "seen television reporters interviewing common people, so I didn't object… I have learnt that five Class XI students and five Class XII students from our school were in the park. I shall, if necessary, ask the students and their parents to take legal action against those trying to violate our Constitution."
School principal Shiv Narayan Lal, was quoted saying, "There is no question of supporting any such violent ideology. We knew our students had been taken to the park but didn't know that the people from the news channel meant mischief." Sonbhadra superintendent of police Amrendra Pratap Singh added that the police had started an inquiry into the event, "I shall be able to share the details once the inquiry has been completed," he said.
A few days ago Chavhanke, himself had led a similar 'oath ceremony' in Delhi. "We take an oath and make a resolution that till our last breath, we shall fight, die for and if need be, kill, to make this country a Hindu rashtra," he said and the gathering repeated the chant. Social media users pointed out that Uttar Pradesh minister Rajeshwar Singh was also present at the event by the Delhi unit of the Hindu Yuva Vahini which claims it "is a Hindu Nationalist youth organisation, founded by Shri Yogi Adityanath ji, intended successor of the Gorakhpur Mutt temple in Gorakhpur and Chief Minister of Uttar Pradesh, India." According to new reports, while Delhi police confirmed that the event took place in the capital on December 22, no case has been filed yet.
— Suresh Chavhanke "Sudarshan News" (@SureshChavhanke) December 29, 2021
He has been called out for his communal hate speech and fake news often. In October, Chavhanke had claimed that a viral video clip showing a teacher beating a student was a case of a "Hindu student being beaten up in a government school in Tamil Nadu because he was wearing "Rudraksha"..!! Christian teacher brutally beat up the student and also banished him from school..!!" None other than Tamil Nadu Police's senior officer Dr.P Vijaya Kumar I.P.S., Superintendent of Police of Chengalpattu district called him out for sharing the fake and maliciously distorted news.
The Ministry of Information and Broadcasting (MIB) had also cautioned Sudarshan TV against the contents of its infamous 'UPSC Jihad' show and ordered that in case of any further violation stricter penal action would be taken. Citizens for Justice and Peace (CJP) had taken action against the nine-episode series of Sudarshan TV's show "Bindaas Bol" titled – Naukarshahi mein Muslamano ki Ghuspaith ke Shadyantra ka Bada Khulasa (The conspiracy behind Muslim infiltration in UPSC – The Big Reveal). Suresh Chavhanke asked "How has there been a sudden rise in the number of Muslims in IAS and IPS? What is the secret behind scoring high marks in such a difficult exam? If Jihadis of Jamia become your Collectors and Chief Secretaries, what will happen then? The CJP had complained to NBSA about the divisive and communal nature of the programme and warned how the discriminatory statements and unverified claims can potentially "lead to mass violence and targeting of the Muslim community". It reminded the NBSA of the hate speech and vehement hate propaganda created and distributed against the Muslim community in the past few years and the of the role of the TV news media in this regard.
The NBSA responded that the complaint has been forwarded to the Ministry of Information and Broadcasting (MIB), as Sudarshan News is not a part of the NBA, resulting in an order of stay by the Delhi High Court. The court requested the centre to determine if the programme should be aired. The I&B Ministry allowed the broadcasting and the first episode of the show was aired on September 11, 2020. But the Supreme Court subsequently restrained Sudarshan News from further telecasting the rest of the episodes in its "UPSC Jihad" series while observing that the program was "insidious".
Related:
"Godman" who insulted Mahatma Gandhi arrested
Hate Watch: Street play on "Love Jihad" gets Sudharshan TV excited
Hate Speech: The worst words of 2021, we hope do not spill over into 2022
Poisoning people's minds to ensure polarisation in the coming polls
Why does the PM look the other way when BJP leaders give communal speeches?
Activists counter call for genocide with a call for secularity
Uttarakhand: Will Jitendra Narayan Singh Tyagi nee Wasim Rizvi benefit from the FIR against him, or will he be the scapegoat?
How did Uttarakhand govt allow calls for Muslim genocide in Haridwar?