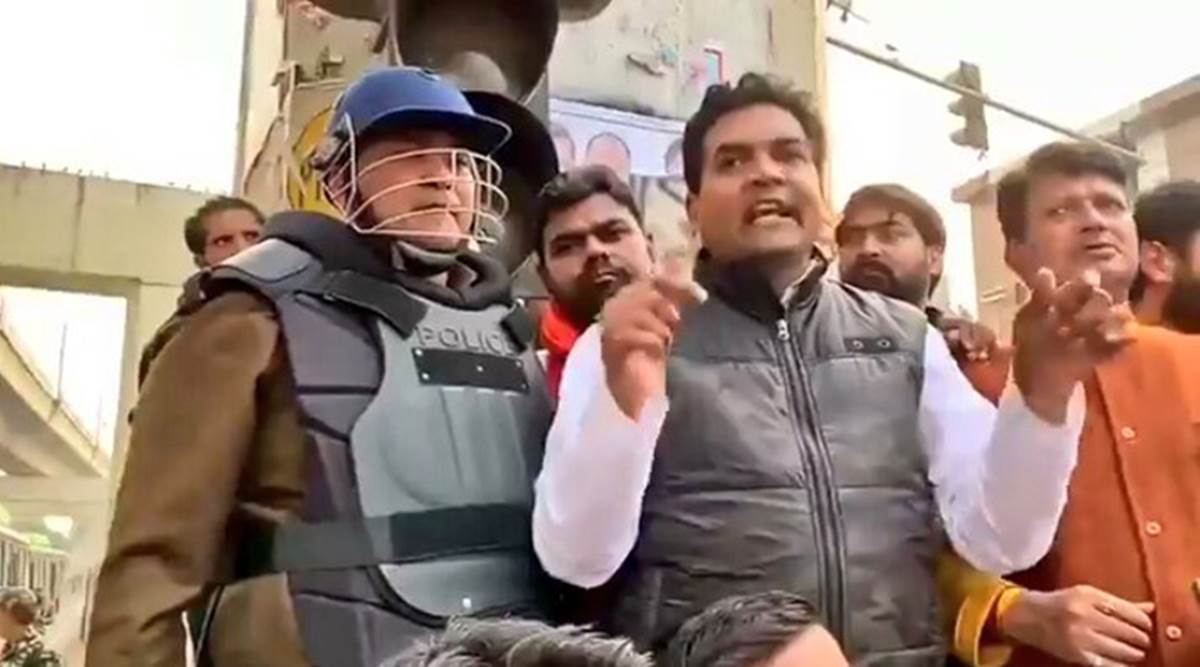 The infamous viral video of Kapil Mishra giving the administration an ultimatum to disperse protesters, that he himself shared first, and continued to be shared even as communal riots broke out in its wake, was just a peaceful "plan for a dharna", it seems. A report by Indian Express reporter Mahender Singh Manral, who has been closely following the investigations, and his colleague Jignasa Sinha, also mentions that a video was tweeted by Mishra on February 23, — a day before riots broke out in North East Delhi. However, it is no longer on his timeline, but has been extensively reported and embedded, and Mishra can be seen addressing a pro-CAA gathering near the Maujpur traffic signal.
In the video, standing right next to DCP (North East) Ved Prakash, Mishra had issued an "ultimatum" that he and his followers will take to the streets if the police did not clear the Anti-CAA-NRC-NPR protesters from the site. Kapil Mishra had 'given' a few days time to the police to do as they had been asked to, and also told the DCP, that he and his supporters will not even listen to the police after that. Mishra had said: "They (protesters) want to create trouble in Delhi. That's why they have closed the roads. They have created a riot-like situation. We have not pelted stones." He addressed his supporters saying, "DCP saab is standing in front of us and on your behalf, I want to tell him that till (Donald) Trump is in India, we are leaving the area peacefully. After that, we won't listen to you (police). If the roads are not vacated by then… we will take to the streets."
After the Bharatiya Janata Party leader was questioned by the Delhi Police Special Cell in connection with the North East Delhi riots in the last week of July, he claimed that he had gone to the area to "resolve" the situation, reported IE. Mishra said he gave "no speech", and added remarks made by him standing next to a DCP were only meant to convey his intention of launching a "dharna" to counter anti-CAA protesters, stated IE's news report.
Mishra's justification to this speech being an announcement of a dharna, or peaceful protest has been mentioned in a chargesheet filed by the Delhi Police before Delhi's Karkardooma court last week. According to the IE news report, the charge sheet also details the questions Mishra was asked about his visit and about the YouTube video of his address. Mishra said he had "requested the DCP (vinti kar rahe hain)" to clear Jafrabad and Chand Bagh area of anti-CAA protesters within three days failing which he would sit on a "dharna".
He also told police that "Muslim logon ne wahan darr aur aatank ka maahol bana kar rakha tha (Muslims had created an atmosphere of terror and fear there)", adding that even ambulances were not able to access the areas and that "Muslims had blocked the roads for the past two-three months".
Mishra, stated IE, when asked to explain his observations of the day said, "upon reaching, I was informed that stone pelting had already started around 2.45 pm and people were also running in front of me, informing me that a mob was doing stone pelting. I had spoken with DCP Surya before reaching around 3-3.30 pm."
On being asked why he had visited Maujpur Chowk, he said it was because he "got calls from locals and read Facebook posts about residents facing problems because of the blocked roads". According to the IE report , Mishra has claimed that he went there alone and that he was there for just one hour. However, the IE reminded readers that on 1.22 pm on February 23, Mishra had tweeted: "At 3 o'clock today, we will gather opposite Jafrabad at the Maujpur Chowk in response to the Jafrabad (protest) and in support of CAA. You are all welcome."
Nevertheless, in the chargesheet, Mishra maintained that he "hadn't given a speech" but was just "telling the police to clear the road in three days". Asked whether he had visited the Northeast Delhi district prior to the riots, he said his house is situated in Yamuna Vihar, which falls in the district. In his own tweet on February 23, Mishra had posted: "Three days ultimatum to Delhi Police — get the Jafrabad and Chand Bagh road(s) cleared, else don't counsel us, we will not even listen to you, just three days."
However, Mishra's words have been heard around the world as an example of hate speech that fueled, and led to the Delhi Pogrom 2020. It was a part of a spate of provocative speeches, that amount to hate speech in law and should be prosecuted allowing blood letting to spill on the streets of north east Delhi in February-March 2020. Detailed reports can be accessed here.
Related:
Is BJP's Kapil Mishra above the law of the land?
Delhi School of Social Work Students' Union demands alumni Kapil Mishra's arrest
Delhi HC judge shunted out day after order in hate speech case against Kapil Mishra
Videos of hate speech by Kapil Mishra played before Delhi HC
Hate Speech by BJP's Top Brass fuelled Build Up to Delhi Violence: Minorities Commission
Delhi violence: Is Kapil Mishra the villain of the story?
BJP's Kapil Mishra says 'shoot the traitors' at pro-CAA rally