Zafar was repeatedly beaten on his head by the group of civic officials.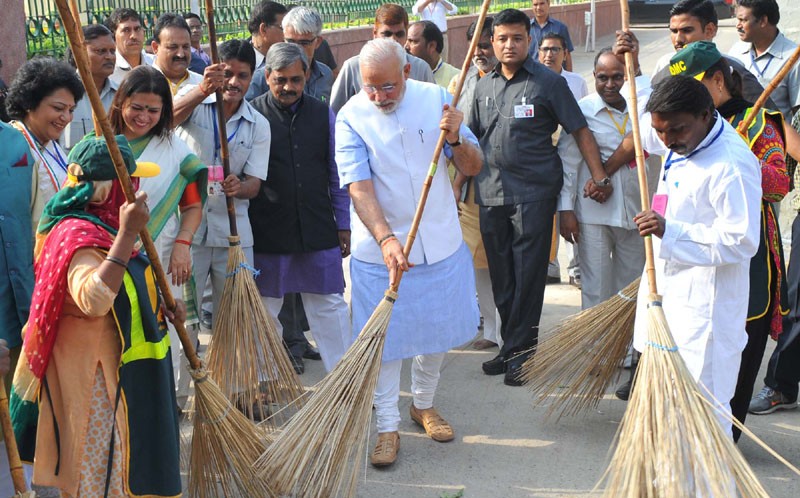 Political activist Zafar Hussein from Pratapgarh, Rajasthan, was beaten to death on Friday by a group of government officials. The 55 years old Husseinwas lynched when he tried to prevent municipal officials from clicking photographs of women defecating in the open.
Municipality team was taking videos and photographs of women from the Bagwasa Kachi basti, when Zafara CPI(ML) activist and trade union activist stopped them.
Amid cries of "Maar Dalo SaleyKo ", Zafar was repeatedly beaten on his head by the group of civic officials, said the family members of the diseased.
Zafar's younger daughter Sabra said that her father was trying to protect the women by objecting to the officials' action. "It was about 6:30 am and we had gone for latrine [to relieve ourselves] there when the car of municipal officials came. They started clicking our photos, abusing us and kicking our water mugs. Abba came out and told them to stop after which they started beating him," said Sabra.
She also added that an official at the municipality official, known as Kamal, was battering Zafar's head with a stone. "The commissioner, who was sitting in the car, egged him on. 'Maaro, maaro, jaan se khatam kar do'," said Sabra.
According to the FIR filed by Hussein's elder brother Noor Mohammed, Zafar Hussein was kicked, punched and beaten to death. Noor has lodged the complaint against five municipal commission officials including Kamal Harijan, RiteshHarijan, Manish Harijan and Nagar Parishad commissioner Ashok Jain.
Ironically Zafar Hussein himself had submitted a memorandum to the Nagar Parishad some days back protesting against the campaign of public shaming and bullying of women for defecating in the open. The memorandum demanded community toilets and repairing of the non-functional public latrines constructed under the Swacch Bharat campaign. He also urged to link the Basti with the Swach Bharat Abhiyan by giving Rs. 12,000 per toilet to individual households earmarked in the program. DM had refused to accept the memorandum.
Mehtab Shah (Jagwas) KachhiBasti provides accommodation for more than 450 families from all castes and communities. The women of the Mehtab Shah (Jagwas) KachhiBasti, have no options as the community toilets are very less and out of order. It clearly shows the failure of the Swachh Bharat Abhiyan.
Demanding the arrest of persons who have been named in the FIR, CPI(ML) made a press statement.
"We demand that the Central Government and all State Government officially declare public shaming and lynch mob tactics in the guise of Swacch Bharat campaign to be illegal and punish officials promoting the use of such tactics," the statement said.
The statement added, "The drive to end open defecation cannot proceed on the basis of inflicting indignities on the poor and helpless people who have no access to private or public toilets. The present strategy of Open Defecation-Free villages (ODF) campaign is giving rise to corruption, fake claims and public humiliation of deprived people. The Governments must reverse this draconian strategy and unleash a positive campaign popularizing toilet use, with a focus on theconstruction of toilets, assured availability of water, and proper arrangements for toilet-cleaning".
"All over the country, sanitation workers are fighting for their dignity and rights against oppressive and inhuman working conditions. It is highly unfortunate that the Rajasthan Government, which denies sanitation workers their due rights, used them as fodder in the public shaming and lynching campaign on the pretext of Swacch Bharat."
Appealing the forces which are struggling against mob lynching, for women's rights and dignity, and for sanitation workers'rights, CPIML urged to fight for the justice for Zafar.
In the last three years under Modi led BJP government, country has witnessed many cases of mob lynching. Cow protection and love Jihadhave becomes a tool in the hands of vigilante groups. Mobs are being mobilized by Hindutva groups which have a clear motive. The victims of this "instant justice" are mainly Muslims and Dalits, be it Mohammad Akhlaq in Dadri, Pahlu Khan in Alwar or Dalits in Una.
Courtesy: Newsclick
Related Articles
Open Letter to Rajasthan CM,Vasundhara Raje on Gruesome Lynching of Zafar Hussain, Political Activist, Zafar Khan: PUCL
Jan Swasthya Abhiyan Protests Killing of Zafar Hussain
CPI(ML) Activist Zafar Hussein lynched to death for Resisting Demeaning Photography of Women Defecating in Open/Swacch Bharat Campaign: Rajasthan