Supporters of losing ABVP candidates threw crude bombs and burned vehicles in Allahabad University after their defeat.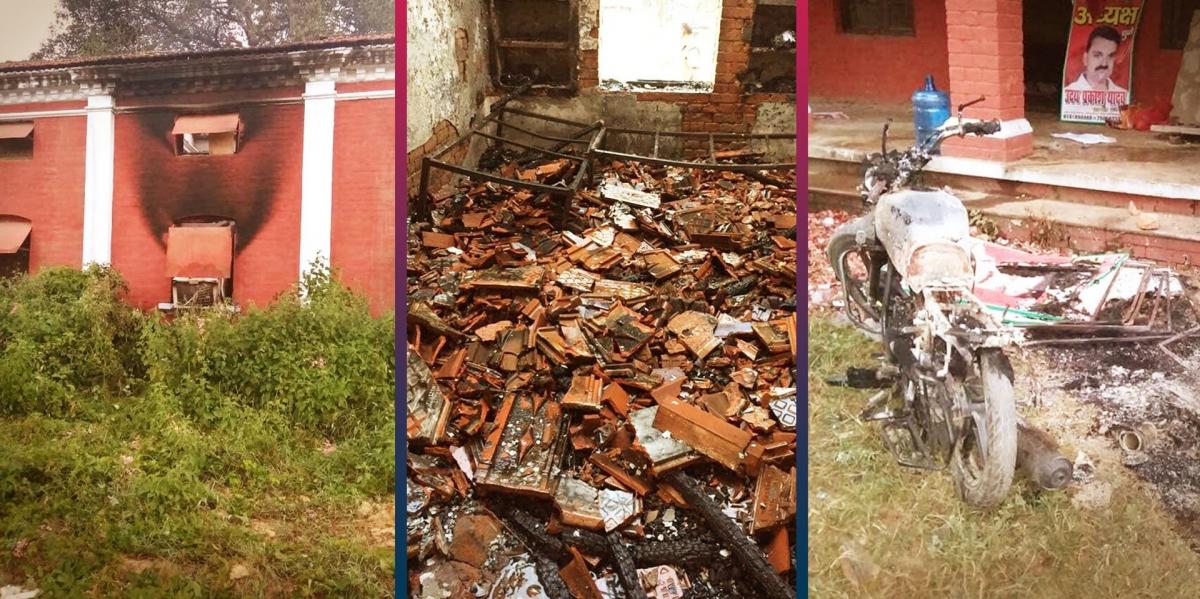 Image Courtesy: Newsclick.in
Allahabad: After hearing the results of the student union elections at Allahabad University on Friday, RSS affiliate Akhil Bharatiya Vidyarthi Parishad members torched hostel rooms and threw crude bombs.

ABVP had to face defeat in the Allahabad University Students' Union (AUSU) elections as Samajwadi Party-affiliated students won majority posts. In a clear message of the time to come and the answer to Mohan Bhagwat's attack on the constitution, the results were especially shocking for ABVP as they had led a high decibel campaign for the polls.

"Uday Prakash Yadav of the Samajwadi Chatra Sabha (SCS) defeated his ABVP rival Atendra Singh by 774 votes. Akhilesh Yadav of the National Students Union of India (NSUI) bagged the vice president's seat by securing 2,157 votes. ABVP managed to win only one post. Its candidate Shivam Singh secured 2,823 votes to be elected as general secretary, while the joint secretary post went to Satyam Singh aka Sunny of the SCS. The cultural secretary post was bagged by NSUI's Aditya Singh, who got 1,832 votes," reported New Click.

Hostel rooms of the newly elected President Uday Prakash Yadav and former President Awanish Yadav in the Holland Hall hostel were burned among other rooms. Awanish's car was also set on fire. A lot of furniture, documents, and clothes were gutted in the fire.

Witnesses also spoke about supporters of losing ABVP candidates threw crude bombs and burned other vehicles like motorbikes as well.

Speaking with Newsclick, newly elected president Uday Prakash Yadav said, "ABVP's candidate for president, Atendra Pratap Singh, along with more than seven other ABVP members entered the Holland Hall hostel, and started a brawl when they found out that they have been defeated by a wide margin. This is RSS's agenda and they are executing it inside the university. It was all pre-planned. My room was set on fire."

"Some unidentified persons also exploded crude bombs at KPUC Hostel gate in which inspector Daraganj Vineet Singh was injured. Police sources said at least four persons have been detained in connection with the arson at Holland Hall Hostel," reported Hindustan Times.

Uday Prakash Yadav said that the police did not act promptly to the incident. "This is not an ordinary incident. But the police administration is silent because the BJP, known for its misuse of government machinery, has induced a cracking defeat," said Yadav, who is a first-year law student from Deoria in a report by The Hindu.

The situation was brought under control after the police began their lathi charge and arrested some students from the scene. The situation remains tense at the university.