#pmcbank has trended all day on September 24 with more than 6000 tweets in which people sharing distressing accounts of how they were inconvenienced.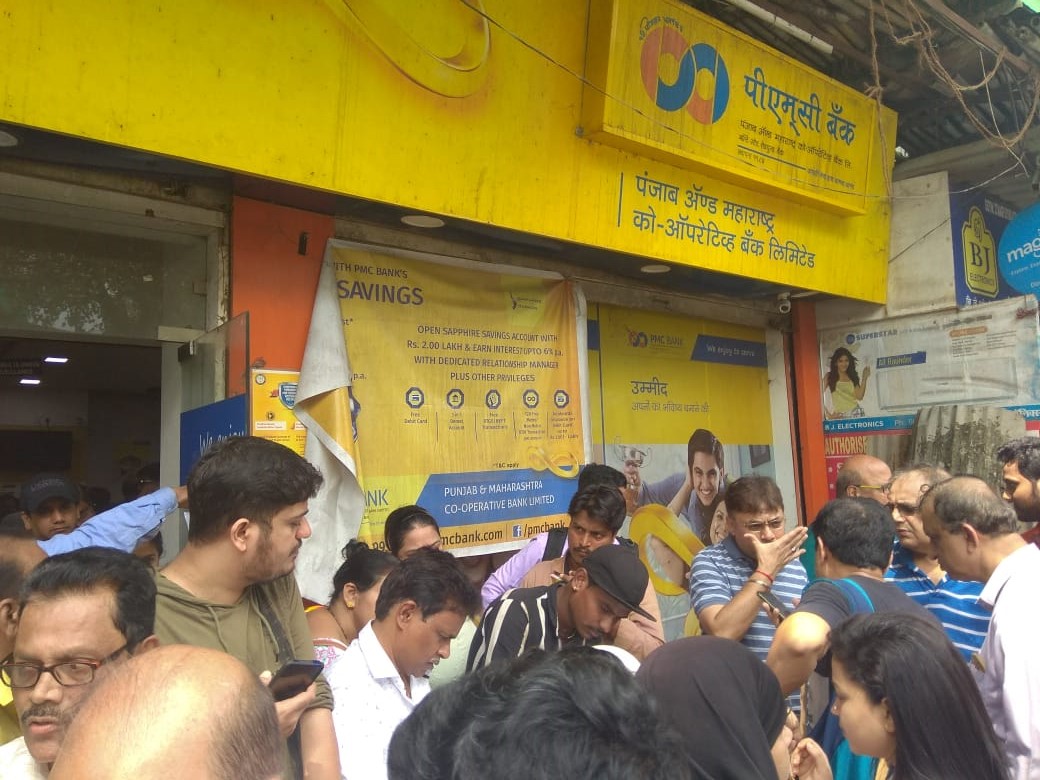 Earlier, the Reserve Bank of India restricted the bank from carrying out any kind of business transactions on Tuesday. This has sparked a state of panic among the banks depositors and sent shock waves in city trading community which uses this bank for their requirements.
Customers took to twitter to express their distress and outrage.
Several of these twitter users shared the acute distress and immense chaos at various bank branches across Mumbai city.
"Hundreds of depositors queued outside #PMCbank at PMGP colony branch in Poonamnagar, Andheri (E) to withdraw money after #RBI restrictions. The bank won't be allowed to grant or renew any loans and advances, make any investment http://bit.ly/2kIokLc Video: Vijay Bate"
One twitter user/ customer of the bank lamented about the money he had saved for his daughter's marriage
"#PMCBankIts nothing but bankruptcy. My 25 lakhs, saved for daughters' marriages, are now trapped. My lifetime saving getting washed out overnite. Feeling sad."

One person said it was not fair to "freeze" accounts.
"Whatever is reason, It is working of bankers not citizens. Only few accounts should be freezed. Citizens are scared now. What about their hard earned money. One citizen fainted out side#pmcbank#ulhasnagar
@TOIIndiaNews
@toi
@MumbaiMirror"
Another user highlighted that how they switched from cash transactions to online transactions and yet the outcome has been disastrous.
"And what should the account holder do on receiving this http://message.Rs 1k is all that we can withdraw over 6 months. We stopped keeping cash at home because you encouraged online transaction and now we can't even withdraw our own hard earned money.
One user highlighted that this could happen to other bank accounts as well.
"RBI puts #PMCBank under restrictions for 6 months. Depositors will be allowed to withdraw only ₹1,000 from their savings & current account. Tomorrow it could be IDBI Bank, UCO Bank & Indian Overseas Bank who have NPA ratios above 20%. Seriously scary!"
A twitter user took a jibe at the Ambanis and Adanis
"Dear @PrafulS98568293
I know your life is ruined after losing all savings for your daughters' marriages. But a week ago, I gave away 1.45 Lac Crores of YOUR MONEY to the Ambani&Adani who had lost far more with stock markets crashing. No more money left for #pmcbank Love Modi"
Not only Mumbai, other cities were also drastically impacted,
"After RBI restrictions, Chaos at Nashik branch of #PMCBank Angry depositors gherao officials #Nashik"
A twitter user also took a dig at those who had cheered for PM Modi in Houston,
"With #PMCBank closed with not fault of the depositors. All our hard earn money stuck. How can one survive with total withdrawal of only Rs. 1000. I wish if 50000 Houston people can come down and help the depositors. But for Modi it's … #BakiSabTheekHai"
Joy Thomas, the bank's Managing Director, reportedly told thousands of distressed customers of PMC Bank, "As the MD of the Bank, I take full responsibility and assure all the depositors that these irregularities will be rectified before the expiry of six months,"
Some reports indicate that the bank may have given fraudulent loans not disclosed non-performing assets (NPAs) properly. The RBI hasn't said anything apart from the notification. The customers feel clueless about the future course of actions.
The bank appears to be administered by an RBI-appointed officer called J.B. Bhoria at the moment. It is not clear whether Bhoria has taken over the management of the bank or is merely in charge to oversee the eventual loosening of restrictions.
It's not immediately clear whether the Rs. 1,000 withdrawal restriction is per day or just Rs. 1,000 for now until the RBI says otherwise.
However, this is going to pose a challenge for both retail and business customers, especially considering October 1 is just one week away.
Ordinary people's daily needs will be affected, in addition to any events such as marriage that require large withdrawals from the bank.
Bhoria, in an interview with a TV channel, tried to reassure customers by implying that in the case of of a total bank failure, their accounts are insured for up to Rs 1 lakh by the Deposit Insurance and Credit Guarantee Corporation of India. This was no relief for people who had deposited larger sums of money in the bank accounts.
PMC bank has not many details in the public arena that could have pointed at such a disaster. In the year that ended March 31, 2019, it made a net profit of Rs 99.69 crore and had net-NPAs of 2.19%, which had doubled from 1.05% in the previous financial year. Gross NPAs, however, are at 3.76%.
PMC Bank MD Joy Thomas has indicated that the restrictions have been caused by an "increase in NPAs" and implied that they are still covered by the bank's assets, but declined to provide more information at the moment.
Though such an action is not totally uncommon, with RBI imposing some restrictions on other smaller banks such as VithalraoVikhePatil Co-operative Bank in Nashik and KaradJantaSahakari Bank in the past, what distinguishes this particular action from all others is the sheer scale of the tragedy. Founded by S. Gurucharan Singh Kochhar in a small room in erstwhile Bombay in 1984, PMC Bank has now grown to be one of the top 10 co-operative lenders in the country. It has 137 branches in six states and as of March 31, 2019, had total deposits of Rs 11,617.34 crore and advances of Rs 8,383.33 crore.
The Law
The Reserve Bank of India's (RBI) directions on the Punjab and Maharashtra Co-operative Bank is not a one-off event, though customers are worried.
"The directions are imposed in exercise of powers vested in the Reserve Bank under Sub-section (1) of Section 35A of the Banking Regulation Act, 1949 read with Section 56 of the said Act," the RBI said in a statement, adding that it should not be seen as a cancellation of the banking license.
What do these Acts state?
Section 35(A) of the Banking Regualtion Act says that the RBI in public interest and to "to prevent the affairs of any banking company being conducted in a manner detrimental to the interests of the depositors or in a manner prejudicial to the interests of the banking company; or to secure the proper management of any banking company generally" can issue directions to these entities. Section 56 of the Act applies to cooperative societies.
Background
The RBI has, in the past, imposed similar sanctions on other banks, especially co-operative banks.This month, it has extended such sanctions under Section 35 (A) for Osmanabad-based VasantdadaNagariSahakari Bank, VithalraoVikhePatil Co-operative Bank in Nashik and KaradJantaSahakari Bank.
In May 2019, it had imposed financial curbs on Goa-based The Madgaum Urban Co-operative Bank and capped withdrawals by account holders at Rs 5,000."The directions by the RBI are in public interest to ensure better governance and controls at these banks," said a former banker who did not wish to be named.
Similar RBI directions
On September 11, the RBI also withdrew similar directions it had imposed on Lucknow-based Indian Mercantile Co-operative Bank on June 04, 2014, which it had been extending from time to time.
"Reserve Bank, on being satisfied that in the public interest it is necessary to do so, in exercise of the powers vested in it under sub-section (2) of section 35A of the Banking Regulation Act, 1949 (as applicable to co-operative societies), hereby withdraws the said Directions so issued (and modified from time to time) to Indian Mercantile Co-operative Bank Ltd, Lucknow, Uttar Pradesh," it had said.